SGI Canada Newsletter, No. 90 - October 20, 2023
October 20, 2023
SGI Canada Newsletter
Issue no. 90
October 20, 2023
Welcome to the 90th issue of the SGI Canada Newsletter, a bi-weekly summary of news, upcoming events and encouragement. If you are not subscribing to the SGI Canada Newsletter, you may do so by clicking on the button below. Subscriptions are free of charge, and the SGI Canada Newsletter will be emailed directly to you.
Encouragement
SGI President Daisaku Ikeda's editorial: "Let's Make Songs of Victory Resound from Our Districts"
In his October editorial in the Daibyakurenge study magazine, SGI President Ikeda writes about the importance of our districts :
The base of the Buddhist altar in the Hall of the Great Vow for Kosen-rufu houses stones collected from 192 countries and territories around the world and each of Japan's 47 prefectures.

We will soon mark the 10th anniversary of the hall's completion. Nichiren Daishonin writes: "Three things are required—a good teacher, a good believer, and a good teaching—before prayers can be effective and disasters banished from the land" (WND-1, 880). Taking these words to heart, over the past decade we of the Soka Gakkai—walking the path of mentor and disciple and faithfully following the teachings of the Buddha of the Latter Day of the Law—have made dynamic strides in fulfilling our individual prayers and compassionately spreading the Mystic Law in the lands of our mission.

The driving force behind this is unquestionably our Soka Gakkai districts. I am chanting with the deepest respect and gratitude for the members of our Soka family in districts throughout Japan and the world, spearheaded by our admirable men's and women's district leaders. I would like to celebrate with you the decade of magnificent victory each of your districts has achieved.

In one of his letters, the Daishonin conveys his dearest hope of meeting with the Ikegami brothers again, writing: "[At that time] I will be too overcome with joy to speak" (GZ, new ed., 1498). This shows just how much he valued his encounters with his disciples. Our district discussion meetings are imbued with the Daishonin's spirit of caring and concern.

In Kansai during the pioneering days of our movement, a freshly appointed women's district leader asked me earnestly how she should approach her new responsibility.

Thanking and commending her for all her dedicated efforts, I said that she didn't need to do anything out of the ordinary, just chant daimoku, pray for the happiness of each member, and encourage them kindly and considerately. By doing so, I told her, that same spirit would spread throughout the entire district. This is the meaning of "One's body and mind at a single moment pervade the entire realm of phenomena"[1] (WND-1, 366). I urged her to promote kosen-rufu with confidence and courage, starting with encouraging and speaking with people in her immediate environment.
[1] Words of the Great Teacher Miao-lo in The Annotations on "Great Concentration and Insight."
The complete editorial will be available in the December 2023 New Century.
News
SGI announces theme for 2024
SGI has announced that the theme for 2024 will be:
"Year of Fresh Departure for a Youthful Soka Gakkai Worldwide"
Hall of Great Vow for Kosen-rufu soon to open to SGI members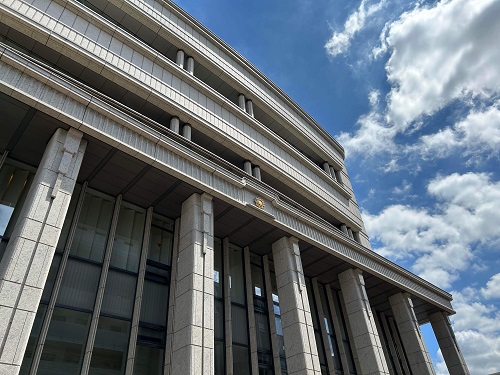 As of November 1, active SGI members will be able to participate in gongyo sessions at the Hall of the Great Vow on certain days (following a schedule which will change from month to month). SGI Canada participants should be regularly attending SGI Canada activities and subscribing to SGI Canada publications. Members can visit the Hall once during a single visit to Japan. Please note that only SGI members are able to attend gongyo sessions at the Hall.
If you are interested in attending a gongyo session at the Hall during your trip to Japan, you will need to contact an authorized SGI Canada leader, who will be able to answer your questions and sign your Special Letter of Introduction.
The leaders who are authorized to sign Special Letters of Introduction are:
Victoria – Eijo Toyonaga
Vancouver – Frank Asin, Roy Ono
Calgary – Ian Mattinson
Edmonton – Paula Reich
Winnipeg – Maxine Stewart
Toronto – Tony Meers, Eddie Law, Helen Izumi-Choi
Montreal – Jeff Deeprose, Danielle Arsenault
Ottawa – Dwight Rudisuela, Glenn Turner
Québec – Jasmin Fortin
Halifax – Michael Agbeti
Please contact one of the above leaders from your region or area at least three weeks before your departure date.
Central Region Youth Division Members take part in tree-planting event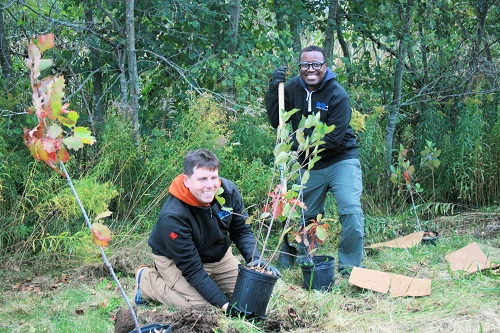 Central Region youth participated in a community tree planting activity on Saturday, October 14 in Orangeville, Ontario with the Credit Valley Conservation (CVC), an organization with which SGI Canada has been working since the year 2000.
13 youth members participated in the activity and together with local volunteers, they planted a total of 186 trees and shrubs that day.
The CVC's website (https://cvc.ca/our-watershed/) states that "CVC has a mandate to protect, restore and manage the natural resources of the Credit River and its adjacent lands, known as the Credit River Watershed."
This tree planting activity was to sustain and help improve the Credit River Watershed.
SGI Canada Special Fund
The SGI Canada Special Fund is an opportunity to contribute directly to the kosen-rufu movement in Canada. Members can contribute at any time through their SGI Canada online portal account (by credit card or debit card) at https://sgicinfo.org/portal/login or by mailing a cheque to SGI Canada at 2050 Dufferin Road, Toronto, Ont. M6E 3R6. Monthly contributions from a chequing account can also be made by completing a Pre-Authorized Payment (PAP) form available from district leaders.
Thank you so much for your sincere dedication and for your support in every way for the advancement of kosen-rufu in Canada!
Upcoming events
Introductory Exam - October 29
The SGI Canada Introductory Exam will be held in just over a week from now, on Sunday, October 29.
It is still possible to register for the exam. Simply complete the short form at:
https://www.sgicanada.org/activities/sgi-canada-introductory-exam-2023
You should also contact your district leader to advise them that you will be writing the exam.
A printed booklet of the "Basics of Nichiren Buddhism in the New Era for Worldwide Kosen-rufu" study material is now available (in English, French and Chinese) through the online bookstore at https://sgicanada.myshopify.com
You can also obtain a pdf document of the study material from your district leaders.
If you are registering for the exam right now, you will probably be asked to write the exam online.
We hope you found this newsletter beneficial. Please email your questions or comments to contact@sgicanada.org. Please note that the next SGI Canada Newsletter will appear on November 3, 2023. See you then!