SGI Canada Newsletter, No. 89 - October 6, 2023
October 6, 2023
SGI Canada Newsletter
Issue no. 89
October 6, 2023
Welcome to the 89th issue of the SGI Canada Newsletter, a bi-weekly summary of news, upcoming events and encouragement. If you are not subscribing to the SGI Canada Newsletter, you may do so by clicking on the button below. Subscriptions are free of charge, and the SGI Canada Newsletter will be emailed directly to you.
Encouragement
SGI President Daisaku Ikeda's editorial: "Let's Make Songs of Victory Resound from Our Districts"
In his October editorial in the Daibyakurenge study magazine, SGI President Ikeda writes about our daily practice of gongyo :
The verse section of the "Life Span" chapter of the Lotus Sutra, which we recite in gongyo, concludes with the words expressing the Buddha's constant thought or concern:

At all times I think to myself:

How can I cause living beings

to gain entry into the unsurpassed way

and quickly acquire the body of a Buddha?[1] (LSOC16, 273)

Referring to this passage, my mentor, Josei Toda, declared that the wish to lead all people to happiness is the constant thought that we as Soka Gakkai members share with Nichiren Daishonin, the Buddha of the Latter Day of the Law.

Let us do gongyo each day with the spirit that we are making fresh determinations in the Hall of the Great Vow for Kosen-rufu. Let us chant for the happiness of all our district members and the happiness of all humanity, and pray to realize peace and prosperity in our communities through spreading the life-affirming principles of Nichiren Buddhism.

Chanting the lion's roar of Nam-myoho-renge-kyo infused with our great vow for kosen-rufu, let us illuminate our planet and the future with the brilliant light of the Mystic Law!

Our noble members rejoice and dance

knowing the principle of

"emerging from the earth"[2]

is alive in their districts,

benefits in full bloom.
[1] In gongyo, the passage reads: "Mai ji sa ze nen. I ga ryo shujo. Toku nyu mu-jo do. Soku joju busshin."
[2] In "The True Aspect of All Phenomena," the Daishonin writes: "At first only Nichiren chanted Nam-myoho-renge-kyo, but then two, three, and a hundred followed, chanting and teaching others. Propagation will unfold this way in the future as well. Does this not signify 'emerging from the earth'?" (WND-1, 385).
The complete editorial will be available in the December 2023 New Century.
News
SGI Canada Day - October 12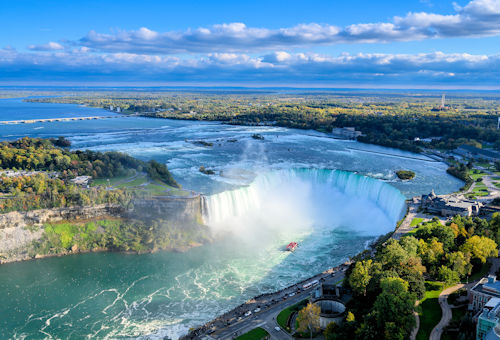 Congratulations on holding such lively SGI Canada Day Commemorative Meetings on October 1!
The official date for SGI Canada Day is October 12. It was on this day in 1960 that SGI President Daisaku Ikeda visited Niagara Falls as part of his first trip to Canada. He writes about this day in The New Human Revolution:
To Shin'ichi, the monumental and unceasing flow of water seemed somehow symbolic of the advance of kosen-rufu, while the shimmering rainbow it gave rise to represented boundless hope. As he gazed at the the majestic sight, he said with deep feeling to Eisuke Akizuki who stood next to him:
The rainbow above this waterfall would disappear in an instant if the flow of water were to stop. Similarly, the rainbow of hope in our lives shines only when we advance energetically toward kosen-rufu. People who never lose hope have the strength to remain undefeated by any difficulty. Once a person loses hope, however, life becomes dark. Despair is the same as spiritual death. Youth must live with constant and unflagging hope. I want to create a rainbow of hope in the hearts of the world's youth. (The New Human Revolution, v.1, pp.183-184)
SGI Canada Special Fund
The SGI Canada Special Fund is an opportunity to contribute directly to the kosen-rufu movement in Canada. Members can contribute at any time through their SGI Canada online portal account (by credit card or debit card) at https://sgicinfo.org/portal/login or by mailing a cheque to SGI Canada at: 2050 Dufferin St, Toronto, ON. M6E 3R6.
Monthly contributions from a chequing account can also be made by completing a Pre-Authorized Payment (PAP) form available from district leaders.
Thank you so much for your sincere dedication and for your support in every way for the advancement of kosen-rufu in Canada!
Upcoming events
Introductory Exam - October 29
The SGI Canada Introductory Exam will be held just three weeks from now, on Sunday, October 29.
To register for the exam, simply complete the short form at:
https://www.sgicanada.org/activities/sgi-canada-introductory-exam-2023
A printed booklet of the "Basics of Nichiren Buddhism in the New Era for Worldwide Kosen-rufu" study material is now available (in English, French and Chinese) through the online bookstore at https://sgicanada.myshopify.com
You can also obtain a pdf document of the study material from your district leaders.
The exam can be written in person with other members of your district or, if this is not possible, it can be written online.
District General Meetings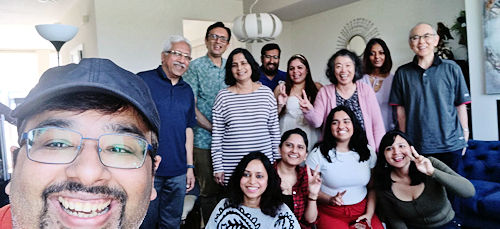 Symphony district in Mississauga, Ontario, May 2023


SGI Canada districts will be holding their General Meetings during the month of November. These are great opportunities to reach out to all practitioners, friends and family members, and to strengthen those heart-to-heart connections that are at the core of Nichiren Buddhism. At the General Meetings we can encourage one another by sharing our victories in faith from this year.
District General Meetings commemorate the founding of the Soka Gakkai in 1930, as recounted in The Basics of Nichiren Buddhism for the New Era of Worldwide Kosen-rufu, chapter 9, "The history of the Soka Gakkai". November 18 – Soka Gakkai Founding Day – is one of the significant dates we often aim for when setting goals for ourselves.
We hope you found this newsletter beneficial. Please email your questions or comments to contact@sgicanada.org. Please note that the next SGI Canada Newsletter will appear on October 20, 2023. See you then!