SGI Canada Newsletter, No. 87 - September 8, 2023
September 8, 2023
SGI Canada Newsletter
Issue no. 87
September 8, 2023
Welcome to the 87th issue of the SGI Canada Newsletter, a bi-weekly summary of news, upcoming events and encouragement. If you are not subscribing to the SGI Canada Newsletter, you may do so by clicking on the button below. Subscriptions are free of charge, and the SGI Canada Newsletter will be emailed directly to you.
Encouragement
SGI President Daisaku Ikeda's message: "Spreading the Light of Human Revolution to Change the Destiny of Humankind"
President Ikeda sent a message to the 15th Soka Gakkai Headquarters Leaders Meeting toward Centennial 2030, held in conjunction with the SGI Youth Training Course, at the Toda Memorial Auditorium in Sugamo, Tokyo, on September 2, 2023. Youth leaders from 44 countries and territories (including Canada) attended the meeting.
During the meeting, President Ikeda shared three calligraphic works that he had written. In this excerpt, he talks about the first work:
The first is "Great Light."

In March 1954, my mentor, second Soka Gakkai president Josei Toda, established a youth office for our organization and appointed me as its chief of staff. At that time, he entrusted me with this guidance: The youth of Soka, upholding the life philosophy of the oneness of our lives and the universe—the recognition that the sun, moon, and stars exist within us—should strive to greatly expand their life states and become the driving force for planning and carrying out every aspect of kosen-rufu.

My all-out efforts as a disciple, united as one with my mentor and determined to respond to the trust he placed in me, gave birth to the light of fresh value creation and accelerated our majestic movement to spread the Mystic Law.

Next year will mark the 70th anniversary of that youthful appointment. I now call on all of you, my beloved young disciples throughout Japan and the world: My young friends, become the youth chiefs of staff of the new era!

I hope you will forge a magnificent, ever-growing network of like-minded people shining with the light of human revolution. With the passion and power of youth, please safeguard humanity's right to life and brightly illuminate people's lives and society!
The complete message will be available in the November 2023 New Century.
News
Youth Division campaign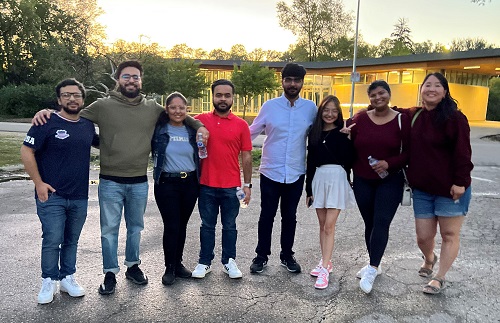 Winnipeg youth members

To commemorate the 30th anniversary of President Ikeda's 1993 visit to Canada, the SGI Canada Youth Division will hold area-level youth general meetings across the country in September! The event will be a united effort for the entire youth division including all youth division, student division, young phoenix group members, and guests!
Since April, youth division members have been engaged in a "My Story" campaign based on "The Four Ds!":

1. Determination – As disciples of Ikeda Sensei, we vow to achieve our goals for kosen-rufu this year and win in our lives!
Daimoku – Each day we strive to challenge ourselves to chant vibrant daimoku!
Dialogue – We share our personal experiences of human revolution with our friends!
Destination - We achieve our kosen-rufu and personal goals!
Following the theme: 'Play Out Your Own Chosen Drama of Kosen-rufu!', the youth division will gather to share experiences in September and celebrate the great victories of each youth member!
Men's Group General Meetings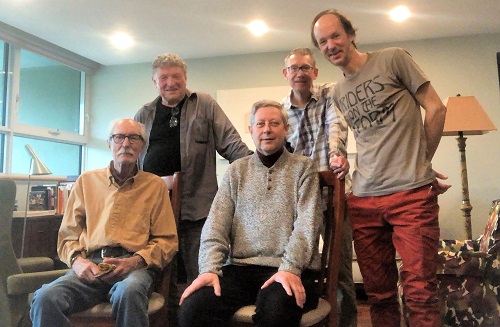 Men's group members from Beechwood district in Ottawa

Men's Group General Meetings are being held throughout September with the theme "Building Peace through Dialogue". Please ask your local leaders about the meeting closest to you.
SGI CANADA INTRODUCTORY EXAM 2023
The SGI Canada Introductory Study Exam will be held on Sunday, October 29. The exam is intended for new members or anyone who did not write the 2019 SGI Canada Basics exam; youth and Future Division members; and interested friends. Please note that some young children may find the study material difficult to read. You do not have to be an SGI Canada member in order to take the exam.
To register for the exam, simply complete the short form at:
https://www.sgicanada.org/activities/sgi-canada-introductory-exam-2023
You can also use the QR code below by pointing the camera of your smartphone at it and tapping the "Open website" message that appears on your screen.
The exam will focus on topics from "Basics of Nichiren Buddhism in the New Era for Worldwide Kosen-rufu". If you have not yet received the study material in a pdf document, you can obtain it from your district leaders.
A printed booklet of the study material will be available (in English, French and Chinese) through the online bookstore at https://sgicanada.myshopify.com
We hope you found this newsletter beneficial. Please email your questions or comments to contact@sgicanada.org. Please note that the next SGI Canada Newsletter will appear on September 22 , 2023. See you then!