SGI Canada Newsletter, No. 85 - August 11, 2023
August 11, 2023
SGI Canada Newsletter
Issue no. 85
August 11, 2023
Welcome to the 85th issue of the SGI Canada Newsletter, a bi-weekly summary of news, upcoming events and encouragement. If you are not subscribing to the SGI Canada Newsletter, you may do so by clicking on the button below. Subscriptions are free of charge, and the SGI Canada Newsletter will be emailed directly to you.
Encouragement
SGI President Daisaku Ikeda's editorial: "Hardships Create the Inspiring Music of the Heart"
In his August editorial in the Daibyakurenge study magazine, SGI President Ikeda talks about the attitude we should take when confronted with difficulties:
All of us at times in our journey of life may experience painful challenges with no end in sight, as though trapped in a long, dark tunnel. When that happens, our faith in the Mystic Law illuminates the way forward ever more brightly with the light of hope and renewal.

*

When we read the Daishonin's writings, we encounter a whole array of practitioners of the Lotus Sutra who, following the Daishonin's instructions and supported by their fellow practitioners, have overcome all kinds of troubles—from illness and parting with loved ones to poverty and unjust persecution—successfully changing poison into medicine.

In a letter to the lay nun Toki's husband, Toki Jonin, the Daishonin asserts that we should take forebodings of trouble as "a sign that difficulties can be averted and that good fortune is on the way." He also declares: "Though calamities may come, they can be changed into good fortune" (WND-2, 669).

We of the Soka Gakkai chant Nam-myoho-renge-kyo with a vow for the happiness of ourselves and others and live for kosen-rufu. We see everything that happens in our lives as according with the principles of "voluntarily assuming the appropriate karma" and "lessening karmic retribution." Therefore, with the spirit "I'm ready for anything!" let's calmly tackle whatever life throws at us and keep chanting wholeheartedly with unwavering faith.

Our story of achieving victory over misfortune through carrying out our human revolution and changing our karma will give unending courage to many others who are struggling. Once we emerge from the tunnel of adversity, a dazzling ocean of good fortune and wisdom will stretch before us.
The complete editorial is available in the September 2023 New Century.
News
Men's Group General Meetings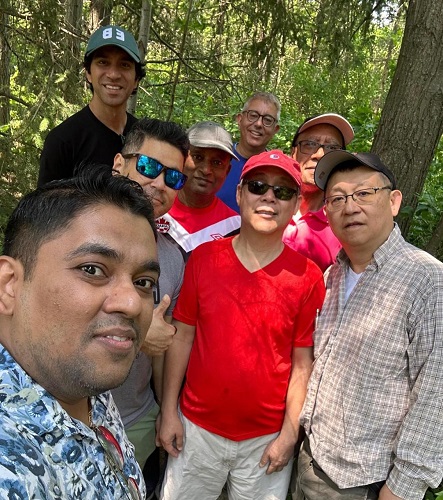 Men's group members from Ontario East Area, June 2023

Men's Group General Meetings will be held throughout August and September with the theme of "Building peace through dialogue". Please ask your local leaders about the meeting closest to you.
The August edition of New Century features guidance from President Ikeda specifically for Men's Group members. Here is an excerpt:
As a wise champion

of kosen-rufu

upholding Buddhism,

take pride

and lead the way to victory.

I once sent this poem to a member who was struggling against adversity. He immediately responded with a letter expressing his determination, and he cited a quote from the Swiss philosopher Carl Hilty (1833–1909) to the effect that people who have suffered in life only trust those who've experienced hardship themselves.

His letter closed with the pledge: "With that resolve, I will strive to become truly wise, sparing no effort."

Hilty himself lived a life filled with difficulties, but to a friend who visited him in his final year he said: "If I were to erase all of the sufferings from my life, I would have no good memories left. Everything grew out of such times [of suffering]." By encountering many obstacles, a genuine leader is able to develop the ability to guide and encourage others. This is a principle that we should never forget.

In the words of Nichiren Daishonin, "The greater the hardships befalling [a votary of the Lotus Sutra], the greater the delight he feels, because of his strong faith" (WND-1, 33). In this light, the hardships and powerful opponents that we of the men's division encounter serve to strengthen and revitalize us until our lives burn with a bright and vigorous flame.
("The Wise Members of the Men's Division, Champions of Kosen-rufu", New Century, August 2023, p.10)
SGI CANADA INTRODUCTORY EXAM 2023
The SGI Canada Introductory Study Exam will be held on Sunday, October 29. The exam is intended for new members or those who have not yet taken an SGI Canada exam; youth and Future Division members; and interested friends. Please note that some young children may find the study material difficult to read. You do not have to be an SGI Canada member in order to take the exam.
To register for the exam, simply complete the short form at:
https://www.sgicanada.org/activities/sgi-canada-introductory-exam-2023
The exam will focus on topics from "Basics of Nichiren Buddhism in the New Era for Worldwide Kosen-rufu". If you have not yet received the study material in a pdf document, you can obtain it from your district leaders.
A printed booklet of the study material will be available (in English, French and Chinese) through the online bookstore at https://sgicanada.myshopify.com
More details on the exam will be available in the coming months in NEW CENTURY, ère nouvelle, Chinese New Century and in your district.
We hope you found this newsletter beneficial. Please email your questions or comments to contact@sgicanada.org. Please note that the next SGI Canada Newsletter will appear on August 25 , 2023. See you then!