SGI Canada Newsletter, No. 83 - July 14, 2023
July 14, 2023
SGI Canada Newsletter
Issue no. 83
July 14, 2023
Welcome to the 83rd issue of the SGI Canada Newsletter, a bi-weekly summary of news, upcoming events and encouragement. If you are not subscribing to the SGI Canada Newsletter, you may do so by clicking on the button below. Subscriptions are free of charge, and the SGI Canada Newsletter will be emailed directly to you.
Encouragement
Study for July: "Our Powerful Resolve Reverberates Throughout the Universe"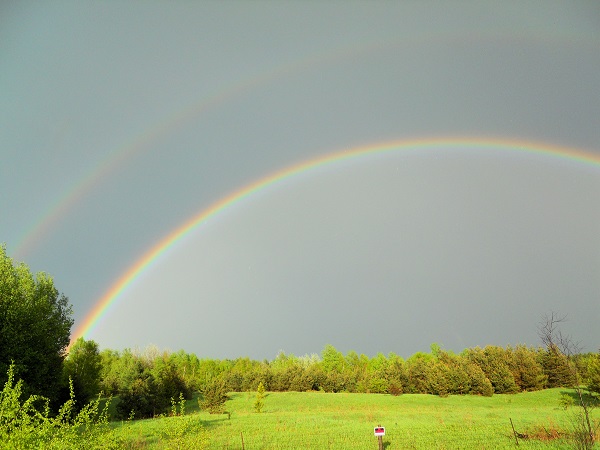 Caledon, Ontario

The study material for July is an article by President Ikeda published in the December 2021 Daibyakurenge study magazine. In this excerpt, President Ikeda talks about the Buddhist concept of "Three thousand realms in a single moment of life":
We Embody the Mystic Law

My mentor, second Soka Gakkai president Josei Toda, explained the doctrine of "three thousand realms in a single moment of life" in an easily accessible way by relating it to daily life.

"Everything in our lives," he said, "occurs as a result of the changes unfolding within us. That's why it is important for us to strive to change for the better and ceaselessly create our own happiness. You therefore have to be true to yourself and take responsibility for your own life. Indeed, it's vital to recognize that you have no choice but to do so."[i]

"Being true to yourself and taking responsibility for your own life"—that is how to live at one with the eternal Mystic Law.

Mr. Toda expressed this very clearly, saying, "Decide that your life is none other than Nam-myoho-renge-kyo itself!"

A Transformative Teaching for Creating Happiness

Even if faced with the same circumstances, our minds, our momentary thoughts and reactions will differ from one another, and those differences are directly reflected in our life state. As the Daishonin put it: "The three thousand worlds [or realms], every single one of them, exist [in one's life]" (OTT, 22). This is the stern reality of life.

In a later passage in "On Attaining Buddhahood in This Lifetime," the Daishonin writes: "When deluded, one is called an ordinary being, but when enlightened, one is called a Buddha" (WND-1, 4). Though a Buddha and an ordinary person may differ in terms of their respective enlightenment or delusion, there is no essential difference between them as human beings. Ultimately, the only difference is in their inner state of mind.

The same is true of the lands in which people dwell. The difference between so-called pure and impure lands, the Daishonin says, "lies solely in the good or evil of our minds" (WND-1, 4).[ii]

Our minds or thoughts are a battleground, determining whether we are happy or unhappy. That is why it is so important to remain constant and steadfast in our faith.

Nichiren Buddhism is a transformative teaching for creating our own solid happiness.

[i] Cf. Translated from Japanese. Josei Toda, Toda Josei Zenshu (The Collected Writings of Josei Toda), vol. 1 (Tokyo: Seikyo Shimbunsha, 1981), p. 184.

[ii] A pure land is a land where a Buddha dwells, a Buddha land. The term is contrasted with impure land, meaning the saha world, this world that is tainted with suffering and desire. The essential teaching (the latter 14 chapters) of the Lotus Sutra expounds the principle that the saha world is itself the Land of Eternally Tranquil Light where the Buddha resides.
The complete study article is available in the June 2023 New Century.
News
Digital-only subscriptions now available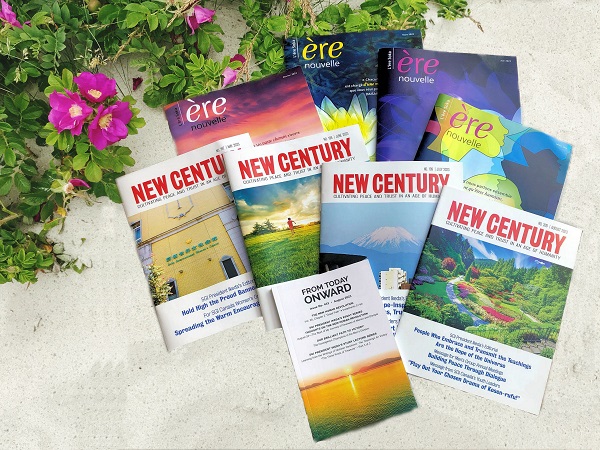 SGI Canada members are now able to subscribe to digital-only versions of New Century, Ère nouvelle and From Today Onward
Using the SGI Canada online portal, members are able to start an annual subscription to a digital-only version of the above publications.
Please note that Chinese New Century is not available in a digital version at this time.
The digital version of the publications is designed for easy access to articles on any device. The content of the articles is the same, but the digital version is not a replica of the print magazine. A digital-only subscription is the same price as a print subscription.
Subscribers using the SGI Canada portal have online access to the six most recent issues of the digital version of their publications.
Ottawa-Gatineau Centre now open
The new SGI Canada Buddhist centre in Ottawa-Gatineau officially opened on Sunday, July 2. SGI Canada received a message of congratulations from President Ikeda in which he described the centre as a "castle of kosen-rufu and the Mystic Law", and encouraged members to work together cheerfully and harmoniously.
The centre has begun to host small-group activities and will gradually host more and more in-person events.
Upcoming events
Men's Group General Meetings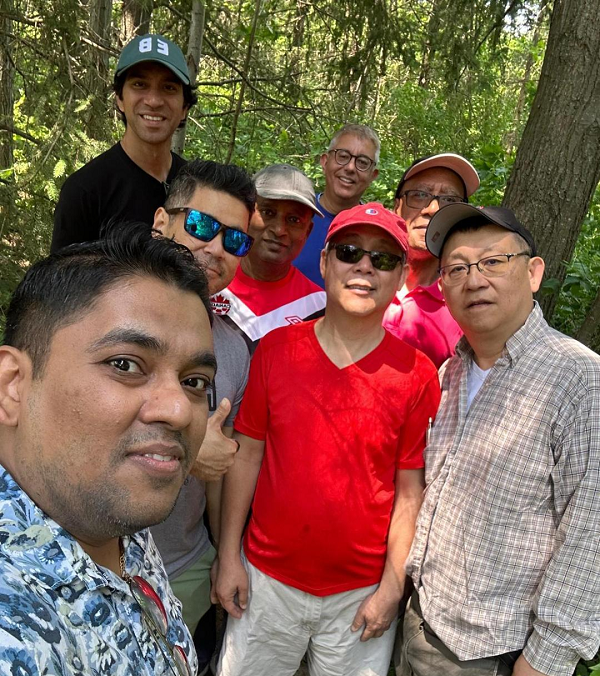 Markham Chapter men's group gathering at
Milne Dam Conservation Park in Markham, Ontario

Men's Group General Meetings will be held throughout August and September with the theme of "Building peace through dialogue".
The August edition of New Century will carry guidance from President Ikeda specifically for Men's Group members. Here is an excerpt:
Like phoenixes,

inseparable as life and its environment,

you and I.

I composed this poem on August 24, 1977, the 30th anniversary of the day I joined the Soka Gakkai. It was also Men's Division Day. I was calling upon all the trusted members of the men's division to advance, together with me, like phoenixes arising from the ashes. The phrase "inseparable as life and its environment" refers to the profound Buddhist teaching that living beings, the initiators of action, are one with their environment, the place where that action unfolds.

We employ the strategy of the Lotus Sutra to triumph over inconceivably arduous circumstances and build strong selves that cannot be shaken by anything. As we win and win again, we are at the same time creating an environment of the most resplendent success and glory. In all things, life and environment are one. Therefore, by achieving self-mastery, we also achieve victory in our environment.

Nichiren Daishonin wrote to the Ikegami brothers, who can be considered as precursors of the men's division: "You must grit your teeth and never slacken in your faith" (WND-1, 498). He also encouraged them to be as fearless as he had been when he confronted the powerful government official Hei no Saemon and boldly spoke out to refute the erroneous and reveal the true.

Men's group members who share the same commitment in faith as their mentor strive in the spirit of champions. Disciples, advance bravely along the great path to victory that your mentor has opened for you!
("The Wise Members of the Men's Division, Champions of Kosen-rufu", Seikyo Shimbun, December 18, 2008.)
SGI CANADA INTRODUCTORY EXAM 2023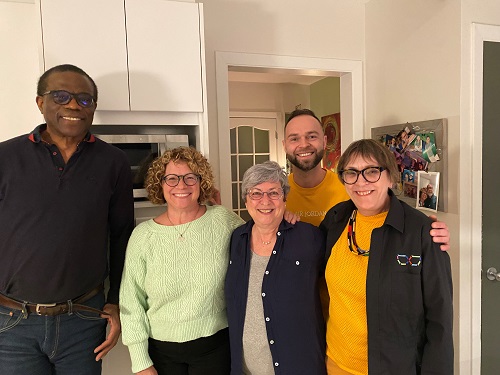 Members from La Cité District in Quebec

The SGI Canada Introductory Study Exam will be held on Sunday, October 29. The exam is intended for new members or those who have not yet taken an SGI Canada exam; youth and Future Division members; and interested friends. Please note that some young children may find the study material difficult to read. You do not have to be an SGI Canada member in order to take the exam.
To register for the exam, simply complete the short form at:
https://www.sgicanada.org/activities/sgi-canada-introductory-exam-2023
The exam will focus on topics from "Basics of Nichiren Buddhism in the New Era for Worldwide Kosen-rufu". If you have not yet received the study material in a pdf document, you can obtain it from your district leaders.
A printed booklet of the study material will be available (in English, French and Chinese) through the online bookstore at https://sgicanada.myshopify.com
More details on the exam will be available in the coming months in NEW CENTURY, Ère nouvelle, Chinese New Century and in your district.
We hope you found this newsletter beneficial. Please email your questions or comments to contact@sgicanada.org. Please note that the next SGI Canada Newsletter will appear on July 28, 2023. See you then!