SGI Canada Newsletter, No. 81 - June 16, 2023
June 16, 2023
SGI Canada Newsletter
Issue no. 81
June 16, 2023

Welcome to the 81st issue of the SGI Canada Newsletter, a bi-weekly summary of news, upcoming events and encouragement. If you are not subscribing to the SGI Canada Newsletter, you may do so by clicking on the button below. Subscriptions are free of charge, and the SGI Canada Newsletter will be emailed directly to you.
Encouragement
Study material for June - "Let's Make a Triumphant Song of Human Dignity Resound to Change History and the Future"
In this month's study lecture, SGI President Ikeda writes about Nichiren Daishonin as an example to follow:
Our founding president Tsunesaburo Makiguchi often declared: "Give me a single lion over a thousand sheep!" He taught that "a single courageous person committed to great good will be able to accomplish great things." Just one individual with the spirit to stand alone is absolutely crucial.

Phrases such as "Nichiren alone," "only Nichiren," and "I, Nichiren, am the only one" appear throughout the Daishonin's writings. They arise from his relentless struggle as the Buddha of the Latter Day of the Law to relieve the suffering of all people and lead them to enlightenment. But in addition to his willingness to go it alone, they convey his awareness of being the pioneer or forerunner, the starting point for limitless development, as the following passage illustrates:

Nichiren alone took the lead in carrying out the task of the Bodhisattvas of the Earth. . . . At first only Nichiren chanted Nam-myoho-renge-kyo, but then two, three, and a hundred followed, chanting and teaching others. Propagation will unfold this way in the future as well. (WND-1, 385)

In other words, it does not stop with "Nichiren alone". The Daishonin declares that he has paved the way as the forerunner, and that disciples who carry on his work will appear in ever-growing numbers.

When we look up to the Daishonin as our fundamental teacher and model in kosen-rufu and in life, we each will surely and unerringly walk the path of victory. We will forge an invincible stand-alone spirit that nothing can shake.
The complete study lecture appears in the June 2023 New Century.
News
Digital-only subscriptions available as of July 1
As of July 1, SGI Canada members will be able to subscribe to digital-only versions of New Century, Ère nouvelle and From Today Onward.

l-r: New Century, Ère nouvelle, From Today Onward
Using the SGI Canada online portal, members will be able to start an annual subscription to a digital-only version of the above publications.
Please note that Chinese New Century is not available in a digital version at this time.
The digital version of the publications is designed for easy access to articles on any device. The content of the articles is the same, but the digital version is not a replica of the print magazine. A digital-only subscription is the same price as a print subscription.
Subscribers using the SGI Canada portal have online access to the six most recent issues of the digital version of their publications.
Beverly Glenn-Copeland receives honorary doctorate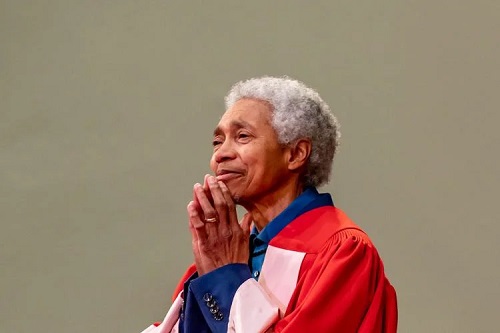 Musician, activist and longtime SGI Canada member Beverly Glenn-Copeland received an honorary doctorate from the University of Toronto on June 13 "for his innovative and influential musicianship known around the world and his sterling artistic reputation".
In his convocation address to the 2023 graduating class of the Faculty of Music and St. Michael's College, Glenn spoke of the importance of personal advocacy and encouraged students to "find their inner gold". He credited SGI with providing him a community in which he could "survive and thrive".
Glenn's speech is available on YouTube at https://youtu.be/4XllJtVd5sQ.
Upcoming events
SGI CANADA INTRODUCTORY EXAM 2023
The SGI Canada Introductory Study Exam will be held on Sunday, October 29. The exam is intended for new members or those who have not yet taken an SGI Canada exam; youth and Future Division members; and interested friends. You do not have to be an SGI Canada member in order to take the exam.
To register for the exam, simply complete the short form at:
https://www.sgicanada.org/activities/sgi-canada-introductory-exam-2023
The exam will focus on topics from "Basics of Nichiren Buddhism in the New Era for Worldwide Kosen-rufu". The study material is available in a pdf document which will be emailed to you. You can also find the study material in English and Chinese at www.sokaglobal.org, or by clicking below:
A printed booklet of the study material will be available (in English, French and
Chinese) through the online bookstore at https://sgicanada.myshopify.com
More details on the exam will be available in the coming months in NEW CENTURY, Ère nouvelle, Chinese New Century and in your district. If you have any questions, please talk to the person who encouraged you to sign up for the introductory exam, or to your local district leaders.
We hope you found this newsletter beneficial. Please email your questions or comments to contact@sgicanada.org. Please note that the next SGI Canada Newsletter will appear on June 30, 2023. See you then!