SGI Canada Newsletter, No. 35 - September 10, 2021
September 10, 2021
SGI Canada Newsletter
Issue no. 35
September 10, 2021
Welcome to the 35th issue of the SGI Canada Newsletter, a bi-weekly summary of news, upcoming events and encouragement. If you are not subscribing to the SGI Canada Newsletter, you may do so by clicking on the button below. Subscriptions are free of charge, and the SGI Canada Newsletter will be emailed directly to you.
NEWS
Discovering the SGI Canada website!
The sgicanada.org website has a wide range of features. Here are just a few of them:
Searching SGI Canada Newsletters
If you are looking for information that was published in past SGI Canada Newsletters, you can search the Newsletters easily and quickly with our online search tool.
On the SGI Canada News page, simply type a keyword (ex. "COVID", "Young Lions", "editorial", etc.) into the Newsletter keyword search box, and then click on Submit.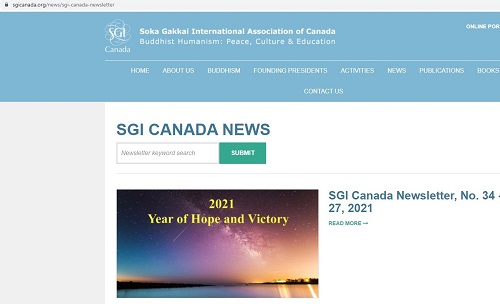 You will receive a list of all the Newsletters in which your keyword is mentioned.
Study podcasts always available
The podcast guide to the current month's study material is always available online at:
https://www.sgicanada.org/buddhism/buddhist-study-podcasts
Every month, SGI Canada's Study Department prepares a podcast highlighting the major points and guidance from that month's study article. The podcasts are intended to support the district study meetings as well as individual study, and are available in English, French and Chinese. Texts of the podcast scripts are also accessible online.
This month's study from President Ikeda's lecture series The Buddhism of the Sun—Illuminating the World is titled "Sharing Nichiren Buddhism— The Compassionate Practice for Realizing Happiness for Ourselves and Others". It can be found in the August issues of New Century and Chinese New Century, and in the September issue of Ère nouvelle.
NEW! Subscriptions renewal information
You can now check online to see when your subscriptions to SGI Canada publications are up for renewal. Simply log in to the Online portal using your SGI Canada account (see below). On the Personal Information page, you will find messages about your subscriptions to SGI Canada publications, including the renewal dates (if applicable).
How to set up your SGI Canada online account
If you have not yet set up an online account, it is very easy to do so:
Go to the SGI Canada website at www.sgicanada.org and click on the Online Portal button near the top right corner of your screen.
Click on I have not created an online account and then Submit.
Fill out the personal information fields and click on Submit.
You will receive an email from accounting@sgicinfo.org . The email will confirm your username and password (which you can change once you log into the site the first time). For assistance with setting up your account, please contact support@sgicinfo.org .
Once your username and password have been confirmed, you will be able to log into the online portal from the SGI Canada website at any time.
Using your online SGI Canada account, you can make online donations, find your official donation receipts for income tax exemption, and access online versions of the English-language magazines to which you subscribe. In the next phase of the Online Portal additional features will become available.
Please note that the online versions of New Century, Soka and From Today Onward are available as an extra feature for subscribers to the print versions of these publications. There is no online-only option available at this time. The online versions are formatted for smartphones, tablets and computers, and are not downloadable. Work is underway to make online versions of Ère nouvelle and Chinese New Century available to subscribers in the future.
Upcoming Events
World Peace Day / SGI Canada Day General Meetings on Sunday, October 3
Annual general meetings commemorating both October 2 World Peace Day and October 12 SGI Canada Day will take place online on Sunday, October 3, with times to be scheduled by each region.
October 2, 1960 is the date when SGI President Daisaku Ikeda set out on his first overseas journey for peace, five months after his inauguration as third president of the Soka Gakkai on May 3, 1960. He visited the United States, Canada and Brazil, He planted the seeds for kosen-rufu in Canada by visiting Toronto from October 11 to 13, visiting Niagara Falls on October 12. President Ikeda later designated October 12 as SGI Canada Day.
Ever since, we have held general meetings across Canada to commemorate World Peace Day and SGI Canada Day.
Special SGI Canada Fund
October 3 will also be the occasion of our second twice-yearly Special SGI Canada Fund contribution.
Members can contribute online using their SGI Canada account (see above) at https://sgicinfo.org/portal/login Cheques or money orders can be mailed to: SGI Canada, 2050 Dufferin Street, Toronto, ON M6E 3R6
We hope you found this newsletter beneficial. Please email your questions or comments to postmaster@sgicanada.org. The next SGI Canada Newsletter will appear on September 24, 2021. See you then!