Transforming the Poison of My Illness into the Medicine of Joy
July 14, 2021
By Fukue Yamada
Toronto
Vice Area Women's Leader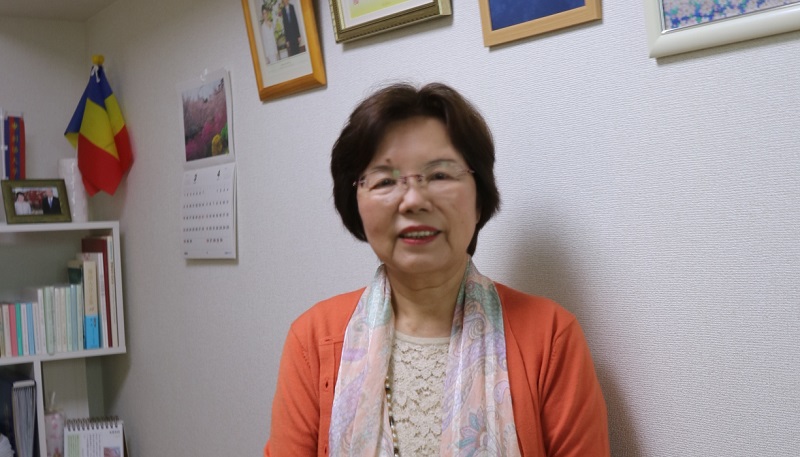 When I was 18 years old, I heard about Nichiren Buddhism from my aunt. Although I was not interested in any religion, she enthusiastically encouraged me to practice, so I decided to try it out. I was half-convinced, but as I did gongyo, chanted Nam-myoho-renge-kyo and studied Nichiren Daishonin's writings, I started to feel the power of chanting. I joined Soka Gakkai in Japan and continued my Buddhist practice.
After I had my second child, my husband, who was also a Soka Gakkai member, received a job transfer to work in Taiwan. This was my first time going overseas. In Taiwan, I was supported by many local members and I was able to start a new life with no worries.
At the time, Taiwan was under martial law,[1] so we could not hold large group meetings freely. But with a few members, we gathered and chanted together and studied. I was able to introduce this practice to a lady named Lai who looked after my daughter while I studied Mandarin at a school. Lai eventually joined SGI.
In 1987, martial law was lifted in Taiwan and we were able to carry out SGI activities freely. Lai introduced Nichiren Buddhism to her son and daughter, as well as her sister who later became SGI members. Both children got married and Lai became a grandmother and was very happy. In 2016, Lai passed away at the age of 86. When my husband and I visited Taiwan in 2017, Lai's relatives welcomed us and we were able to do a memorial gongyo for her. Even now, we stay in touch with Lai's relatives as an SGI family.
After living in Taiwan for five years, my husband got a job transfer to work in Hong Kong. We were impressed by how freely people were able to practice Buddhism there. Before the handover from British rule back to China in 1997, SGI President Ikeda visited Hong Kong almost every year to encourage the members. Witnessing President Ikeda's efforts in contributing to the movement for peace, while wholeheartedly encouraging each member and those working behind the scenes, I determined to follow this great mentor and practise this Buddhism for the rest of my life.
After Hong Kong's handover from British rule back to China in 1997, the operation of my husband's travel agency business became difficult. In order to find new opportunities, we immigrated to Canada in 1999.
In Canada, we made a living by opening a Bed and Breakfast (B&B) in Niagara-on-the-Lake. My husband I were able to introduce nine people to the practice, and six of them were able to receive the Gohonzon. Of the six friends, I had met three of them while I was studying ESL (English as a Second Language) at Niagara college.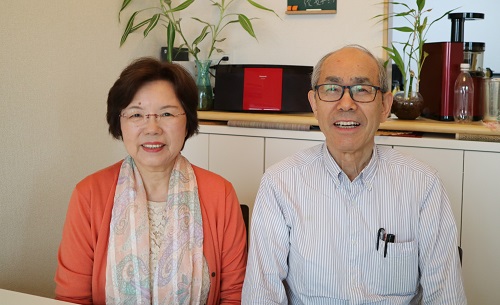 Fukue with her husband Kazuo. Both worked as SGI Canada staff
at the SGI Canada Caledon Centre before they retired.

From 2005-2010, my husband and I worked as SGI Canada staff members at the Caledon Centre. During that time, I was diagnosed with breast cancer and I had to undergo surgery, chemotherapy and radiation therapy for about a year in Japan. Mrs. Elizabeth Izumi (SGI Canada executive advisor) encouraged me saying: "Chant daimoku to overcome this illness!" My family and I chanted together in unity with the determination for me to become healthier than before my illness and to report victory to President Ikeda. Three weeks after my treatment began all my hair had fallen out and my body was damaged. The CT scan showed that the cancer hadn't shrunk even a little. I was so disappointed. But my daughter encouraged me saying: "It didn't get bigger, so it's good. I'm sure the cancer is being damaged inside." I changed my attitude and challenged myself in chanting.
Due to everyone's chanting and encouragement, I was able to stay positive, and get back up every time I felt discouraged during my battle with cancer. I had to wear wigs for about a year due to the hair loss, and some people even asked me where I got my haircut. They didn't realize I was wearing a wig and that I was fighting cancer. Some people even wanted to know where I bought my wigs. I made many friends thanks to my wigs.
During the last three months of my chemotherapy, the cancer shrunk from 2.5 cm to 4 mm. After that, I completed all my treatments, and I have been in good health and cancer free for 13 years now. I realized that getting cancer was my biggest benefit because I was able to make many new friends and now I am able to support others through my own experience. During our time as SGI Canada staff at Caledon centre, we introduced many more friends to Buddhism.
After retiring as Caledon Centre staff, my husband and I moved to Toronto. I spend each day doing SGI activities, volunteer work, and making new friends. I enjoy each day to the fullest.
It's been 54 years since I started to practise Buddhism and I have overcome many obstacles. I am so grateful to have encountered this practice and I really appreciate the SGI members who share in my joy and sorrows, and President Ikeda and Mrs. Ikeda.
To conclude, I would like to share words from my mentor President Ikeda:
Practising Nichiren Buddhism, chanting Nam-myoho-renge-kyo, enables us to positively transform all of those sufferings, in accord with the principle of "changing poison into medicine." The poison of suffering is transformed into the medicine of joy.

Because of the principle that "earthly desires lead to enlightenment," suffering becomes enlightenment and happiness. The greater our problem or sorrow, the greater the happiness we can change it into. This is the power of daimoku. That's why those who chant Nam-myoho-renge-kyo do not fear anything. There is no need to. (The Wisdom for Creating Happiness and Peace, Part 2: Human Revolution, pp. 96-97)
_______________________________________
New Century: Mr. Yamada, can you share with our readers how you felt when your wife was diagnosed with cancer?
Kazuo Yamada: When my wife was diagnosed with cancer, I could not help but keep thinking about a possible worst case scenario. But as I was reaching the40th anniversary of my practice that year, I felt deeply that this was the time and opportunity to transform our family health karma. At that point, I determined to start chanting earnest daimoku from that day forward.
New Century: Thank you very much for sharing that with us.
[1] Martial law is the imposition of direct military control of normal civilian functions by a government
Published in August 2020 New Century