A Family Revolution
October 1, 2016
Featured in the October 2016 issue of SOKA magazine
By Chiaki Aoki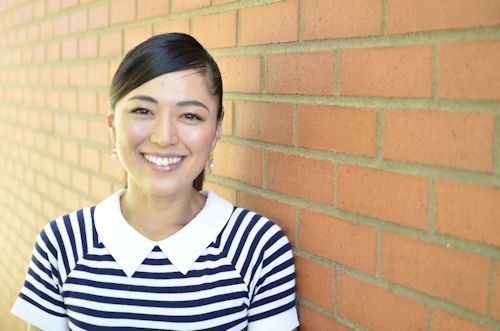 One day, last September, I spotted a toonie-sized bald spot on her head. I asked her if she pulled her hair out. Miya hadn't noticed that she had a bald spot until I mentioned it. It turned out that she was pulling her hair out while she was sleeping.
My daughter, Miya, is quite sensitive. She is 13 years old and normally doesn't let her feelings show.
At first, I thought it was just a temporary skin itch. However, as time went on, the bald spot on her head became bigger and bigger.
I took Miya to see our family doctor, expecting to get a prescription to heal her skin itchiness. I was surprised when the doctor said that there was no medicine for her problem. The condition is known as trichotillosis, a hair-pulling disorder that can be triggered by depression or stress. The doctor told us that it often occurs in children aged nine to 13 years old.
I was shocked to hear that there was no medicine to heal her disorder. I felt deeply sorry that my daughter was suffering, and that I hadn't realized it earlier. Every day I chanted Nam-myoho-renge-kyo for Miya. I prayed that she would feel free from stress and stop pulling out her hair while asleep. However, I continued to find a big hair ball beside her bed each morning. I sank to my knees and kept asking myself why.
I encouraged Miya saying, "This is a great opportunity to create your own unshakable faith in Nichiren Buddhism in the SGI. Let's chant together more. We will never give up, and we will win." Miya wasn't as enthusiastic as I was. She looked exhausted and struggled to have hope and faith.
Six months later, while I was chanting at an SGI Canada district women's meeting, I suddenly realized that Miya's problem was not hers' alone. I understood in that moment that the only way to overcome her health problem was for our entire family to chant together with strong unity, with the spirit of "many in body, but one in mind" (The Writings of Nichiren Daishonin, vol. 1. p, 618).
I sincerely explained to both of my daughters that we needed to overcome our hardships with strong faith.
I asked my youngest daughter, Amy, to encourage my husband, Steve, to do Gongyo together with us for Miya. I believed that Amy's encouragement could reach him in a profound way.
I also encouraged Steve, saying, "Now is the time for us to do gongyo and chant together. Through our united prayers to the Gohonzon we can definitely overcome Miya's disorder, as a family." To my surprise, he agreed and began doing Gongyo and daimoku with us for the first time in a long while.
The very next morning, we found that Miya's hair pulling had stopped. Her disorder is now completely gone. Her hair has grown back again. I feel deep and heartfelt appreciation for both of my daughters and for my husband.
Through this experience, I realized that everything that happens in our lives has a deeper meaning. We are now a more harmonious family.
I learned that we are able to overcome our difficulties if we practice faith in Nichiren Buddhism in the SGI sincerely, and chant Nam-myoho-renge-kyo, no matter what happens.
Amy has also been through a lot herself. When she was a just a baby, she was diagnosed with a skin disorder. She also had an unformed bone on her thumb which required her to have surgery on her hand. We overcame this obstacle with strong prayers to the Gohonzon.
Later, Amy started to chant Nam-myoho-renge-kyo, around the same time that she started to talk (at age two). She would chant very naturally, similar to the way children sometimes sing their favourite songs over and over.
She began doing gongyo with me around the age of four. Now she knows it well. Sometimes she even leads the recitation at future group meetings! She reminds us, her family members, to do gongyo every day and night!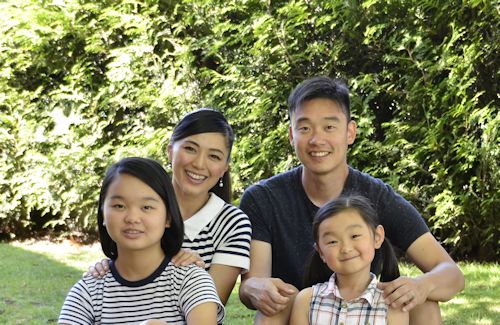 For Amy, it's easy to understand that our Buddhist practice works. After chanting Nam-myoho-renge-kyo and reciting the sutra together, we all feel better. We can all feel this.
Our family has realized another benefit from our united Buddhist practice. Recently, my husband Steve received a great job offer from a good company in a position offering much higher pay. He accepted the job and gave his previous company two weeks' notice of his leave. On his last day, however, he had a change of heart and asked his boss if he could stay on. He knew that he risked losing both jobs by this last minute decision. Fortunately, his boss was happy that my husband had changed his mind. He welcomed Steve to stay on.
Next, Steve needed to explain to the other company that he had decided to decline their offer after all. He was concerned that this might damage his reputation. As it turned out, the CEO was gracious and generous. He said that if Steve changed his mind again, they would hire him in the future. My husband was sorry that he may have caused trouble by reversing his decision. As a result, he suggested a friend qualified for the role who was able to fill the vacancy. In the end, everyone was happy.
Steve used to choose money first. Now that he is practising Buddhism more actively, he values relationships more. This led to his decision to continue in the same job; it's because he values his co-workers. I'm happy to see that my husband is realizing his human revolution, bringing out his better self.
President Ikeda writes:
Tolstoy, the noted Russian author, wrote in the beginning of Anna Karenina, "Happy families are all alike, but every unhappy family is unhappy in its own way." Our efforts directed toward the faith, practice and study of Nichiren Daishonin's Buddhism are the driving force which enables people and families who are unhappy in their own ways to equally achieve a change of their destiny and be revitalized as happy individuals and happy families.
Through chanting Nam-myoho-renge-kyo to the Gohonzon, always staying closely connected to SGI Canada, with the spirit of "many in body, but one in mind," we have been able to overcome every obstacle. All of our hardships have brought us closer together and enabled us to transform our karma as a family.
From this point on, I am determined to polish my life so that my family can become even more harmonious. I have resolved that, by November 18, I will report to President Ikeda that each person in our family has developed even stronger faith. By doing so, I know that we can become even happier and more united.
Chiaki Aoki lives with her family in Vancouver