Young Men's Conference in Montreal
By Hamilton Nieh and Pascal Gallant, Montreal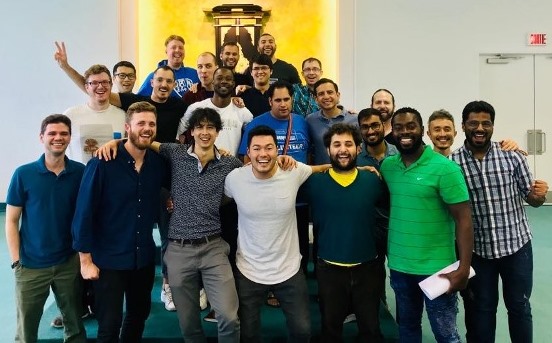 Participants at the Young Men's Conference in Montreal

On September 22, a Young Men's Conference took place at the Montreal Culture Center for the first time. Members from throughout Montreal were joined by young men from Ottawa for the all-day meeting with the objective to strengthen their faith and inspire one another.
Travelling from Toronto for the weekend, SGI Canada Youth Leader Ryan Brouwer and SGI Canada Young Men's Leader Alex Meers had dedicated the day before to visiting with young men individually.
On the day of the conference they shared guidance and encouragement from their recent trip to Japan in addition to sharing their personal experiences in faith. They highlighted such topics as the mentor and disciple relationship, the connection between family life and faith among others. Other young men shared experiences about the value of participating in behind-the-scenes activities and accomplishments in the workplace resulting from Buddhist practice. The unique personality, character and sincere delivery of each presentation was inspiring.
The lunch break was filled with joyful exchanges as friends reunited to share stories and victories. To conclude the day, an open discussion on faith enabled the young men to share their aspirations and challenges. It became a special moment to renew the vow we all have to become happy and help those around us to also become happy.
Two young men shared their impressions of the conference. One said, "For me, this conference was a place for heart-to-heart exchange; a place that gave me the opportunity to rid myself of numerous burdens preventing my life from shining. I just loved it!"
Another said, "I really appreciated the conference and in fact the whole weekend. I think the personal visits with different young men [on the 21st of September] was an excellent idea. The next day I also really liked the conference, the diverse experiences, the pacing was especially good. [...] It was complete; for me, a total success!"