With Love and Patience, Nothing is Impossible
November 7, 2018
By Michelle Savard, Montreal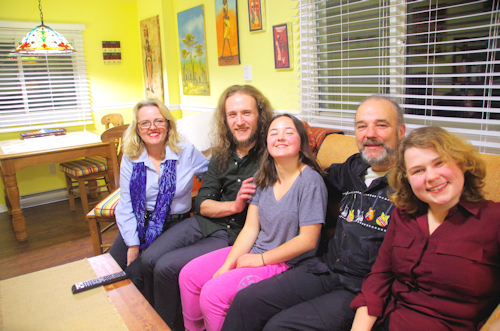 After 36 years of Buddhist practice and sincerely chanting to understand my mission, I find myself currently working on my PhD at Concordia University. My dissertation is on developing a model to foster competent functioning, social inclusion and sustainable livelihood for formerly abducted young mothers in Northern Uganda. Competent functioning includes hope for the future, the ability to deal with hardship and stress and to take action to improve one's own welfare.
Some of the women I work with were abducted during a 21-year civil war in Uganda and were forced to be wives, soldiers, porters, and domestics for both the rebel and government forces. Others spent the war in camps in abysmal conditions. After the war, many brought home children and were marginalized by their communities for having children out of wedlock. These women live in poverty, many are unable to pay school fees for their children but they are fiercely capable.
With a community-based organization, Uganda Women Action Program, (UWAP), we developed a program based on the needs voiced by 20 young mothers in Gulu, Uganda and over the course of three years, provided training on goal-setting, life skills, gender rights, parenting, etc.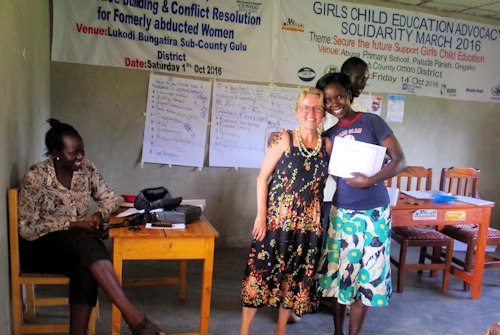 At the beginning of the project, the women named themselves "Women in Motion" (WIM). They created four goals, action plan and committed to meet twice a month to receive training and develop bonds for support. They were also asked to save 25 cents each meeting, as saving even pennies a day can alleviate poverty. The aim of this training, goal-setting and saving was to expand lives. "Creativity means to push open the heavy, groaning doorway of life itself."[i]
Two months after I left Uganda attendance started to lag, with the women starting to mistrust the leader of UWAP. The more educated women started marginalizing the less educated and few were contributing to group savings. I continued to chant for wisdom to know how to support these women.
In 2015, I had asked all the women to take photos, responding to the question: "What do you value most?" I captured their stories, and with the support of a wonderful young woman (who is now chanting), and my family, we held a photo exhibition in Montreal, raising $950. In 2016, I asked the women to fulfill their commitments to save and open a bank account so that this money could be transferred. Again, no action. The explanation behind this lack of action is complex, stemming back to colonization and including dependency created by NGOs during the war, years of marginalization, and a lack of confidence in their right to have a better life.
That year, by chance, I met some single mothers who had formed a very successful savings group. In seven months, "Single Pride" collectively saved over $700. By 2017, with few exceptions, all 42 women were putting their children through school. They cherish each other and attend group meetings regularly. All they needed was more training. Later in 2016, I had the good fortune to receive the Doctoral Research Award of the International Development Research Centre. This allowed me to deliver even more training. When I arrived back in Uganda in 2017, I invited Single Pride to join WIM for entrepreneurial training and computer literacy. WIM saw the harmony, respect and commitment of this group. Within three days, WIM opened a bank account, developed rules of conduct for their group, and now they borrow from the funds raised at the photo exhibition. I've also learned that all these women within the last year have joined savings groups and many are putting their children through school.
There were times when I felt completely discouraged about this project, doubting my ability to support "the creativity" these women needed to improve their lives. I strategized and delved into the research. However, things began to change when I chanted whole-heartedly for their happiness and ingrained the wisdom of President Ikeda who said that with love and patience, nothing is impossible. I'm not entirely sure what exactly caused the change in my group, but I do know that the power of Nam-myoho-renge-kyo is infinite.
Throughout the whole process, I developed a profound friendship with my translator and research assistant, Susan, who has been such a support and source of encouragement. We've conducted over 150 interviews together. Sometimes the subject matter was too much to bear. We would discuss it afterwards, cry a little, encourage each other, and then next day, do it all over again. So many times, I wanted to introduce Susan to the practice but was hesitant. Although there is freedom of religion in Uganda, it is staunchly Christian. I kept silent and chanted quietly.
Uganda has almost 70 SGI practitioners, approximately 50 in Kampala and 20 in the remote western region of Bwindi. While Susan and I were in Kampala, celebrating her birthday over a piece of chocolate cake, she began to recount her challenges, and I blurted out that chanting would help. For about 10 minutes, I spoke about Buddhism while she listened intently. Later, we went to a district meeting. She loved the people and the discussion, and has been chanting and doing gongyo ever since.
During the discussion, Amita (the leader in Uganda) mentioned that there would be an exchange meeting in Western Uganda. I was reticent to go, unsure that we would finish all our work in Gulu in time, and also, travel in Uganda is a hot, dusty and bumpy ordeal. However Susan said, "When will we ever have this opportunity again?" Leading up to this trip, Susan had so many difficulties, ranging from a death in her family, a squabble with her mother, to issues with child care. I explained the function of obstacles from a Buddhist perspective. She understood it at a profound level and became even more determined to go to Bwindi.
A few weeks later, we began the 10-hour, very bumpy, dusty ride to Bwindi. When we arrived, we were ushered into an 8x8ft room with no electricity. Slowly, 15 young men filed in! Then two young women arrived. I was so moved. Here we were at the edge of Uganda, minutes away from war-torn Congo, and I was surrounded by hopeful, determined youth working for peace. The food and hospitality offered us revealed a deep commitment and the human revolution required to overcome tremendous financial hardship. The members in Bwindi have a rich practice and are determined to expand their lives and introduce others. The high point of the weekend was completing a peace walk started by a member. When we reached the hilltop, we were treated to a cultural performance by the Batwa (a culturally persecuted people). They then sat down and chanted with us. Facing the rolling hills, it was profound.
Introducing Susan gave me the courage to introduce three other Ugandan women. As President Ikeda says, "Only if you challenge your human revolution in a manner that is true to yourself will the people around you naturally begin to trust and respect you."[i]
Once I returned to Canada, Susan was finding it difficult to chant alone. However, she wrote and thanked me for introducing her to this practice, and she mentioned that she is now introducing others. She added that one of the leaders in Bwindi recently contacted her to tell her that an SGI- Italy member was on her way to Gulu. Had we not gone to Bwindi, Susan would never have connected with this member. Recently, she wrote: "Thank you so much for the gifts….These are so precious to me, and the gongyo books are a blessing. I have three people chanting in Gulu already. We all chant with the SGI Italy member regularly. It is very nice to have people I can chant with. When you come again, I want Gulu to be a peaceful district through my chanting. I am positive that it will work out and we shall create an impact."
With every problem we overcome through Buddhist faith and practice, we create a model for winning in life, a genuine experience through which we can encourage many others. SGI President Ikeda expresses this process as "changing karma into mission" and explains: "We all have our own karma or destiny, but when we look it square in the face and grasp its true significance, then any hardship can serve to help us lead richer and more profound lives"[i]
My Buddhist practice has awakened me to my mission and has provided me with an opportunity to challenge my karma and to grow. For that I am so grateful. I am also deeply grateful for the support of my family. They have edited papers, done transcriptions and have all volunteered in Uganda. I feel that the good fortune I have attracted as a result of my practice has led to the amazing support I need to continue fulfilling my mission.
[i] SGI Newsletter 9753. To be published.
[i] Ikeda, For Today & Tomorrow, p. 351
[i] www.ikedaquotes.org
Published in April 2018 New Century