Undisputable Confidence
August 3, 2018
By Steve Bissonette, Ottawa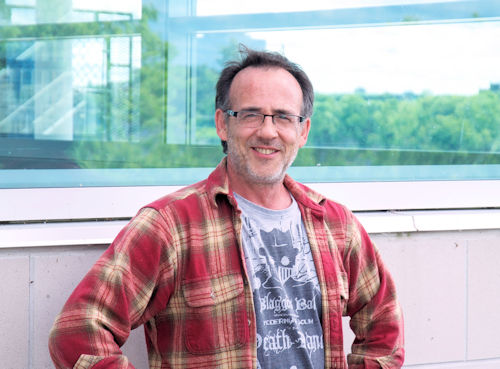 At the New Year's World Peace meeting last year [2016], I made the determination that I wanted a "conspicuous victory." This had to be something that undisputedly came about through my practice so I could inspire others to join SGI or practise with more determination. I work for a large flooring company in Ottawa where I'm responsible for the installation and inspection of all types of flooring in most of the construction sites across the city. I am also a visual artist who has worked in animation, had comic strips and editorial cartoons published, and continues to produce and develop my own body of work. My goal was to get the opportunity to showcase my talents as an artist in a way that would make me enough money to get out of a huge debt load.
I started practising Buddhism and received my Gohonzon in 2015. I was hooked at my first meeting, and felt like I'd been a Buddhist my whole life. I liked the practicality of this philosophy, and found with chanting I was calmer and able to focus better.
Up until I made my determination, I had been making some pretty impressive breakthroughs. Four months after beginning to practise, I no longer felt depressed and was able to stop taking medication. Then, after smoking for 35 years, I was able to quit, a huge benefit.
As the year rolled on, more good things were happening: home life was bliss with my partner, Lisa, who had introduced me to the practice. My three adult sons were skeptical of my practice at first because I had tried other things in the past. As they saw my victories, though, and talked about the practice with me, they came to like it.
My relationships at work had transformed in ways I could not have imagined. I had been there 15 years, and there was a 180 degree turn once I started practising. Relationships improved and jobs went smoothly. My boss saw changes in me and said, "We like this Steve – we want to keep this Steve."
My life was better than it's been in—well—ever. And all indications showed that, with my practice, my life was only going to get better.
But as far as I could see at the time, my art was going nowhere—I couldn't even find the inspiration to doodle a single page. I wanted results and I wanted them right away! Despite all the good things happening, I was distraught, frustrated and angry. I had been chanting and practising with great determination! I asked myself, why did I have to suffer this problem? I chanted very hard, but could gain no insight.
Fast-forward to October.
I was approached to re-do the Ottawa Senators' dressing room logo in carpet. I'm one of about a half-dozen people in Canada who can do this type of work and since I've done it twice before, it was only logical that they would come to me. So, at the time I did not make the connection between this benefit and my practice. I took my time doing the logo and still handed it in a week early. Another victory—one I did acknowledge as a benefit of my practice.
And then, the answer to my prayer: The day I handed the finished carpet logo to my client, I was asked if I could do the 25th Anniversary logo in a 30-foot diameter carpet to be placed at centre ice for Ottawa Senators player Daniel Alfredsson's jersey retirement.
Yes! This was exactly what I had asked for. It was the size of the job and the prestige (no one else in Canada would be able to do this the way I could and within the time allotted). And I was going to be paid the most I had ever got for one of these projects, enough to get me out of debt. This was the way to prove the power of my practice to everyone. I knew I could do it if I was determined and steadfast.
I was over the moon with joy.
At the same time, I had no idea how I was going to transport or store the three giant, 300 lb. rolls of carpet, let alone find the work space I needed, or even find the time! I calculated about 140 hours to complete the project—this wouldn't have been a problem if I didn't already have a very, very full-time job—but there was no way I could turn this down. This was exactly what I had been chanting for. "I'll find the time - I'll find the space. I need to do this."
I was told I had five weeks to complete the project. If all went well, I could pull it off. However, all did not go as well as expected: a key carpet colour was not ordered, and I was quickly running out of the most important material I needed, seaming tape. Then I found out it was discontinued and unavailable anywhere. And there was the transportation problem, not to mention the question of storage. The stress began to build.
Time has now become an issue, but not quite an insurmountable obstacle. I had left-over carpet and some seaming tape from the previous logo, so I moved ahead and did what I could. The large rolls of carpet were being stored at my work's warehouse. Each day seemed to bring another obstacle, each one with the potential to be devastating to the project. Through my determined daimoku, however, each obstacle turned out to be nothing more than a minor inconvenience.
In the past, given the number of obstacles I ran up against, I would likely have panicked. And I'm not convinced that I would not have sabotaged myself at that point and burned a couple of bridges on top of it. I had to confront this life tendency one day at my day job. Stress had built there, too, because we were short staffed, and my territory covered two dozen construction sites.
Things came to a head when I blew up at a meeting. In the past, I might have quit my job. This time I went back and apologized to everyone, and they understood. All my life, I had trouble controlling my anger, but now I was able to talk calmly about the overwork problem and it got resolved.
With things under control at my day job, I kept telling myself: "This project must happen. There is no try. There is only do." So, I made it work. Although I will admit to having a certain number of doubts, I practised through them with determination. In doing so, I was supported by Lisa and our SGI men's group members, and inspired by the example of Shijo Kingo, the great disciple of Nichiren. I also gained courage and strength from Nichiren's encouragement to Shijo Kingo. In a letter, "Reply to Kyo'o", he wrote:
A sword is useless in the hands of a coward. The mighty sword of the Lotus Sutra must be wielded by one courageous in faith. Then one will be as strong as a demon armed with an iron staff. I, Nichiren, have inscribed my life in sumi ink, so believe in the Gohonzon with your whole heart. The Buddha's will is the Lotus Sutra, but the soul of Nichiren is nothing other than Nam-myoho-renge-kyo. (WND-1, 412)
When I read this, I envisioned an oni [Jp. demon] with his iron staff, invincible against any obstacle, victorious against any enemy ... the battle won without being fought.
In the end, I was able to get studio space and a suitable alternative to the seaming tape, and transportation of the goods was provided. I handed the finished piece to the Ottawa Senators 12 days ahead of the deadline. On top of all that, there was not one, single mis-cut.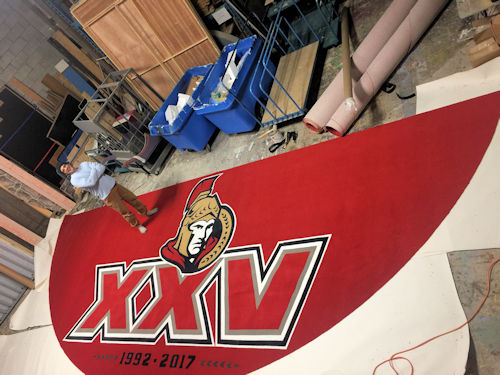 Everything I had set out in my New Year's determination had come to fruition. I had taken my artwork to a new level and it was showcased on national TV. As well, all our credit card debts were paid off.
Whenever I had doubts about my abilities, my worthiness or even the outside forces I could not control, I remained steadfast in my mind, remembering that I had asked for this. It was through my practice that this came to me, so I had every confidence that through my determined hard work, faith and practice, I would see this through to victory. And that made me practise harder.
Through my victories in overcoming the many obstacles along the way, my faith in Nam-myoho-renge-kyo has strengthened beyond measure. Because of my practice, I was able to see that the obstacles that once seemed to be so huge were actually just little hiccups along the way—spice to make life a little more interesting.
I'm determined to surpass last year on every level, and with the experiences I've been through, I can say with confidence that not only is it possible, it is a certainty.
(Published in August 2017 New Century)