The Joy of Human Revolution
April 5, 2017
By Andrea Boardman
Montreal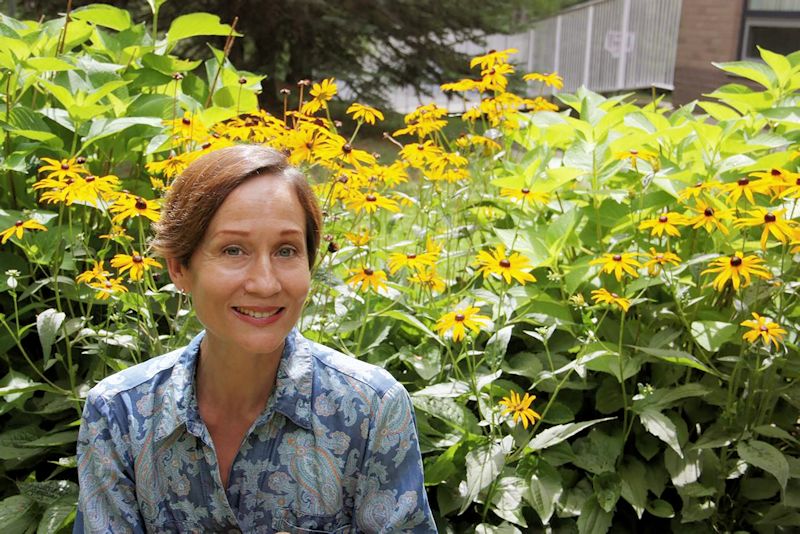 I moved to Montreal from the United States in 1980, accepting a contract with a renowned ballet company. Within months, I was introduced to Buddhism by several dancers in the company who were SGI members and began practising in 1981. I was naturally drawn to the practice, which offered clear and profound answers to my many questions about the complexity of life. I knew that I needed a foundation to help me handle all the pressures and challenges I faced and yearned to become a person of wisdom. Chanting became the guide and stability I was searching for. I would actually find out 25 years later that my mother had a connection to Soka Gakkai as well.
My mother was born in Tokyo in 1923 to a French mother and Japanese father. She grew up in Den'en Chofu and was educated at a Catholic school founded by her French grandfather. She was a translator for the Post WWII Headquarters Command in Kyoto, where she met my father, an American, who was stationed in Japan during the Korean War. They married and moved to the United States in 1952 and had six children. A few days before my mother passed away in 2005, barely able to speak, she told me that she knew how to say Nam-myoho-renge-kyo and had attended some Soka Gakkai meetings in Japan after the war. How shocked I was to hear this! We all loved our mother dearly, and though a simple housewife, she lived with great compassion and was loved and respected by all. She was always so proud of my efforts and happy to know that I have such a wonderful mentor in life, Daisaku Ikeda.
With the continuous development of my Buddhist practice, I enjoyed a career that spanned over 33 years, dancing 10 years beyond what was considered the normal retirement age. Daily chanting helped me maintain the rigorous training and dedicated commitment required of a professional ballet dancer. Working for two prestigious companies in Montreal, I was fortunate to tour the world, performing lead roles in a range of repertoire extending from the great classics to modern and contemporary works by internationally known choreographers.
Throughout my career, I had the extra challenge of being a young mother raising a child, while handling the intense demands of being a professional dancer—something considered impossible in the early 1980s. Despite these challenges, I felt so protected that my husband and I were able to provide for our son so that he could receive nurturing childcare and a good education. Being a mother actually kept my life in perspective, while chanting kept me focused with my feet on the ground, as I struggled to balance all of my responsibilities along with my professional career.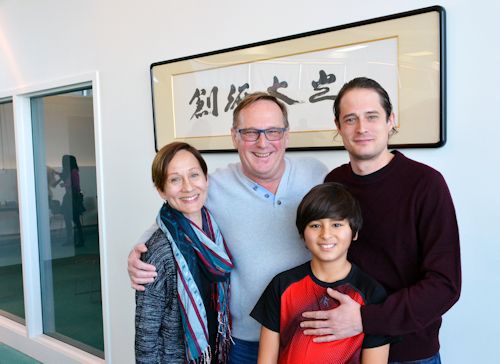 Over the years, I have been fortunate to develop a wonderful relationship with my husband, Jean-Hugues who was also a professional dancer. In 1989, at 35 years old, he decided to retire in order to transition into work that would hopefully be more stable for our future. However, he fell into a deep depression, losing his identity and purpose in life as he searched for something to replace the excitement and fulfillment he'd experienced as a performer. Over several years he gradually became addicted to drugs and gambling, which brought great emotional and financial hardships to our lives.
At that time, I was approaching my 20th year of practice. As difficult as it was to live with the devastating circumstances, I knew this was an opportunity to deepen my faith. After many failed attempts to try to save my husband, I chanted with every ounce of my energy to overcome my fear and for him to practise so that he could change his own life. Suddenly, he decided to chant with me for a week and committed to a rehabilitation therapy, after which he started to practise. Over time, he regained the respect of his peers and developed a thriving career as a tour manager, stage manager and rehearsal director for numerous Montreal dance companies. Today, he is in more demand than ever and continues to show his wonderful capacity to guide young professionals as well as experienced artists. I feel such deep appreciation that, through this experience, he has been able to transform his life and discover his true self.
As well, I had to face my own fears of the future when I retired, but my daily Buddhist practice helped me to develop the courage and confidence to move forward. At 50 years old, I engaged in an intensive 18-month pedagogical training program, opening up a new world of intellectual challenge that involved taking courses in anatomy, psychology, musical accompaniment, the analyses of various syllabuses and other pedagogical objectives. Upon completion of the training, I was invited to teach at a professional dance school in Montreal for students between the ages of 10 and 20. I tried to guide and encourage the students as best I could, striving to bring forward their unique potential as dancers and individuals.
Within three years I was asked to become coordinator of the college program. This new challenge would expand my responsibilities administratively and entail complex scheduling and organization as part of overseeing more than 20 different dance and theory courses per session. It also meant executing everything in French in order to fulfill the school requirements as a French institution. I continued to chant fervently to believe in my capacity to manage all of these new challenges while still preparing and teaching my own classes.
Both the general and artistic directors expressed that in hiring for this position, they needed someone who not only possessed vast experience, but who could equally care for and mentor the students, working with them in the studio as well as meeting with them individually to encourage and guide them toward a promising career. They felt that I already possessed these qualities and was the ideal candidate for the position. I realize that this acknowledgement is a direct result of my Buddhist practice and my effort to apply the guidance that SGI President Ikeda has shared over the years on how to live as a human being. How fortunate I feel to have him as my mentor in life, as a constant example of humanistic behaviour. I continue to take his words to heart, trying to mentor my own students and guide them in the best way possible toward becoming great dancers and human beings.
In 2016, quite unexpectedly, I was promoted to an associate director position at work. I'm so appreciative of this opportunity and, in hindsight, realize to what extent chanting Nam-myoho-renge-kyo has definitely given me the courage to expand my capacity in ways I could never have imagined. Throughout my transition from dancing, my husband has been my greatest support and, to this day, we continue to encourage each other as we share an understanding of the demands and pressures of each other's work.
My life is busier than it's ever been, yet I feel such a sense of fulfillment and joy. With my responsibilities as a Montreal women's area leader, at work and with my family, I have many opportunities to challenge my human revolution to be able to fulfill and balance all of these roles. My daily practice of doing gongyo and chanting daimoku inevitably gives me the courage to transform my worries into conviction so I can maintain the optimism and life force I need to get through each day.
I have always treasured reading President Ikeda's writings for the hope and inspiration I receive each day. In 1984, when the Min On Concert Association invited Les Grands Ballets Canadiens to perform in Japan, I had the great fortune to meet President Ikeda with the other dancers who were SGI practitioners. He signed a book that I had just bought: The Creative Family. In it, he wrote:
In this lifetime, strive to keep the same pure mind that your mother has. In this lifetime, I will pray for the happiness of the daughter whose mind is beautiful and pure.
I was so moved by his deep compassion and reference to my mother. For many years, this guidance has been my beacon as I continue to strive to do my human revolution to win in every area of my life.
I have come to realize that my SGI responsibilities serve as an engine for the forward momentum of my life. My practice of Buddhism truly is what sustains my life and fuels my determination so I can make the most of every moment and hopefully a difference in the lives of everyone I encounter. Working to help others realize their infinite potential brings great joy to my own life as we all strive toward creating a peaceful and harmonious world.
With every passing day, I realize how truly fortunate I am to have encountered this profound Buddhism and the sense of purpose and meaning that it has brought to my life.
Andrea Boardman is an Area women's leader in Montreal
Published in the April 2017 New Century magazine