Owning My Choices with Life Changing Daimoku
August 15, 2019
By Vinita Kapoor, Toronto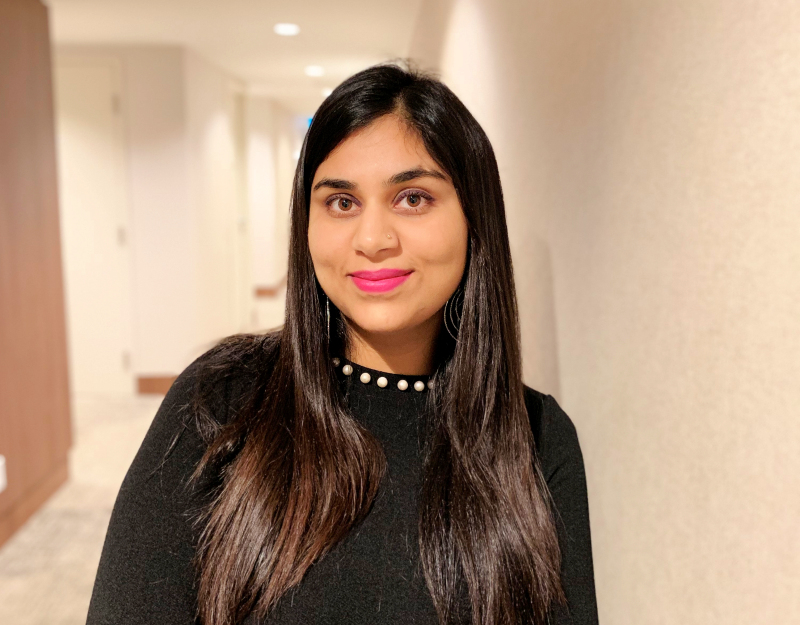 I have been practising the beautiful philosophy of Nichiren Daishonin's Buddhism since 2009. My introduction to Buddhism was rather by chance when my sister took me to a meeting one day in New Delhi, India. The vibrant sound of Nam-myoho-renge-kyo struck a chord with me and I took to faith like a fish takes to water.
Being the youngest of three sisters, I had lived my life under their shadows. In making life choices, I tried to emulate the path they followed. As a result, I grew up confused, weak and lacked a sense of individuality. Both my sisters were lucky to find love, got married and moved to different countries. This was the time I realized I had to stand up to fight my own battles and take responsibility for my life.
Chanting and participating in SGI activities strengthened my confidence. Slowly, I began to take ownership of my choices. Chanting gave me the courage and hope to believe I could surmount my problems and realize all my dreams—an idea so seemingly normal now, but life-changing at the time. All through these past years, I challenged my limits and chanted life-changing daimoku. Whether it was day or night, I made room to chant abundant daimoku each day. As a result I created the power and immense good fortune to solve the disharmony in all areas of my life. Whether it was family relations, property disputes, health issues, or job-related problems—I could overcome them all.
On the professional front, I developed an interest in writing and pursued this path, honing my skills, even if it meant working two jobs. I was fortunate to publish stories and make writing a part of my career. This was a monumental achievement for someone like me who, for many years, could never imagine having free expression of my thoughts.
On a personal front, as I witnessed failed relationships and marriages in my environment, I grew reluctant to settle down in life and started to question the institution of marriage. Since this was worrying my parents, I often resigned to their wish for me to meet boys and their families, but these meetings would be unsuccessful. After seeking guidance from leaders, I was advised to chant with a resolve to attain clarity and was explained the value of marriage from a Buddhist perspective. I also came across the following inspiring guidance from SGI President Daisaku Ikeda:
Rather than becoming so love-struck that you create a world where only the two of you exist, it is much healthier to learn from those aspects of your partner that you respect and admire and continue to make efforts to improve and develop yourself. Antoine de Saint-Exupéry, the author of The Little Prince, once wrote:
"Love is not two people gazing at each other, but two people looking ahead together in the same direction." It follows then that relationships last longer when both partners share similar values and beliefs.[i]
This guidance opened my eyes to a world I had never imagined. I grew serious and interested in marriage and prayed with renewed determination to settle down with a partner who would support my mission for kosen-rufu, loosely translated as "world peace through individual happiness." I decided to step up my efforts in SGI activities. Meeting and encouraging members while battling my own problems brought me immense joy. Members' victories and smiles instilled fresh energy and hope.
As a cumulative benefit of all my efforts in faith, a wonderful boy came into my environment. On the surface he seemed too good to be true. Due to my own baggage of past failed relationships, I often looked at him with skepticism, hoping to find reasons to suspect his intentions. I increased my chanting and completed one million daimoku so that I could see him through the enlightened eyes of daimoku and use my wisdom. Soon, I began to realize he complimented me in many ways. His sincerity and honesty toward me were unshakable, and I eventually stopped applying my limited strategies. We got married in 2015 and I am extremely happy to share that Rohit started practising Buddhism. As husband and wife, we are advancing together for kosen-rufu—sharing the same mission in life.
I'd like to add that the last three years of marriage have not been a smooth ride for us. Right after our marriage I moved from New Delhi to Bangalore and then my husband got a job in Dubai. Due to my own job, I could not travel with him. I was alone in a new city, having to take care of everything on my own. Moreover, we both had individual challenges at our workplaces. But this was the time that our chanting kept us going despite the distance and we strengthened our bond more than ever. Rohit returned after six months but had to move yet again to Canada. This time we based our decision on faith and moved together to Toronto in June 2018.
All our struggles as a couple have served as nourishment for our growth, just like the lotus flower that grows in the mud. I realized that love and marriage are not a guarantee that life will be rosy, but the power of Nam-myoho-renge-kyo and our commitment to our vow for kosen-rufu will make all things possible.
Before our move to Canada, I had written a letter to President Ikeda sharing the new milestone in our life and received a reply saying, "I have received your letter. Please convey my best regards." I take these words from my mentor as encouragement to carry out kosen-rufu in Canada and am determined to base every struggle on deep faith and unshakable conviction.
Finally, I would like to share this quote from Nichiren Daishonin's writing, "The Embankments of Faith," that continues to encourage me:
Suppose there is a ship that sails on the open sea. Though the ship is stoutly built, if it is flooded by a leak, those on the ship are sure to drown together. Though the embankment between rice fields is firm, if there is an ant hole in it, then surely, in the long run, it will not remain full of water. Bail the seawater of slander and disbelief out of the ship of your life, and solidify the embankments of your faith.[i]
Published in March 2019 New Century
[i] The Writings of Nichiren Daishonin, vol. 1, p. 626
[i] Discussions on Youth, p. 62