Driving Doubts Away
May 24, 2023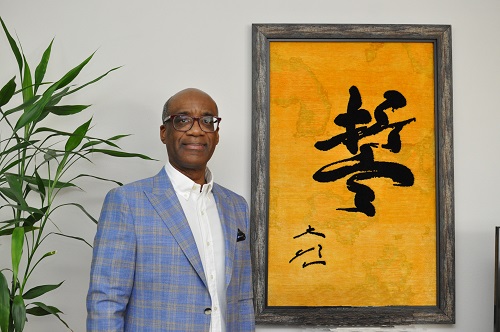 By Oscar Ciel
Men's District Leader
Eglinton District, Toronto
At the beginning of my Buddhist practice more than 36 years ago in Panama, it was hard to let my family know, due to their religious background. I was introduced to chanting by my aunt and I decided to try. After I received my Gohonzon,[1] I enshrined it quietly in my bedroom for fear that someone would damage it.
No one in my immediate family had any idea about the Gohonzon. In my room, I had the freedom to do my daily practice of gongyo[2] and daimoku[3], but I had to keep my voice low in order not to disturb anyone. The term honzon is a Japanese word meaning "object of fundamental respect or devotion" and the prefix, go, means "worthy of honour."
Chanting Nam-myoho-renge-kyo,[4] the ultimate law of the universe, while facing the Gohonzon, I was activating the power of this Law. I also studied the philosophy of Buddhism in the writings of Nichiren Daishonin, the founder of our practice. With this combination, I began to make changes in myself for the better.
Within a few months, my family started to see improvements in my life. I told them what I was learning about my new practice, and that opened doors to acceptance. One day, to my surprise, my mother suggested that I move my Gohonzon from my room to the living room. That was one of my biggest benefits. A few years later, my mother also began to practise with me.
Nevertheless, I was struggling with various obstacles in Panama. Then, in 1988, I had another huge benefit. I was given the opportunity to move to Canada for a better life. My situation, however, was not secure. I landed in Montreal with little money and zero knowledge of French, Quebec's official language. I was fortunate to carry my Gohonzon with me, which gave me courage during my first days in Canada.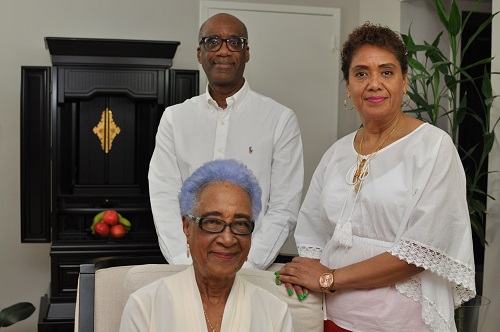 Oscar with this mother Melviana (centre) and sister Yanela,
both SGI practitioners, at their home in Toronto
Due to the economic situation in Montreal, I was forced to move to Toronto in 1995. I didn't hesitate to get involved in SGI activities, such as study and discussion meetings, in my new city. As a result, I started to accumulate more benefits. My life began to flourish.
After many years without any major obstacles, my Buddhist practice was put to the test. In October 2019, after coming home from a dentist appointment in Mississauga, Ontario, my mother and I had a car accident. We were on the Gardiner Expressway, one of the busiest highways in Toronto. Seven cars were involved, and the highway was shut down for several hours. I believe that thanks to the protection of the Gohonzon, activated by my chanting, we didn't have any physical injuries, even though my car was a total loss.
My accident never led me to question the protection of the Gohonzon. I did not doubt. Instead, after so many years, it made me open my eyes and re-examine my Buddhist practice. I felt a renewed determination to study the philosophy of Nichiren Buddhism more deeply.
Three months later, in January 2020, my faith was again put to the test. I had to visit my family doctor because I was not feeling well. After a series of tests to find out my problem, the last test was a colonoscopy. To my surprise, the result came back—I had rectal cancer.
I was shocked by the news. This obstacle hit me hard. I started to wonder about the protection I had always felt from this Buddhist practice. I questioned why this was happening to me. I had a strong practice, so why me?
After sharing the news about my illness with my senior leaders, I received encouragement from many practitioners. One of my senior leaders advised me to study more about Nichiren Buddhism and to read SGI President Daisaku Ikeda's guidance. I started to do so. Gradually, I was able to accept this new reality in my life.
After doing more reading, I came across one of my favourite passages from the writings of Nichiren Daishonin (called Gosho, meaning "honourable writings"). He wrote:
No matter how earnestly Nichiren prays for you, if you lack faith, it will be like trying to set fire to wet tinder. Spur yourself to muster the power of faith. Regard your survival as wondrous. Employ the strategy of the Lotus Sutra before any other. (WND-1, 1001; "The Strategy of the Lotus Sutra")
Without hesitation, I started to employ the strategy of the Lotus Sutra by chanting earnestly. Another Gosho passage that a senior leader shared with me also helped me to see this obstacle in a different way. Nichiren wrote:
Nam-myoho-renge-kyo is like the roar of a lion. What sickness can therefore be an obstacle? (WND-1, 412; "Reply to Kyō'ō")
Through this Gosho passage, my leader helped me understand why I was going through this obstacle of illness. Nam-myoho-renge-kyo is the ultimate source of power for overcoming the sufferings of illness. I understood that the reason I was going through this illness was because I have a mission to fulfill in my lifetime.
I was referred to one of the best hospitals in Canada for cancer treatment. There, an excellent team of doctors looked after my case. The doctors came up with a plan for my treatment that consisted of radiation and chemotherapy to reduce the size of the tumour. This allowed them to proceed with the surgery. After the surgery, I took another round of chemotherapy.
To accomplish my cancer treatment successfully, my family and I came up with a plan. We called it "the Buddhist strategy," consisting of abundant chanting. Along with my sister and my mother, we were able to chant three million daimoku[5] from the day we learned of my illness to the day of my surgery.
I received support from leaders and members who came to my place to chant. That was before the pandemic lockdown started; later they supported me remotely, or via internet.
My surgery was on July 31, 2020. It took three and a half hours to complete it. The doctor was able to successfully remove all the cancerous tumours that affected my rectal area.
The downside was that they kept me in the hospital for an extra week for observation because I was not responding as expected during my recovery. My physical condition started to deteriorate. On the second day after my surgery, I was vomiting because I was not able to digest solid food properly. For two days, they put a tube down my throat and I was also getting nourishment intravenously.
Once the tube and intravenous were removed, my diet changed to liquid food. I lost weight and felt weak. It was difficult for me to continue my daily Buddhist prayers, but at least I was able to chant while I was in bed.
I prayed for strength to get better and be able to go back to my daily Buddhist activities as soon as possible. It was great to receive a message saying that SGI Canada practitioners were organizing a daimoku chanting session for my speedy recovery. Members from all across Canada were chanting for me, particularly from Montreal, Calgary and Vancouver. That message made me feel overjoyed and gave me the strength to keep on chanting.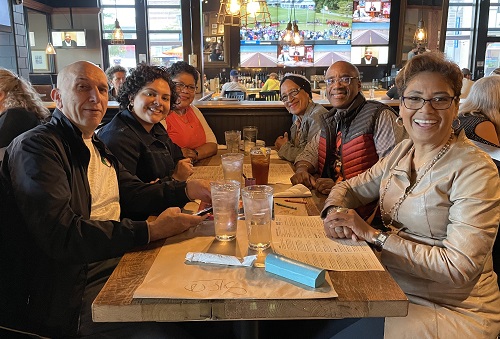 "My faith in the Gohonzon gave me inner strength; my years of practice
and study gave me courage; and, of course, everyone's daimoku buoyed me up."
From left: Jimmy (brother-in-law), Ariana (relative), Lize (relative), Melviana (mother), Oscar and Yanela (sister)
A few days later, I started to regain my strength. I was able to get up and do daily exercise, such as walking around on my hospital floor. It didn't take long for the doctors to discharge me after seeing these improvements.
The words of my mentor, philosopher and SGI President Daisaku Ikeda, really fit into my situation. He writes:
"Because of the principle that 'earthly desires lead to enlightenment,' suffering becomes enlightenment and happiness. The greater our problem or sorrow, the greater the happiness we can change it into. This is the power of daimoku. That's why those who chant Nam-myoho-renge-kyo do not fear anything. There is no need to."[6]
As of today, I see a total improvement in my health. I'm able to do daily activities on my own. My faith in the Gohonzon gave me inner strength; my years of practice and study gave me courage; and, of course, everyone's daimoku buoyed me up. I would like to thank all my family, particularly my mother, my sister and my brother-in-law, for being with me since day one of my illness.
Published in November 2022 New Century
[1] Gohonzon: The object of devotion in Nichiren Buddhism. It is the embodiment of the Law of Nam-myoho-renge-kyo, expressing the life-state of Buddhahood, which all people inherently possess. Go means "worthy of honour" and honzon means "object of fundamental respect."
[2] Gongyo: Literally, to "exert [oneself in] practice." Generally speaking, gongyo refers to the practice of reciting Buddhist sutras in front of an object of devotion. In Nichiren's (1222-1282) teaching, gongyo means to chant the daimoku of Nam-myoho-renge-kyo and recite portions of the "Expedient Means" (second) chapter and the "Life Span" (sixteenth) chapter of the Lotus Sutra with faith in the object of devotion called the Gohonzon.
[3] Daimoku: Chanting Nam-myoho-renge-kyo in Nichiren Daishonin's teachings.
[4] Nam-myoho-renge-kyo: The fundamental Law of the universe expounded in Nichiren Buddhism, it expresses the true aspect of life. Chanting it allows people to directly tap their enlightened nature and is the primary practice of SGI members.
[5] At a steady pace of chanting Nam-myoho-renge-kyo, chanting 20 minutes equals to about 1000 daimoku, and one hour equals to about 3,000 daimoku. Therefore one million daimoku would take about 333 hours.
[6] The Wisdom for Creating Happiness and Peace, Part 2: Human Revolution, Chapter 12: Transforming Karma into Mission. www.sokaglobal.org/resources/study-materials/buddhist-study/the-wisdom-for-creating-happiness-and-peace/chapter-12-5.html#:~:text=Because%20of%20the%20principle%20that,kyo%20do%20not%20fear%20anything.