Break Through
June 2, 2017
By Vijeta Mukerjee
Toronto
I had a strong desire to move to Canada to work for kosen-rufu[i] there.
I was introduced to Nichiren Buddhism in India when I was 15 years old. I took to the practice like a fish takes to water, and participated in many activities. The foundation of my practice was laid in India. I studied Nichiren Daishonin's and SGI President Daisaku Ikeda's writings, and chanted to implement their teachings in my life.
I underwent a tough immigration struggle in India, fighting through a lot of bureaucracy, delays and red-tape, all the while doing my best in my SGI activities toward March 16. (March 16 is a significant date in the SGI, when young people renew their pledge to carry forward the movement for peace based on Buddhist humanism into the future). On exactly March 16, 2011, I received my Permanent Resident Visa for Canada. I was in tears and felt absolutely sure that I have a mission to work for peace in Canada.
I arrived in Toronto in August 2011. Since starting my new life here, I have experienced many ups and downs. I received a great benefit from my Buddhist practice early on: being hired in a well-reputed restaurant. I was paid well and learned many things in that job. However, I still wasn't sure what I really wanted to do as a career. I got in touch with SGI Canada right away and started attending SGI discussion meetings. While my life was getting busy with settling in a new country, I remained focused on my daily Buddhist practice and SGI activities, keeping the Gohonzon[ii] (which represents the enlightened life state of Buddhahood within us) at the centre of my life.
As I was new to this country, I felt like I was experiencing a rebirth. I had to lay an entirely new foundation for my life—getting my PR card, SIN number, health card, finding a family doctor, opening a bank account, finding a place to stay and a stable job which keeps paying the rent, and so on. It was very hard, as I have no family in Canada and had no friends here at the time. I had to do everything alone.
Gradually, as I progressed in my work, I realized that I wanted to go to university, but the cost was a barrier. I looked into other options, such as studying to become a career counsellor, teacher, or a banker. But none of these really suited my nature. I feel that I am well suited to working in the hospitality industry. I had worked in restaurants and hotels in India and was working at a restaurant in Toronto. I chanted strongly for wisdom to emerge from within my life.
One day in early 2013, I came across a course in Food & Nutrition Management at a good college in Toronto. I decided to give it a try. I went to the college and, to my disappointment, I was told that I lacked the necessary prerequisites to enter the program. First I would have to go back to school to study culinary arts. So that's what I did. I enrolled to study as a chef in the 2013-2014 school year, and supported myself by working in the restaurant, almost full-time. I was determined not to let up in my SGI activities.
Many days were extremely difficult. What kept me going are my wonderful SGI friends who constantly encouraged me to keep moving forward. I maintained strong faith in the Gohonzon, and never missed my morning and evening Gongyo. SGI President Daisaku Ikeda writes in volume 10 of The Human Revolution:
When I spoke of making the impossible possible, I didn't mean to say that I have thought up some fantastic idea or other. The important thing is for us to carry on a steady practice…. We have to continually develop our faith, never slackening our efforts even for a moment. We will have to stick to our practice straight through to the end, always based on fervent prayers.
Finally, I graduated with honours from my culinary arts program, and continued working. I did a variety of kitchen jobs, keeping my goal to pursue nutrition in mind. I acquired the wisdom and confidence to know that my working experience as a cook would only strengthen me. Goethe, whom SGI President Ikeda often refers to, writes: "One must not walk simply to reach a destination; each step must be a destination in itself and have its own meaning and value."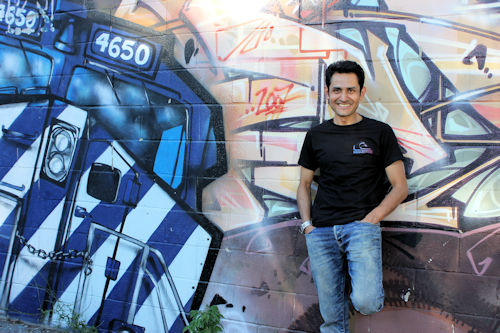 At the outset I had not intended to become a chef, but my work in the restaurant industry inspired me to dream of owning my own food business someday. I am currently developing my own recipes and chanting Nam-myoho-renge-kyo each day for the right conditions to emerge for me to launch my own business. Later on, I got accepted into the Food & Nutrition program at a reputable college in Toronto, where I began my studies in September 2016.
Not long ago, I worked in a very hostile work environment. For three months non-stop I battled with a lot of negativity in my environment. Thanks to my strong faith and daily practice, I truly exhibited the spirit of compassion and endurance. I am grateful to my boss who taught me a lot of good skills. By the end of it, he offered to hire me down the road, if I so desire. Nichiren Daishonin writes:
The more gold is heated in the flames, the brighter will be its colour; the more a sword is whetted, the sharper it will become. And the more one praises the blessings of the Lotus Sutra, the more one's own blessings will increase. (The Writings of Nichiren Daishonin, vol. 1., p.673)
I am truly grateful for my friends in the SGI who were there with me fighting it out. I deeply appreciate having such wonderful people in my life and the warm environment of the SGI.
Thanks to my Buddhist practice, I was able to have a great breakthrough. I am now able to openly share about my personal struggles with my friends. This has totally changed my perspective toward life. Together we can all win. I am working toward specific personal goals, but the breakthrough has already happened because of this openhearted sharing, and the willingness to acknowledge my weaknesses and reach out to others. I feel that young men have a lot to learn from women who can seemingly effortlessly share a lot about their lives with one another. We often keep many things locked in our heart and don't open up. Once you share, a totally new realm of possibilities begins to emerge and suddenly you start to move towards your victory.
Moving forward, I am determined share this Buddhist practice with the person right in front of me who may be suffering, so they too can become profoundly happy. Basing myself on chanting Nam-myoho-renge-kyo and studying Buddhist philosophy, I am determined to work in unity with everyone, excel and show actual proof in my studies.
Vijeta Mukerjee is an Area young men's leader in Toronto
[i] Kosen-rufu: Literally, it means "to widely declare and spread [the Lotus Sutra]"; to secure lasting peace and happiness for all humankind through the propagation of Nichiren Buddhism. More broadly, kosen-rufu refers to the process of establishing the humanistic ideals of Nichiren Buddhism in society.
[ii] Gohonzon: The object of devotion in Nichiren Buddhism. It is the embodiment of the Law of Nam-myoho-renge-kyo, expressing the life-state of Buddhahood, which all people inherently possess. Go means "worthy of honour" and honzon means "object of fundamental respect."