A Heart Full of Gratitude
March 4, 2019
By Sudhanshu Sethi, Fredericton
Group Leader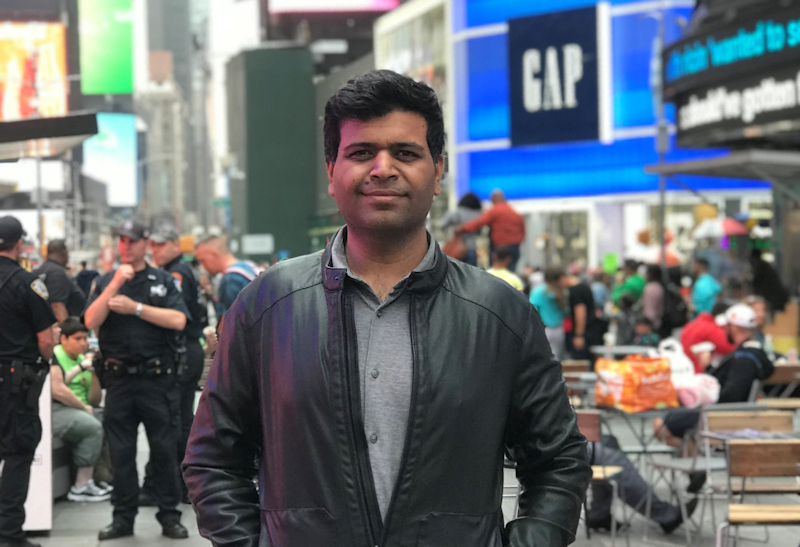 I have been practising Nichiren Buddhism for the last four and a half years. I have immense gratitude for this life-transforming practice with the Gohonzon, for SGI President Daisaku Ikeda, and for all my friends and seniors in faith. I have learned that the moment we can confront our fundamental darkness is the real beginning of our human revolution. Every day I try to become a better person by chanting Nam-myoho-renge-kyo. It gives me the wisdom, courage and compassion to deal with other people, and the strength to fight the "devils" or negative functions in my own life.
I was initially introduced to Buddhism by my cousin in India in 2012 when he prayed for me to get a job by March 16 (Kosen-rufu day), 2012. Through his prayers to the Gohonzon, I got the best job right on March 16 after more than 10 interviews and rejections. Still, it took me two years to start chanting. In the beginning, I asked many questions at the monthly discussion meetings. My district leader always said, "A seeking mind is an enlightened mind." With time, a lot of things started making sense to me and I began to enjoy practising Buddhism. I experienced various victories from this practice and yes, I can say a few things were mystic for me.
One of the greatest benefits that I received from the practice was moving to Canada to study, even though I did not have enough money to do it. After gaining admission to the University of New Brunswick, the biggest challenge was finances, as you need to have a huge amount in the bank in order to be an international student. I started applying for scholarships. A professor interviewed me on Skype and gave me an assignment to complete. Next day I got an email from him saying that he was not convinced by my results, and he refused to give me the scholarship. I had tears in my eyes and got really upset. But I kept praying to the Gohonzon with a deep sense of gratitude toward the professor because, as President Ikeda says, we should have a sense of gratitude for everything. With deep prayers, I persevered in my practice. I emailed the professor and thanked him for his time and for allowing me to take the test.
After a week, I got an email from the professor asking me if I was interested in doing a re-test. I was surprised and thrilled. In the Gosho titled "The Strategy of the Lotus Sutra," Nichiren Daishonin tells us to, "Employ the strategy of the Lotus Sutra before any other (WND-1, 1000)." I plunged into SGI activities along with my regular morning and evening daimoku. While chanting to the Gohonzon I prayed for the wisdom of the Buddha to emerge within me, with the spirit that "It could never come about that the prayers of the practitioner of the Lotus Sutra would go unanswered" (Ibid, p. 345). I was offered the scholarship this time, and the amount was even more than my tuition fee.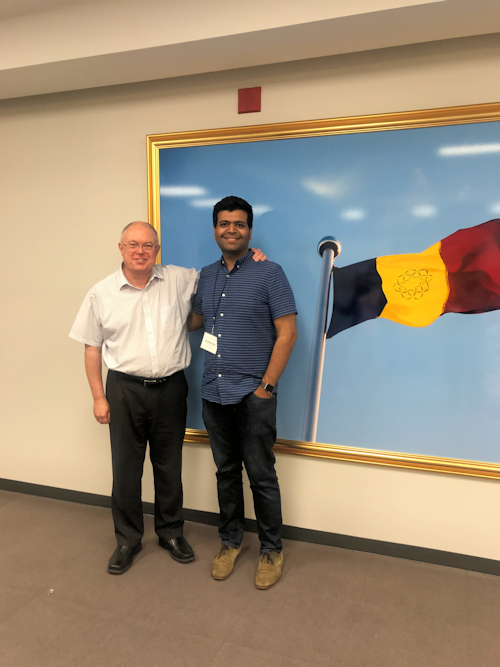 Sudhanshu with SGI Canada General Director Tony Meers at the Caledon Educator Conference, August 4, 2018

After I graduated from the University of New Brunswick in May 2016, I was constantly looking for jobs during the next two months in Fredericton, NB. But eventually I decided to move to Montreal, since my family lives in Laval, QC, and I could save money for rent and food if I moved there. The four-month period that followed was one of the most stressful times of my life. I applied to more than 250 jobs and had around 35 interviews. I was travelling overnight by bus to Toronto for interviews. I started to feel very anxious and was constantly thinking maybe my job karma is back. During this time, I made the determination to go to the Montreal Culture Centre every weekend to chant for almost two hours while continuing my own daily practice of morning and evening gongyo and daimoku.
Finally, I received a job offer from Halifax and I decided to move there. When I arrived, I realized the company was very small and everyone was working from home, so I was all alone at work. Also, my boss was not doing any legitimate paperwork and I could feel things were not quite right. I had absolutely no one to talk to for a week. One evening, I was feeling very lonely and depressed, thinking this is not what I deserve after completing a master's degree. I summoned up my courage and chanted for two hours with the determination to change my situation. Next day I got another job offer from Fredericton, the exact same day I was supposed to sign the lease for the apartment in Halifax. The Human Resources department expedited the whole hiring process for me so I was protected by the Gohonzon from signing the lease there. President Ikeda writes that each of us has a profound mission, and therefore the heavenly deities throughout the universe are sure to praise and protect us without fail. I immediately resigned and came back to Fredericton, where I had first started my career in Canada, to begin my new job.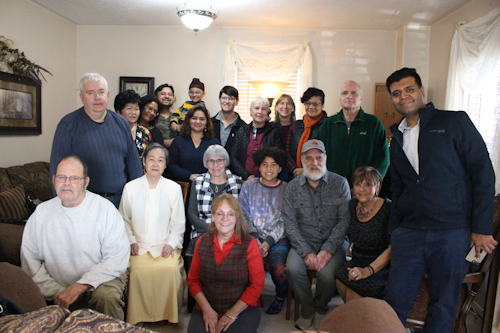 Visiting regional leaders from Ottawa gather with members from Atlantic Area for a meeting in Grand Falls, New Brunswick on October 26, 2018

After working there for a year, I started to feel the company was running out of business. Some employees were being laid off and I started to worry. I applied for two jobs: one was for one of the biggest IT companies in the country and the other was for the electrical power commission of the province of New Brunswick. On September 13, 2017, the IT company made me a job offer, but it required me to move to a different city and I had a fear of being all alone again. In my heart, I wanted to work for the government, although I was not too sure about being able to because I was not even a permanent resident of Canada at the time. The IT job offer was only valid for 24 hours. During my lunch hour, I drove back home feeling stressed and confused. I sat in front of my Gohonzon and started to pray. As I was chanting daimoku I heard the phone ringing. It was HR from the electrical power commission of New Brunswick calling to offer me a full-time permanent job with a great pension plan and other benefits. I accepted it immediately, and I have remained in Fredericton ever since.
It's hard to imagine my life without SGI, especially in New Brunswick. After living in a city like New Delhi, with a population half the size of Canada, it was not easy for me to adjust to a small city. I met so many wonderful people, but I have immense gratitude, especially to all my sincere friends in faith, as they have always supported and encouraged me, and now we are like a family. President Ikeda says:
There is no one as strong as a person whose heart is always filled with gratitude (www.ikedaquotes.org)
Due to my Buddhist practice, I was able to understand that the biggest treasure I can have are the treasures of the heart. I feel all of the difficult situations occur in my life just to improve myself, to give me more patience to persevere and never give up. I love these well-known words of Nichiren Daishonin:
Suffer what there is to suffer, enjoy what there is to enjoy. Regard both suffering and joy as facts of life, and continue chanting Nam-myoho-renge-kyo, no matter what happens. (WND-1, p. 681)
Published in February 2019 New Century