Books
---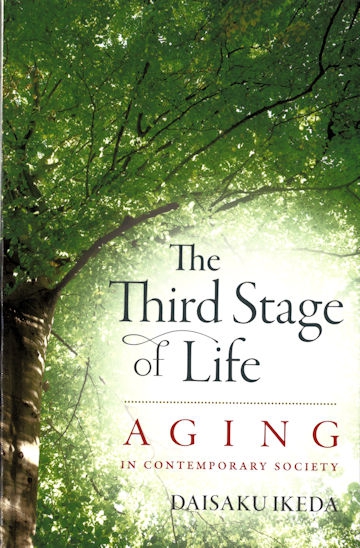 The Third Stage of Life
Aging in Contemporary Society
"Now that we have entered a time when average life expectancy has stretched into the eighties, it is important for us to consider how we can spend our senior years, the third stage of our lives, in the most fruitful and rewarding fashion. My beloved mentor, Josei Toda, the second Soka Gakkai president, used to say that the last years of our life are the most important. If those last years are happy ones, we have had a happy life." - Daisaku Ikeda
How do we face the issues of aging, sickness, and death?
What's the secret of living long?
What are the keys to a healthy life?
Is aging a period of decline or an opportunity to bring one's life to a satisfying conclusion?
What examples can we set for others in our third stage of life?
Available at SGI Canada Bookstores
---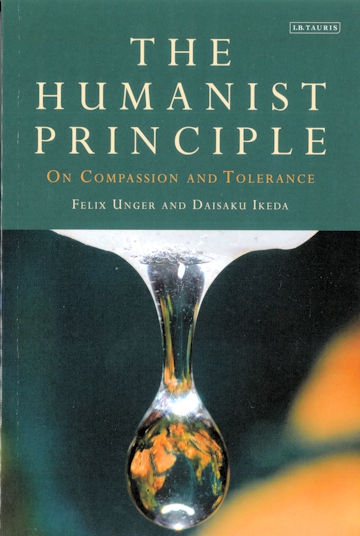 The Humanist Principle
On Compassion and Tolerance
"The need for dialogue is not limited to academic disciplines. Today, as information increases and is transmitted increasingly rapidly, dialogue becomes more essential than ever before. Whether they like it or not - whether they know it or not - cultures are interrelated. And this makes possible more intense exchanges. The exciting thing about intercontinental discussions is the way they enable us to compare our own traditional ways of thinking with those of other peoples. Serious comparisons of this kind always reveal more commonalities than differences." - Felix Unger is one of the world's foremost heart specialists. He is a pioneer of cardiovascular medicine.
Bringing together a wealth of wisdom and experience in medical science and in Buddhist thought and ethics, the discussants together address issues of vital concern. Drawing on thinkers as diverse as Francis de Assisi, Tagore, Leibniz, Teilhard de Chardin, Nichiren and Makiguchi, they enquire, for example, to what degree science and religion, as well as other fields of humanistic learning may find areas of common ground.
They explore the pitfalls, as well as the opportunities, posed by genetic engineering, and agree that education is the foundation for a culture of peace.
Available at SGI Canada Bookstores
---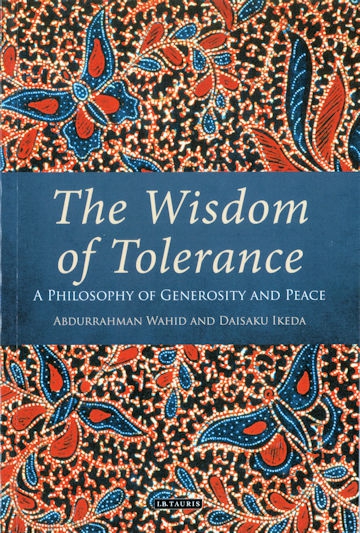 The Wisdom of Tolerance
A Philosophy of Generosity and Peace
"I support the nonviolent ideals of Mahatma Gandhi (1869-1948). As I have asserted, Islam itself doesn't advocate war; rather, it is people who wage war.
At present, through the activities of the Wahid Institute, we are working to promote the harmonious coexistence of different religions and win broader acceptance of cultural diversity." - Abdurrahman Wahid (1940-2009) served between 1999 and 2001 as the first democratically elected President of Indonesia.
What do Buddhism and Islam have in common? And what positive characteristics might Buddhist Japan and Muslim Indonesia be able to offer one another? In this thoughtful and wide-ranging discussion, distinguished representatives from each country demonstrate that meaningful dialogue between religions and cultures begins with a one-to-one conversation between individuals. Addressing the similarities of their nations as island peoples, with a shared history of trade and cultural exchange, Abdurrahman Wahid and Daisaku Ikeda agree that the aim of dialogue, like that of Buddhism and Islam alike, is fundamentally the goal of peace. Both thinkers draw on their respective traditions, and especially the lives of the Buddha and the Prophet Muhammad, to show that harmony springs from an attitude of tolerance and non-violence, which is where true courage resides. Whether masterfully expounding the teachings of Nichiren, or indicating that a true understanding of jihad is not about religious war but about communicating the truth of Allah, the discussants mutually transform our understandings of value, pluralism and amity.
Available at SGI Canada Bookstores
---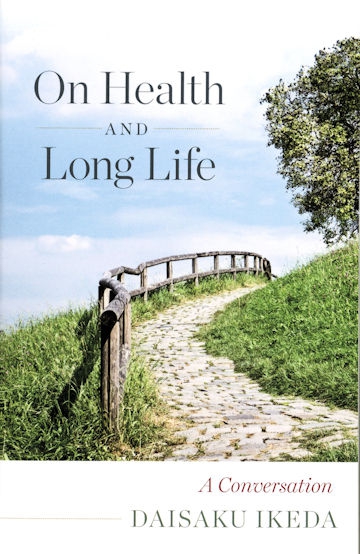 On Health and Long Life
"How should we lead our lives, impermanent and constantly changing as they are, in such a way as to transform them into existences of eternity, happiness, true self and purity? This question was the starting point of Shakyamuni's quest, and it is the challenge of Buddhism to answer it." - Daisaku Ikeda
Always concerned about the most basic problems confronting humanity, SGI President Daisaku Ikeda here once again explores the four universal sufferings of birth, aging, sickness and death. In conversation with doctors and nurses, the SGI leader skillfully weaves Buddhist insights with the practical knowledge and personal experiences of his dialogue partners.
What can we learn from our illness?
How is the patient's attitude crucial to healing?
How do parents affect their children's health?
How much are our lives determined by our genes? What are constructive ways to approach aging?
What are keys for effective health care?
What roles do faith and SGI activities play in a long and fulfilling life?
The answers to these questions in On Health and Long Life provide valuable perspectives to caring for the most valuable of treasures: our lives themselves.
Available at SGI Canada Bookstores
---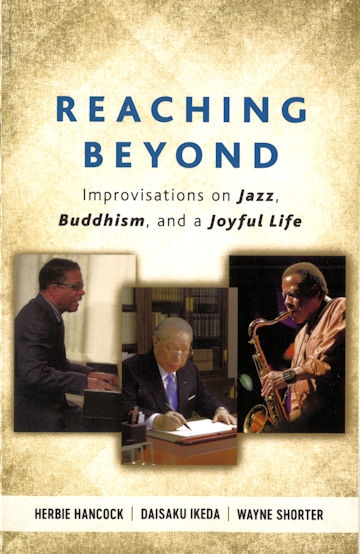 Reaching Beyond
Improvisations On Jazz, Buddhism, and a Joyful Life. Written by Herbie Hancock, Daisaku Ikeda, Wayne Shorter
"What is the source of jazz's appeal and power? When one explores the culture of jazz in earnest, one is bound to discover an expression of the great soul that pulses within the lives of all people." - Daisaku Ikeda
In Reaching Beyond, SGI President Daisaku Ikeda explores the origins, development, and international influence of jazz with legendary artists Herbie Hancock and Wayne Shorter.
Reflecting on their lives and careers, Mr. Hancock and Mr. Shorter share the lessons they have learned from their musical mentors, including Miles Davis and Art Blakey, and how the Buddhist philosophy they've learned from President Ikeda over the past forty years deeply resonates with the emancipatory spirit of jazz.
Available at SGI Canada Bookstores
---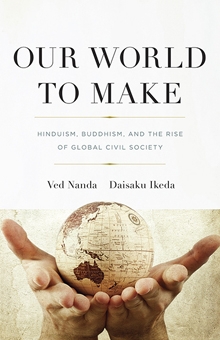 Our World To Make
Hinduism, Buddhism, and the Rise of Global Civil Society
"Indeed the world is ours and it is up to us to make it as beautiful and free as it can be! Our World To Make is a book of inspired words and inviting references. It is impossible to read it without being invited into the space of enriched possibilities explored by these two wise men...." - Andrea Bartoli, Dean, School of Diplomacy and International Relations, Seton Hall University
In Our World To Make, authors Ved Nanda, a practicing Hindu and prominent figure in the field of international law, and Daisaku Ikeda, a Buddhist thinker and peace advocate, engage in an expansive dialogue that demonstrates that it is but a short leap — or no leap at all — from the personal practice of religion to resolute support for the emerging norms and institutions of global civil society. Our World To Make shows that religion practiced with integrity demands nothing less.
Ikeda Centre
---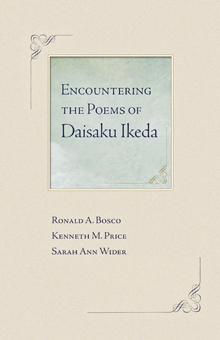 Encountering the Poems of Daisaku Ikeda
By Ronald A. Bosco, Kenneth M. Price, and Sarah Ann Wider
"I believe that if a poet can perceive the infinite possibilities of humanity, his poetry naturally becomes a song in praise of humanity." - Daisaku Ikeda
In Encountering the Poems of Daisaku Ikeda, literature scholars Ronald A. Bosco, Kenneth Price, and Sarah Ann Wider consider various dimensions of the poetic oeuvre of Buddhist thinker and leader Daisaku Ikeda. Dr. Bosco looks at lyricism in Mr. Ikeda's work, Dr. Price traces the poetry's connection with Walt Whitman, and Dr. Wider elucidates how the poems function as encouragement for their many readers worldwide. The three encounters are at once thoughtful and joyous.Encountering is intended to be a companion volume for the 2014 collection of Daisaku Ikeda poems called Journey of Life (I.B. Tauris).
Ikeda Center
---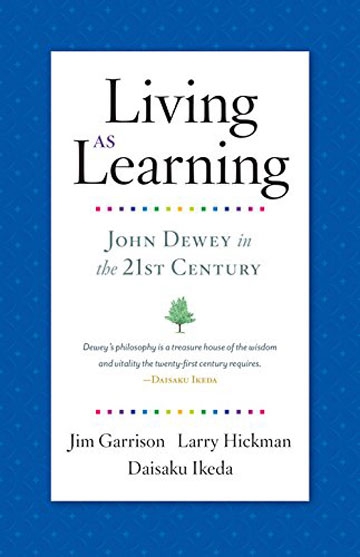 Living As Learning
John Dewey in the 21st Century
"Dewey's philosophy is a treasure house of the wisdom and vitality 
the twenty-first century requires." - Daisaku Ikeda
Living As Learning is a passionate and rewarding dialogue on the legacy of the great American philosopher and educator John Dewey (1859–1952). Focused on growth and the creation of value within the context of real life, Dewey's pragmatic philosophy shares much with humanistic Buddhism. These similarities, which arise throughout the book, add richness to a dialogue already overflowing with faith in our capacity to find common ground and expand human well being in our rapidly globalizing world. For Dewey, individual and social potential alike are unlimited.
Ikeda Centre
---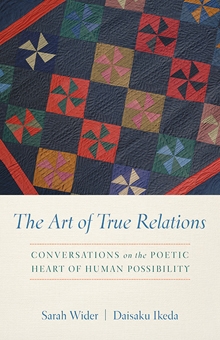 The Art of True Relations
Conversations on the Poetic Heart of Human Possibility
"The Art of True Relations is a carefully crafted, beautifully organized, and deeply hospitable book. I strongly recommend it to anyone interested in living more humanely." - Megan Laverty, Associate Professor of Philosophy and Education at Teachers College, Columbia University
In The Art of True Relations, Sarah Wider and Daisaku Ikeda celebrate the great spiritual and literary figures, East and West, who have inspired their own work as educators, poets, and peace builders, including both the men and the women of the American Renaissance. They reserve their highest praise, though, for the lesser known among us, especially teachers and mothers, whose humble, compassionate actions provide the strongest foundation for the realization of ever-greater peace. Ultimately, The Art of True Relations is a tribute to the bonds that give life meaning.
Ikeda Center
---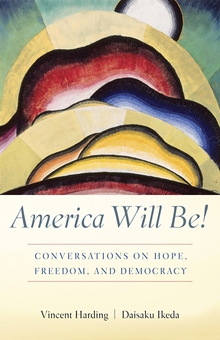 America Will Be!
Conversations on Hope, Freedom, and Democracy
"I have long known that Vincent Harding is the most profound living interpreter of the legacy of Martin Luther King Jr. America Will Be! is packed with valuable insights about what Vincent calls the movement 'to expand democracy in America.' As Harding and Ikeda learn from one another, readers of this inspiring book can listen and be enlightened." - Clayborne Carson, editor of the papers of Martin Luther King Jr., and founding director, the King Institute at Stanford University
Join historian Vincent Harding, a friend and advisor to Martin Luther King Jr., and Buddhist leader Daisaku Ikeda as they engage in a thrilling cross-cultural dialogue illuminating the historic events of the American civil rights movement. The movement's victories, say the authors, expressed a profound vision of freedom, equality, and nonviolent social change that can and should guide our modern experiments in democracy. Above all, the message of America Will Be! is one of hope and human possibility.
Ikeda Center
---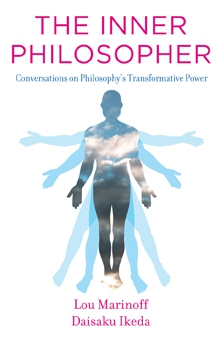 The Inner Philosopher
Conversations on Philosophy's Transformative Power
"In this day and age, when uncertainty reigns along with various other dictates that challenge all aspects of human endeavor, it is essential that The Inner Philosopher become a part of world literature and world dialogue. The content within takes one to the front lines of life's grand adventure of the enigmatic human condition, and further on to an open and revealing dialogue, unraveling the mystery of "us." - Wayne Shorter, jazz composer and saxophonist, winner of nine Grammy awards, and National Endowment of the Arts Jazz Master
In the sixteen spirited conversations of The Inner Philosopher, Lou Marinoff and Daisaku Ikeda revive philosophy as an accessible source of wisdom and courage. In their telling, the philosophies of Shakyamuni Buddha, Lao Tzu, Confucius, Aristotle, Socrates, Epicurus, and others are as essential now as when first articulated more than 2,000 years ago. The authors celebrate these philosophies as optimistic and empowering. Philosophy, they say, should do nothing less than help us draw forth the inner strength needed to face life's challenges and hardships. The Inner Philosopher shows that wisdom is never out of reach and opportunities for positive transformation are many.
Ikeda Center