Being a Beautiful Woman Inside and Out
By Julia Lawr, Barrie, Ontario
Photographs by Tom Hamilton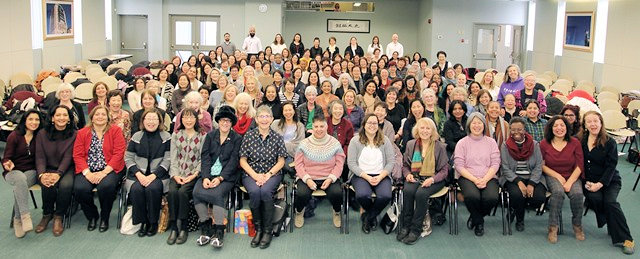 Central Region women's conference in Toronto

On December 7, the first Central Region Women's Leader's Conference was a wonderful mixture of guidance, history, well-being and music. Each of the seven areas in Central Region participated in the planning and presentations. The meeting was a perfect combination of fun, excitement, joy, warmth, unity and harmony, displaying the diverse talents of the participants.
Toronto East Area performed excerpts from SGI President Ikeda's poem "A Rainbow Over Niagara", interspersed with hauntingly beautiful violin music, resulted in a well-deserved standing ovation. Toronto West Area's presented health tips based on the trifecta of eat, sleep and move.
Halton Peel Area presented excerpts from The New Human Revolution and YSNO Area performed an amusing skit demonstrating how not to encourage members, followed by guidance on successful home visits.
The leader from Windsor shared how she was able to make connections with community organizations and host the SGI Exhibition "Transforming the Human Spirit: The Power of Human Rights Education."
SGI Canada Women's Leader Helen Izumi-Choi along with other leaders provided guidance, advice and a Q&A for moving into 2020 and fully experiencing it as a Year of Advancement and Capable People.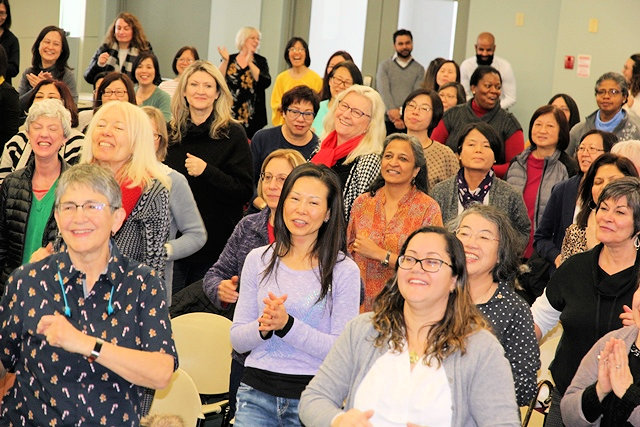 Women's conference participants enjoying the meeting

Interspersed amongst these items were compelling experiences and interactive song and dance activities.
Two inspiring experiences involved health and good fortune. One woman recovering from eye surgery and her joy and relief at being able to see again said, "I can't lose my sight. I need my eyes for kosen-rufu (paraphrased)" stayed with me.
Another spoke about her husband's Malaysian airlines flight the day after the Malaysian airlines flight that disappeared. It flew at the same time and could easily have been his flight. She had only recently convinced her husband to chant Nam-myoho-renge-kyo. I got chills.
The meeting embraced being a beautiful woman inside and out. Everyone seemed at ease and inspired—representing the shining and smiling suns of Soka.