University of Guelph-Humber launches research initiative to focus on Soka Education and global citizenship
November 22, 2017
TORONTO, ON – Nov. 17, 2017 – Today, University of Guelph-Humber (UofGH) announced the launch of a new five-year research initiative that will focus on studying the philosophy and practices of Soka education, with an emphasis on global citizenship.
The Soka Education Research Initiative on Global Citizenship (SERI-GC) will provide selected students and faculty with an opportunity to be part of a research group that will contribute to local and international discourse on research into Soka education and its practical application for educational settings.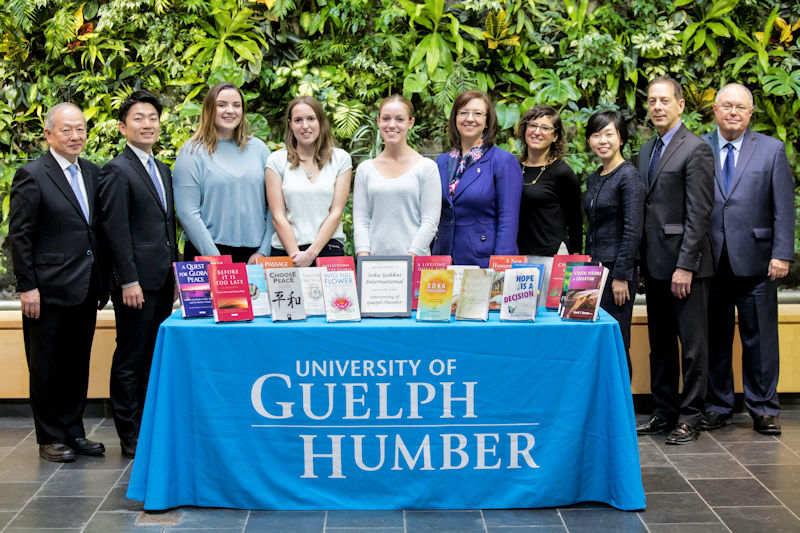 Donation of books from Soka Gakkai to University of Guelph-Humber
Funding for the project is being provided by the Makiguchi Foundation for Education, based in Japan, which was founded to honour the achievements of Tsunesaburo Makiguchi (1871-1944), an outstanding educator of the 20thcentury and founder of Soka (value-creating) education. The Makiguchi Foundation for Education supports international educational exchanges and various educational projects, with a particular focus on funding activities for research, practice, and promotion of Makiguchi's pedagogical theories. Makiguchi Foundation General Director Mr. Kumao Fukase remarked, "We have great expectations for the Soka Education Research Initiative on Global Citizenship at the University of Guelph-Humber, which is certain to expand by creating research opportunites on value-creating education for more educators and students."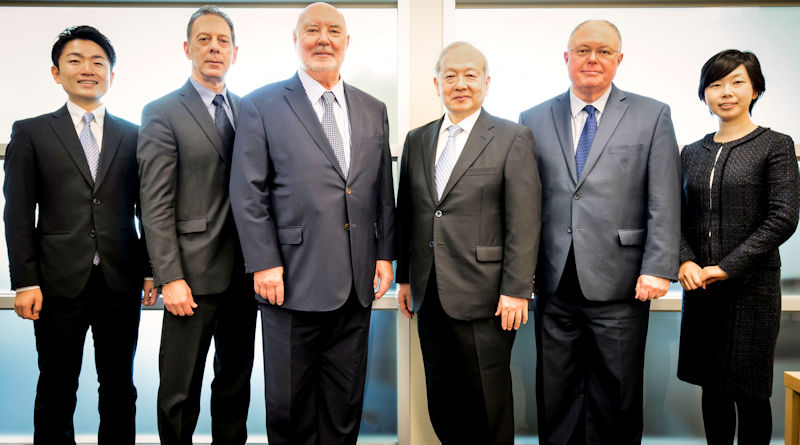 UofGH's Vice Provost John Walsh (3rd from left), Soka Gakkai Office of International Affairs Director Yoshiyuki Nagaoka (3rd from right), Soka Gakkai Office of International Affairs staff Tetsuo Motoi (far left) and Keiko Kakurai (far right), Program Head of UofGH's Family and Community Social Services program Dr. Paul Sherman (2nd from left) and SGI Canada General Director Tony Meers (2nd from right).
There are currently over 40 institutes and initiatives around the world that study Soka education, including in Argentina, China, Denmark, Japan, and the United States. SERI-GC is the first such initiative to be established in Canada. "UofGH has a long-standing and growing relationship with Soka education", says Dr. Paul Sherman, Program Head of UofGH's Family and Community Social Services program, and director of SERI-GC. Since 2013, Dr. Sherman has been taking students on annual study abroad trips to Japan to learn about Soka education. The trip includes visits to Soka schools, including spending two-days at Soka University Japan (SUJ). In 2012, UofGH's parent organization, University of Guelph, awarded an honorary degree to SUJ's founder, Dr. Daisaku Ikeda, and in 2013 three faculty from SUJ presented lectures at UofGH. "The launch of our initiative presents an exciting opportunity for our students and faculty to research the unique aspects of value-creating education, particularly in their practical application for global citizenship education", adds Dr. Sherman.
The launch of SERI-GC coincides with the 87th anniversary of Makiguchi's book, The System of Value-Creating Pedagogy, which was first published on Nov. 18, 1930. Representatives from Soka Gakkai International (SGI) in Japan attended the event and presented a book donation to the university which consisted of numerous titles related to Soka education and Daisaku Ikeda's writings and dialogues with leaders in various global arenas, such as Hazel Henderson, Linus Pauling, Laurence Lau, and Joseph Rotblat.
"The primary mission of Soka education is value creation and the happiness of students—to nurture the creative, life-enhancing potential of each student and to inspire students to employ that potential for the greater benefit of global humanity," remarked SGI's Executive Director of International Affairs, Mr. Yoshiyuki Nagaoka. "As a result, we are very proud of our relationship with UofGH and the opportunity to create more awareness around Soka education and global citizenship."
In year one of the initiative, selected student research associates and faculty will meet regularly with Dr. Sherman to discuss Soka education and global citizenship. Students will enhance their understanding and skills in social research, and develop research activities for potential journal publication and conference presentation. There will be an annual trip in February to Soka University of America in Los Angeles to participate in their annual Soka education conference.
The themes of Soka education and global citizenship aren't new to UofGH. This fall the university launched a global citizenship electives course taught by Dr. Sherman, and his annual study abroad course to Japan, entitled, "Soka Education and the Pursuit of Happiness" has been extremely popular, with over 40 UofGH students making the trip to date.
To learn more about the Soka Education Research Initiative on Global Citizenship click here
Courtesy of University of Guelph-Humber