SGI Canada Newsletter, No. 76 - April 7, 2023
April 7, 2023
SGI Canada Newsletter
Issue no. 76
April 7, 2023
Welcome to the 76th issue of the SGI Canada Newsletter, a bi-weekly summary of news, upcoming events and encouragement. If you are not subscribing to the SGI Canada Newsletter, you may do so by clicking on the button below. Subscriptions are free of charge, and the SGI Canada Newsletter will be emailed directly to you.
Encouragement
SGI President Daisaku Ikeda's editorial: "Hold High the Proud Banner of Soka!"
In his April editorial in the Daibyakurenge study magazine, SGI President Ikeda speaks of the great benefit of devoting ourselves to other people's happiness in the same spirit as Founding President Makiguchi and Second President Toda:
In "On Attaining Buddhahood in This Lifetime," a writing that Mr. Makiguchi held in the highest regard, Nichiren Daishonin writes, "All your virtuous acts will implant benefits and roots of goodness in your life. With this conviction you should strive in faith," and "If we understand that our life at this moment is myo, then we will also understand that our life at other moments is the Mystic Law.[1] This realization is the mystic kyo, or sutra" (WND-1, 4).

Nothing is ever wasted in Buddhism. Our chanting and dedicated efforts for the sake of others, our communities, and our societies fill our lives with "benefits and roots of goodness," making us shine as entities of Myoho-renge-kyo, the Mystic Law. The resulting joy spreads out in a ripple effect from one person to another and from today into tomorrow.

*

Though our days may be busy with the activities we take on for kosen-rufu, there is no greater or more profound honour than striving alongside our good friends in faith to contribute to people's happiness in the deepest way.

Thinking people around the world find hope in the spirit of Soka humanism to believe in, awaken, and unite the goodness inherent in human beings.

With the hearts of lion kings, let us again today reach out and share the inspiring philosophy of Nichiren Buddhism—just as Presidents Makiguchi and Toda did!
[1] This sentence can also be interpreted to read, "If one understands that one's life is myo, then one also understands that others' lives are all entities of the Mystic Law."
[2] Translated from Japanese. See Josei Toda, Toda Josei zenshu (Collected Writings of Josei Toda), vol. 6 (Tokyo: Seikyo Shimbunsha, 1986), p. 545.
The full editorial will be published in the May 2023 New Century.
News
SGI Canada Special Fund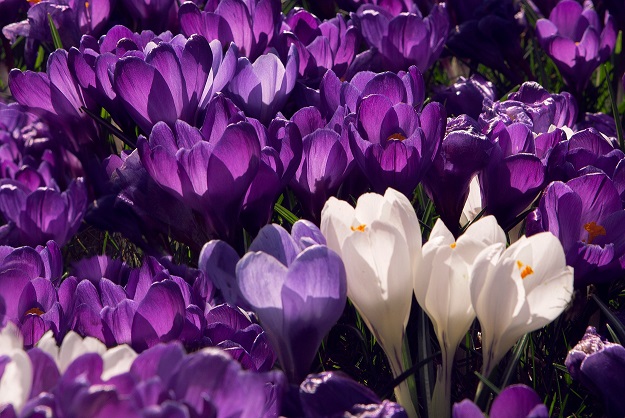 The SGI Canada Special Fund is an opportunity to contribute directly to the kosen-rufu movement in Canada. Thank you so much for your sincere dedication and your support in every way for the advancement of kosen-rufu in Canada!
Contributions to the SGI Canada Special Fund can be made before and after May 1.
To contribute to the SGI Canada Special Fund, you may do so by using one of the following two options:
Online donation
You can contribute online through the SGI Canada online portal at https://sgicinfo.org/portal/login
If you have already set up an online account, simply sign in and click on Donations.
If you have not yet set up an online account, it is very easy to do so:
Go to the SGI Canada website at www.sgicanada.org and click on the Online Portal button near the top right corner of your screen.
Click on I have not created an online account and then Submit.
Fill out the personal information fields and click on Submit.
You will receive an email from accounting@sgicinfo.org . The email will confirm your username and password (which you can change once you log into the site the first time). For assistance with setting up your account, please contact support@sgicinfo.org .
Once your username and password have been confirmed, you will be able to log into the online portal from the SGI Canada website at any time.
Donation by cheque, money order or bank draft
You can also contribute by mailing a cheque, money order or bank draft to SGI Canada.
Please make your cheque, money order or bank draft payable to "SGI Canada".
Please include a completed SGI Canada Special Fund Receipt if you have one (a digital copy is available from your district leader). If you do not have a receipt, you can simply write your information (name, district, chapter, area and region) on a sheet of paper and include it with your cheque.
Please mail all cheques, money orders and bank drafts, with attached forms, to SGI Canada at:
SGI Canada
2050 Dufferin Street
Toronto, ON M6E 3R6
Contributions through the online portal or by cheque, money order or bank draft can be made at any time. Unfortunately, we are currently unable to receive cash donations, or donations by electronic transfer.
We deeply appreciate your courageous efforts to support and encourage your fellow members, families and friends. Thank you very much!
President Ikeda's photographs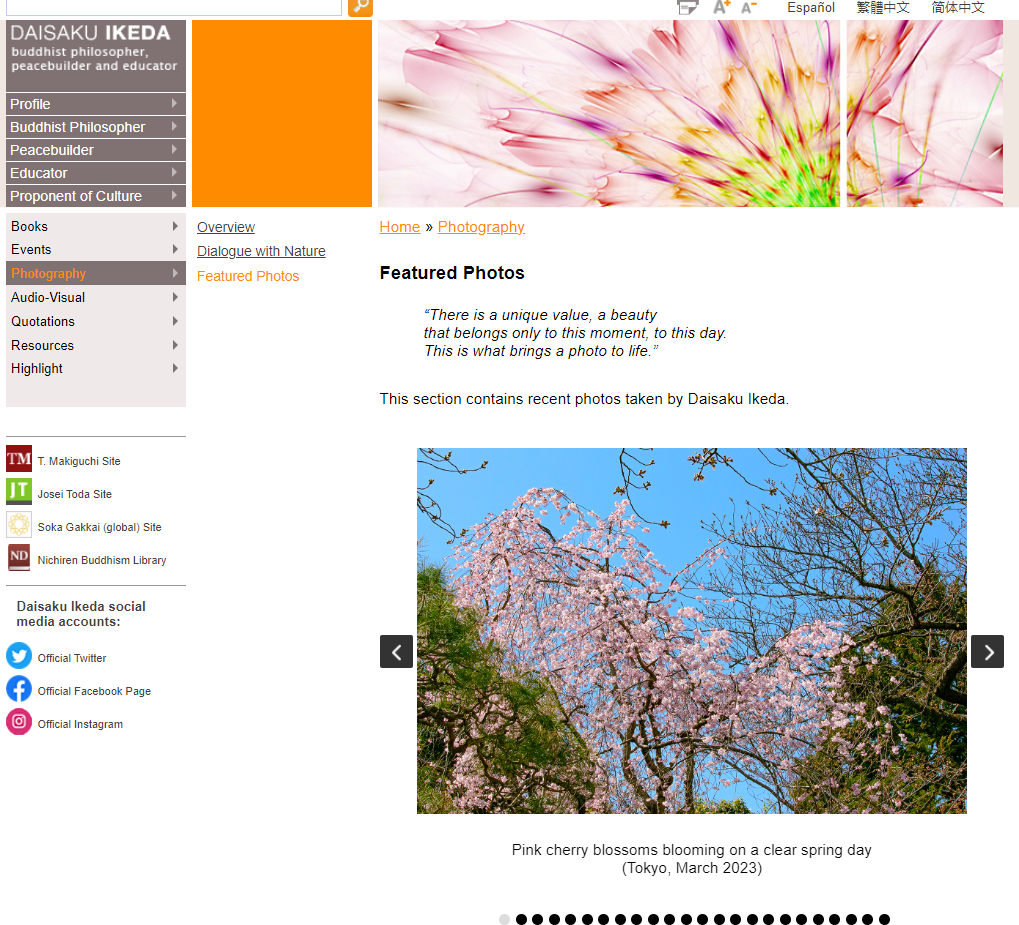 A selection of SGI President Ikeda's most recent photos – some taken as recently as last month – are currently on display at: https://www.daisakuikeda.org/sub/photography/featured-photos/
Speaking of his photography, President Ikeda has written:
I would be very happy if I am able to share, to some small extent, my joy at communing with nature, the 'mirror of the heart.' In this hectic age, it is important for us to stop from time to time, take a deep breath, and look closely at ourselves and the world around us. [1]
[1] "Overview: Daisaku Ikeda as Photographer", daisakuikeda.org, accessed April 6 2023, <https://www.daisakuikeda.org/sub/photography/index.html>.
UPCOMING EVENTS
Introductory exam update
The SGI Canada Introductory Study Exam will be held on Sunday, October 29. The exam is intended for new members and those who have not yet taken an SGI Canada exam, as well as youth and Future Division members, and interested friends. You do not have to be an SGI Canada member in order to take the exam.
Registration for the exam will begin very soon. More details to come!
We hope you found this newsletter beneficial. Please email your questions or comments to contact@sgicanada.org. Please note that the next SGI Canada Newsletter will appear on April 21, 2023. See you then!