SGI Canada Newsletter, No. 75 - March 24, 2023
March 24, 2023
SGI Canada Newsletter
Issue no. 75
March 24, 2023
Welcome to the 75th issue of the SGI Canada Newsletter, a bi-weekly summary of news, upcoming events and encouragement. If you are not subscribing to the SGI Canada Newsletter, you may do so by clicking on the button below. Subscriptions are free of charge, and the SGI Canada Newsletter will be emailed directly to you.
Encouragement
Study for April: "Awakening to Our 'Greater Self' and 'Greater Mission'"
The study material for April is President Ikeda's September 2021 lecture entitled "Awakening to Our 'Greater Self' and 'Greater Mission'". This excerpt is taken from the section "Change for a Better Society", in which President Ikeda talks about second President Josei Toda and his young disciples:
Many of the youth striving alongside Mr. Toda at that time had only recently joined the Soka Gakkai. Some were battling illness, and many were struggling with economic hardship. But having encountered the Mystic Law and awakened to their mission for kosen-rufu while young, they were challenging themselves courageously to create a peaceful society based on the life-affirming philosophy of Nichiren Buddhism.

Mr. Toda taught these youth, to whom he would entrust the future, that kosen-rufu is an ongoing struggle against the devilish nature inherent in life. Our personal attainment of Buddhahood in this lifetime and the essence of human revolution, he explained, lie in battling the three obstacles and four devils, defeating the workings of fundamental ignorance within our hearts, and forging ahead bravely and vigorously. Our grassroots Buddhist movement seeks to help people awaken to the infinite potential and power they and others possess, become strong and wise, and work together as agents of change for human happiness and the betterment of society.
The entire study article appears in the March edition of New Century.
News
"Transforming Lives: The Power of Human Rights Education"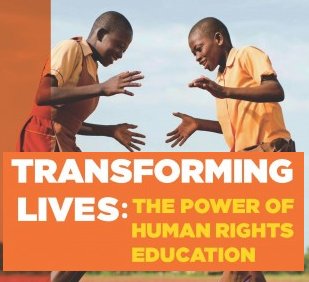 SGI Canada members in Windsor, Ontario, opened the powerful SGI exhibit "Transforming Lives: The Power of Human Rights Education" at Windsor's historic Mackenzie Hall Cultural Centre on March 15.
Ontario West Women's Group Vice Leader Iole Iadipaolo brought together several community groups to co-sponsor the exhibit: the City of Windsor, the New Canadians' Centre of Excellence Inc., Legal Assistance of Windsor, the University of Windsor's Anti-Racism Organizational Change Office, and the InterFaithGroup of Windsor and Essex County.
After a very successful four-day showing, the exhibit closed on March 18 with a message from City of Windsor Mayor Drew Dilkens and remarks from several other community leaders. In his message, SGI Canada General Director Glenn Turner thanked everyone for their efforts and referred to President Ikeda's guidance on the importance of empathy for others:
It is, of course, crucial to strengthen international legal frameworks for the prevention of conflict and the protection of human rights, but ultimately I believe that the most effective means of breaking the cycles of violence and hatred can be found in fostering a spirit of empathy throughout human society.[1]
For more information about "Transforming Lives", please see:
https://www.power-humanrights-education.org/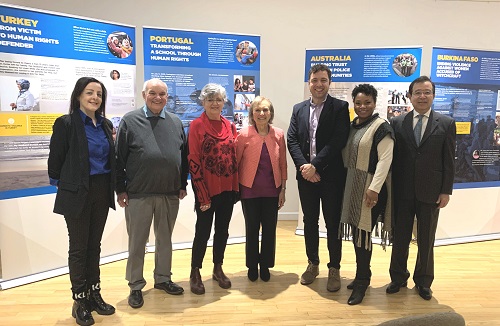 Event collaborators (from left to right): Rima Nohra, New Canadians' Centre of Excellence Inc.; Dr. Norman King, Interfaith Group of Windsor and Essex County; Marion Overholt, Legal Assistance of Windsor; Iole Iadipaolo, Ontario West vice women's leader, SGI Canada; Councillor Fabio Costante, City of Windsor; Marium Tolsen Murtty, University of Windsor, Anti-Racism and Organizational Change Office; Susumu Uchida, Ontario West coordinator and men's leader, SGI Canada.
[1] "Empathy Key to Human Rights", Japan Times, December 7 2016, <https://www.daisakuikeda.org/sub/resources/works/essays/op-eds/2016dec7-japan-times-op-ed.html>.
Advancing Security and Sustainability at the G7 Hiroshima Summit
Soka University in Hachioji, Japan will be the site for an international conference next week entitled "Advancing Security and Sustainability at the G7 Hiroshima Summit". The conference is sponsored by Soka University, the G7 Research Group, the International Academy for Multicultural Cooperation and SGI.
The conference will bring together academics and professionals to discuss how the upcoming G7 Hiroshima Summit Meeting can address the issues of nuclear weapons, climate change and global health. Participants will present recommendations to the G7 Summit Meeting which will be held from May 19 to May 21.
For more information, please see: http://www.g7.utoronto.ca/conferences/2023/2023-soka.html
We hope you found this newsletter beneficial. Please email your questions or comments to contact@sgicanada.org. Please note that the next SGI Canada Newsletter will appear on April 7, 2023. See you then!