SGI Canada Newsletter, No. 73 - February 24, 2023
February 24, 2023
SGI Canada Newsletter
Issue no. 73
February 24, 2023
Welcome to the 73rd issue of the SGI Canada Newsletter, a bi-weekly summary of news, upcoming events and encouragement. If you are not subscribing to the SGI Canada Newsletter, you may do so by clicking on the button below. Subscriptions are free of charge, and the SGI Canada Newsletter will be emailed directly to you.
Encouragement
SGI President Daisaku Ikeda's editorial: "Forever Passing On the Mission of Kosen-rufu"
In his March editorial in the Daibyakurenge study magazine, SGI President Ikeda speaks of the importance of advancing, no matter what:
What good fortune we have to journey throughout the three existences—past, present, and future—with Nichiren Daishonin, the Mystic Law, and our fellow members, forever walking the path of eternity, happiness, true self and purity.

In a letter to Soya Doso, who exerted himself in faith alongside his father, Soya Kyoshin,[1] the Daishonin writes: "The matter of the late Acharya Daishin[2] was surely most regrettable. But we should consider that what has happened will serve to further spread the teachings of the Lotus Sutra" (WND-1, 990; "King Rinda"). While expressing grief at the death of this committed practitioner, who had close ties to the father and son, and praying for his eternal happiness, the Daishonin seeks to encourage his young disciple.

One who dedicates their life to kosen-rufu is "a Buddha in both life and death" (WND-1, 456), pervaded with immeasurable treasures of the heart and the boundless gratitude and appreciation of their friends. And with great trust, they also pass on the baton of their noble mission to youthful Bodhisattvas of the Earth who will follow in their footsteps in an unending stream.

When we cherish our deceased loved ones in the Eagle Peak within our hearts and carry on their commitment, we can bring forth the most sublime and unbeatable strength.

Commenting on this passage from the Daishonin's writings, Mr. Toda said that the essence of faith is to keep pressing ever forward with the firm conviction that whatever happens in life "will serve to further spread the teachings of the Lotus Sutra" (WND-1, 990). In just that manner, we Soka mentors and disciples have turned every challenge that has assailed us into an opportunity to greatly expand our movement for kosen-rufu and develop our lives. We have overcome every obstacle with our powerful belief in changing poison into medicine.

Confident that we will win without fail, we have made even greater efforts to help others form and deepen their connections to Nichiren Buddhism and have gone on to achieve fresh dynamic growth. And we must continue to triumph over all in exactly the same way in the future.
[1] Soya Kyoshin was one of the leading believers in Shimosa Province, part of present-day Chiba and Ibaraki prefectures. The Daishonin gave him the Buddhist name Horen.
[2] Acharya Daishin was a priest and a disciple of Nichiren Daishonin. Acharya (Jpn ajari) was a title of rank in the priesthood.
The entire editorial appears in the April edition of New Century.
News
SGI President Ikeda's Statement on the Ukraine Crisis and No First Use of Nuclear Weapons
February 24 is the first anniversary of the beginning of the war in Ukraine. To mark the anniversary, we would like to reprint an excerpt from President Ikeda's January 11 "Statement on the Ukraine Crisis and No First Use of Nuclear Weapons". In the statement, President Ikeda calls for action aimed at restoring peace in Ukraine and steps to lessen the risk of the use of nuclear weapons.
How many people have lost their lives or livelihoods in the ongoing crisis, how many have found their own and their family's ways of life suddenly and irrevocably altered?

For the first time in forty years, the United Nations Security Council called on the UN General Assembly to convene an emergency special session under a "uniting for peace" resolution. Subsequently, Secretary-General António Guterres has engaged repeatedly with the national leaders of Russia, Ukraine and other countries in an effort at mediation.

And yet the crisis continues. It has not only heightened tensions across Europe but also seriously impacted many other countries in the form of constrained food supplies, spiking energy prices and disrupted financial markets. These developments have increased the desperation of great numbers of people worldwide already afflicted by extreme weather events caused by climate change and the suffering and death resulting from the COVID-19 pandemic.

It is crucial that we find a breakthrough in order to prevent any further worsening of the conditions facing people worldwide, to say nothing of the Ukrainian people who are compelled to live with inadequate and uncertain supplies of electricity amidst a deepening winter and intensifying military conflict.

I therefore call for the urgent holding of a meeting, under UN auspices, among the foreign ministers of Russia, Ukraine and other key countries in order to reach agreement on a cessation of hostilities. I also urge that earnest discussions be undertaken toward a summit that would bring together the heads of all concerned states in order to find a path to the restoration of peace.

This year marks eighty-five years since the adoption by the League of Nations General Assembly of a resolution on the protection of civilians from aerial bombardment. It is also the seventy-fifth anniversary of the adoption by the United Nations of the Universal Declaration of Human Rights, which expressed the shared vow to bring about a new era in which human dignity would never again be trampled and abused.

Recalling the commitment to protect life and dignity that undergirds International Humanitarian Law and International Human Rights Law, I urge all parties to bring about the earliest possible end to the present conflict.

Together with calling for the earliest possible resolution to the Ukraine crisis, I wish to stress the crucial importance of implementing measures to prevent the use or threat of use of nuclear weapons, both in the current crisis and all future conflicts.
You can find the complete statement (in English) on the Daisaku Ikeda website at https://www.daisakuikeda.org/sub/resources/works/lect/2023jan11-stmt-on-ukraine-crisis-and-nfu.html
Have you set up your online account yet?
SGI Canada members now have access to an online portal in which they can create their own personal SGI Canada accounts, subscribe to publications and make secure online donations.
Members can also use their online account to read the English and French-language publications to which they subscribe, and access their tax receipts and personal information.
How to set up your online account:
1. Go to the SGI Canada website at sgicanada.org and click on the Online Portal button near the top right corner of your screen.
2. Click on I have not created an online account and then Submit
3. Fill out the personal information fields and click on Submit
4. You will receive an email from accounting@sgicinfo.org . The email will confirm your username and password (which you can change once you log into the site the first time). For assistance with setting up your account, please contact support@sgicinfo.org.
5. Once your username and password have been confirmed, you will be able to log into the online portal from the SGI Canada website at any time.
Many SGI Canada members have already registered. We hope you will also take advantage of this convenient method of making online donations, subscribing to SGI Canada publications, and reading them online.
We'd like to see you!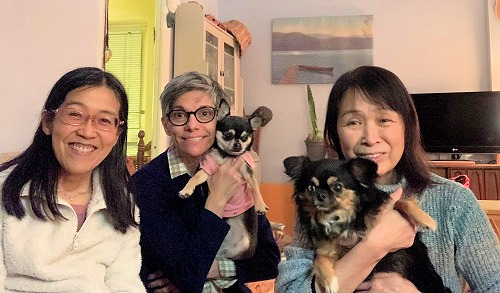 Have you been having visits with other members recently? We'd love to see your photos of your visits with individual members or small numbers of members (in keeping with the SGI Canada recommendations published in Newsletter #69 on October 14).
If you submit your photos to SGI Canada, your photos may be used in upcoming editions of our magazines. Your photos should be:
High-resolution (at least 1 MB in size)
Sent as attachments to an email (rather than copied into the body of the email)
Emailed to publications@sgicanada.org
We look forward to seeing your faces!
We hope you found this newsletter beneficial. Please email your questions or comments to contact@sgicanada.org. Please note that the next SGI Canada Newsletter will appear on March 10, 2023. See you then!