SGI Canada Newsletter, No. 72 - February 10, 2023
February 10, 2023
SGI Canada Newsletter
Issue no. 72
February 10, 2023
Welcome to the 72nd issue of the SGI Canada Newsletter, a bi-weekly summary of news, upcoming events and encouragement. If you are not subscribing to the SGI Canada Newsletter, you may do so by clicking on the button below. Subscriptions are free of charge, and the SGI Canada Newsletter will be emailed directly to you.
Encouragement
SGI President Daisaku Ikeda's editorial: "You Are All Courageous Champions!"
In his February editorial in the Daibyakurenge study magazine, SGI President Ikeda recollects the famous February Campaign:
During our historic February Campaign[1] of Kamata Chapter [in 1952], braving cold winds, praying and exerting ourselves tirelessly, we reached out widely to those around us to share and spread Nichiren Buddhism.

A passage from Nichiren Daishonin's treatise "The Selection of the Time" that we read together moved and inspired us deeply: "Those concerned about their next life would do better to be common people in this, the Latter Day of the Law, than be mighty rulers during the two thousand years of the Former and Middle Days of the Law" (WND-1, 544).

It is a far greater honour to dedicate our lives to kosen-rufu—chanting Nam-myoho-renge-kyo and voluntarily taking on hardships for that cause—as unheralded "common people" in this corrupt age than to be "mighty rulers" in the most glorious era.

Filled with gratitude to Nichiren Daishonin and our mentor Josei Toda for teaching us the supreme pride and joy of being "common people in this, the Latter Day of the Law," we in Kamata Chapter dove into the midst of those who were suffering and urged them confidently to join us in attaining happiness.

As we were tallying the final results of our efforts that month, having broken through all barriers together, a women's district leader dashed into the room and, with a beaming smile, announced breathlessly: "Wait! One more household has started practising!" That is how we reached the astonishing record of 201 new member households in one chapter in just a single month.
[1] February Campaign: In February 1952, President Ikeda, then an adviser to Tokyo's Kamata Chapter, initiated a dynamic propagation campaign. Together with the Kamata members, he broke through the previous monthly record of some 100 new member households by introducing the Daishonin's Buddhism to 201 new member households.
The entire editorial appears in the March edition of New Century.
News
Soka Gakkai Donates to Relief Efforts following Turkiye-Syria Earthquake
On February 9, the Soka Gakkai donated five million yen (Cdn $50,923) to the Turkish Embassy in Tokyo and two million yen (Cdn $20,369) to the Japanese Red Cross Society, contributing to emergency humanitarian assistance to those affected by the recent magnitude 7.8 earthquake that devastated parts of Turkiye and Syria.
We'd like to see you!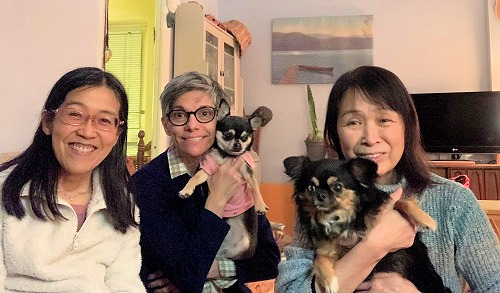 Have you been having visits with other members recently? We'd love to see your photos of your visits with individual members or small numbers of members (in keeping with the SGI Canada recommendations published in Newsletter #69 on October 14).
If you submit your photos to SGI Canada, your photos may be used in upcoming editions of our magazines. Your photos should be:
High-resolution (at least 1 MB in size)
Sent as attachments to an email (rather than copied into the body of the email)
Emailed to publications@sgicanada.org
We look forward to seeing your faces!
We hope you found this newsletter beneficial. Please email your questions or comments to contact@sgicanada.org. Please note that the next SGI Canada Newsletter will appear on February 24, 2023. See you then!