SGI Canada Newsletter, No. 70 - January 13, 2023
January 13, 2023
SGI Canada Newsletter
Issue no. 70
January 13, 2023
Welcome to the 70th issue of the SGI Canada Newsletter, a bi-weekly summary of news, upcoming events and encouragement. If you are not subscribing to the SGI Canada Newsletter, you may do so by clicking on the button below. Subscriptions are free of charge, and the SGI Canada Newsletter will be emailed directly to you.
Encouragement
President Ikeda's New Year's poems
President Ikeda composed the following poems to celebrate the start of the New Year.
We, as mentor and disciple,
are unwavering champions
"of heaven, earth, and humanity."[1]
Let us illuminate the world with the brilliant
morning sun of time without beginning.
*
The seeds of happiness and enlightenment
sprout through life-to-life connections.
May you take the lead in expanding
our network of youthful Soka women
for the sake of peace together with good friends.
*
With the resolve "I am a young flagbearer
who will lead the way!"
make the triumphant song of
our life-affirming philosophy resound
to bring peace to all lands, all people.
Daisaku Ikeda
New Year's Day, 2023
(Translated from the January 1, 2023, issue of the Seikyo Shimbun, the Soka Gakkai daily newspaper)
[1] See WND-1, 1063.
News
SGI President Ikeda's Statement on the Ukraine Crisis and No First Use of Nuclear Weapons
President Ikeda has issued a statement decrying the cruelty and misery of war, and calling for action aimed at restoring peace in Ukraine and steps to lessen the risk of the use of nuclear weapons. The following is an excerpt from the statement:
How many people have lost their lives or livelihoods in the ongoing crisis, how many have found their own and their family's ways of life suddenly and irrevocably altered?

For the first time in forty years, the United Nations Security Council called on the UN General Assembly to convene an emergency special session under a "uniting for peace" resolution. Subsequently, Secretary-General António Guterres has engaged repeatedly with the national leaders of Russia, Ukraine and other countries in an effort at mediation.

And yet the crisis continues. It has not only heightened tensions across Europe but also seriously impacted many other countries in the form of constrained food supplies, spiking energy prices and disrupted financial markets. These developments have increased the desperation of great numbers of people worldwide already afflicted by extreme weather events caused by climate change and the suffering and death resulting from the COVID-19 pandemic.

It is crucial that we find a breakthrough in order to prevent any further worsening of the conditions facing people worldwide, to say nothing of the Ukrainian people who are compelled to live with inadequate and uncertain supplies of electricity amidst a deepening winter and intensifying military conflict.

I therefore call for the urgent holding of a meeting, under UN auspices, among the foreign ministers of Russia, Ukraine and other key countries in order to reach agreement on a cessation of hostilities. I also urge that earnest discussions be undertaken toward a summit that would bring together the heads of all concerned states in order to find a path to the restoration of peace.

This year marks eighty-five years since the adoption by the League of Nations General Assembly of a resolution on the protection of civilians from aerial bombardment. It is also the seventy-fifth anniversary of the adoption by the United Nations of the Universal Declaration of Human Rights, which expressed the shared vow to bring about a new era in which human dignity would never again be trampled and abused.

Recalling the commitment to protect life and dignity that undergirds International Humanitarian Law and International Human Rights Law, I urge all parties to bring about the earliest possible end to the present conflict.

Together with calling for the earliest possible resolution to the Ukraine crisis, I wish to stress the crucial importance of implementing measures to prevent the use or threat of use of nuclear weapons, both in the current crisis and all future conflicts.
You can find the complete statement (in English) on the Daisaku Ikeda website at https://www.daisakuikeda.org/sub/resources/works/lect/2023jan11-stmt-on-ukraine-crisis-and-nfu.html
SGI Canada reopening update for 2023
SGI Canada members can be confident and proud that their efforts to keep everyone safe during the COVID-19 pandemic have truly been in the spirit of President Ikeda. In his speech shared during the 10th Headquarters Leaders Meeting in August 2022, President Ikeda says:
…the more you pray for others' happiness, the greater happiness you will come to enjoy yourself. When you pray for the health of others, your own health will also be protected. This is the wondrous power of the Mystic Law.

A person's greatness is determined by whether they are focused on benefiting themselves or benefiting others. This also determines whether one's faith is genuine or not.[1]
As we continue to experience the lingering effects of COVID-19 and new epidemics of Influenza and Respiratory Syncytial Virus (RSV), our primary concern will remain everyone's health. Right now, we believe that individuals or small numbers of people can participate in home visits safely, particularly if they take precautions (for example. using masks and physical distancing where possible) and use common sense.
SGI Canada will monitor the public health situation through the winter, and we are very hopeful that we will be able to expand home visits in coming months to include larger numbers of people. This may be the last intermediate step before some districts resume activities in person, later in 2023.
We hope that members in each district will continue to find ways to introduce guests and encourage one another, whether through home visits, phone calls or online meetings. Soka Gakkai President Harada said recently: "The fostering of capable people remains fundamentally a person-to-person endeavour. Every leader should take this to heart."[2]
As we gradually enlarge the scale of our in-person activities, districts may want to start thinking about the format of their future meetings. SGI Canada will provide suggestions and resources for a variety of meeting formats in coming months. Whatever the format, we should do our best to respect the safety and comfort level of all members. SGI Canada centres may have a role to play in the next step, but for the moment, they will remain closed.
With many thanks for your patience, your determination and your support,
SGI Canada National Leaders
***
[1] "Moving from a Focus on Self to a Focus on Others", NEW CENTURY December 2022, p.5.
[2] Speech, 11th Soka Gakkai Headquarters Leaders Meeting, Tokyo Toda Auditorium, November 12 2022, 33:49.
We'd like to see you!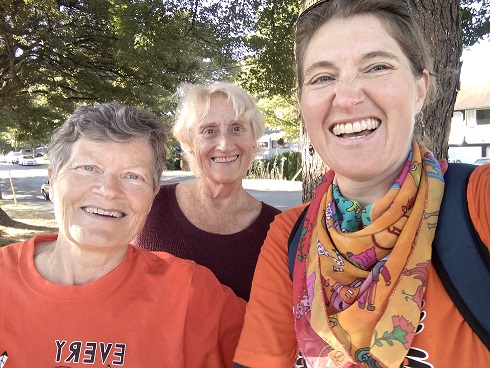 Have you been having visits with other members recently? We'd love to see photos of your visits with individual members or small numbers of members (in keeping with the SGI Canada recommendations published in Newsletter #69 on October 14).
If you submit your photos to SGI Canada, your photos may be used in upcoming editions of our magazines. Your photos should be:
High-resolution (at least 1 MB in size)
Sent as attachments to an email (rather than copied into the body of the email)
Emailed to publications@sgicanada.org
We look forward to seeing your faces!
We hope you found this newsletter beneficial. Please email your questions or comments to contact@sgicanada.org. Please note that the next SGI Canada Newsletter will appear on January 27, 2022. See you then!