SGI Canada Newsletter, No. 62 - September 30, 2022
September 30, 2022
SGI Canada Newsletter
Issue no. 62
September 30, 2022
Welcome to the 62nd issue of the SGI Canada Newsletter, a bi-weekly summary of news, upcoming events and encouragement. If you are not subscribing to the SGI Canada Newsletter, you may do so by clicking on the button below. Subscriptions are free of charge, and the SGI Canada Newsletter will be emailed directly to you.
ENCOURAGEMENT
SGI President Daisaku Ikeda's editorial: "Now Is the Time to Fulfill the True Purpose of the Buddhism of the People"
In his October editorial in the Daibyakurenge study magazine, SGI President Ikeda writes about the role of our practice in society:
Six decades ago [in 1962], I responded to a question by a bright young man who was concerned that intensifying criticism would assail our organization the harder we worked for the betterment of society. I said: "We are people of action. We have a great philosophy that we put into practice to make a positive contribution to people's welfare. That's what makes us strong. When confronted with the negative comments of irresponsible bystanders, just set the record straight by speaking with conviction and compelling logic."

The wisdom of the Middle Way has the power to bring an end to the tragic cycle of suffering that has long been humanity's destiny, and to unite and empower the people so they remain impervious to evil and divisive influences.

In a letter composed during the Atsuhara Persecution, the Daishonin writes: "So long as you remain firm in heart, I am sure that the whole truth of the matter will become clear in the end" (WND-2, 831).

Without pretense or arrogance, as uncrowned champions of humanity, let us courageously and enjoyably fulfill the true purpose of kosen-rufu and our lives.
The entire editorial will be available in the December edition of New Century.
NEWS
World Peace Day and SGI Canada Day Commemorative Meetings - October 2
Our meetings, on October 2, commemorate two important dates in the history of kosen-rufu in Canada – World Peace Day on October 2 and SGI Canada Day on October 12.
On October 2 1960, President Daisaku Ikeda travelled overseas for the first time to fulfill the vision of his mentor to spread the teachings of Nichiren Buddhism around the world.
October 12 is the date, as part of that first overseas journey, when President Ikeda went to Niagara Falls during his visit to Canada, describing the falls as a metaphor for Canadian kosen-rufu in The New Human Revolution and his poem "A Rainbow over Niagara".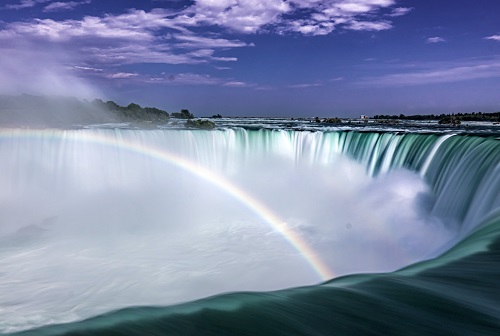 SGI Canada Day reminds us that the seeds of Canadian kosen-rufu were planted by our mentor himself. The one person who stood up after meeting Sensei on October 11, 1960, was Akiko Elizabeth Izumi, who became the first leader of SGI Canada. We express our deep appreciation for all their efforts and make a new determination to advance kosen-rufu across Canada toward 2030.
Most meetings on October 2 will feature an important speech by President Ikeda on the benefits of practice for others. Please check with your local leaders for the time of the October 2 World Peace Day and SGI Canada Day Commemorative Meeting in your region or area.
SGI Canada Special Fund
The SGI Canada Special Fund is an opportunity to contribute directly to the kosen-rufu movement in Canada. Thank you so much for your sincere dedication and your support in every way for the advancement of kosen-rufu in Canada!
Contributions to the SGI Canada Special Fund can be made at any time by using one of the following two options:
You can contribute online through the SGI Canada online portal at https://sgicinfo.org/portal/login
You can also contribute by mailing a cheque, money order or bank draft to SGI Canada at: SGI Canada, 2050 Dufferin Street, Toronto, Ont. M6E 3R6
We deeply appreciate your courageous efforts to support and encourage your fellow members, families and friends at this very challenging time in the history of humankind. Thank you very much!
The Wisdom for Creating Happiness and Peace (Part 1) now available online in French
The French version of the latest edition of The Wisdom for Creating Happiness and Peace (Part 1) is available on the Soka Gakkai (global) website at this address:
https://sokaglobal.org/fr/resources/study-materials/buddhist-study/the-wisdom-for-creating-happiness-and-peace.html
The Wisdom for Creating Happiness and Peace, The Basics of Nichiren Buddhism for the New Era of Worldwide Kosen-rufu and the New Human Revolution are all available online in English, Chinese and Spanish at sokaglobal.org.
Additional material in French will be published gradually with the sincere goal to support the Buddhist study efforts of French-speaking members around the world.
Third SGI Online Study Lecture now available
SGI Canada members and friends are now able to watch the third SGI Online Study Lecture given by SGI Vice-President Hiromasa Ikeda in two 29-minute segments.
Mr. Ikeda's lecture is entitled "Learning from The New Human Revolution" and is based on passages from several volumes of The New Human Revolution. It is not necessary to have read these volumes recently in order to get full benefit from Mr. Ikeda's lecture.
The online lecture is open to SGI Canada members and their friends and family.
The lecture and study materials are also available in French, Chinese, Japanese, Korean, Spanish, Portuguese, Italian, German, Thai and Indonesian. Local leaders can organize showings of the lecture in these languages and supply the study materials in response to requests.
District level and up leaders can show the online lecture in district meetings and at additional meetings and showings at all levels.
The lecture will be available for viewing until November 21 (11.59pm Japan Time). We encourage leaders to make as many opportunities as possible for members and guests to view the online lecture and to have discussions together after viewings.
Please consult your local leaders to see when the lecture will be shown in your location.
We hope you found this newsletter beneficial. Please email your questions or comments to contact@sgicanada.org. Please note that the next SGI Canada Newsletter will appear on October 14, 2022. See you then!