SGI Canada Newsletter, No. 59 - August 19, 2022
August 19, 2022
SGI Canada Newsletter
Issue no. 59
August 19, 2022
Welcome to the 59th issue of the SGI Canada Newsletter, a bi-weekly summary of news, upcoming events and encouragement. If you are not subscribing to the SGI Canada Newsletter, you may do so by clicking on the button below. Subscriptions are free of charge, and the SGI Canada Newsletter will be emailed directly to you.
ENCOURAGEMENT
SGI President Daisaku Ikeda's Editorial: "Imparting the Power for a 'Health Revolution' around the Globe!"
In his September editorial in the Daibyakurenge study magazine, SGI President Ikeda encourages us to continue to take care of our own health and to be considerate of the health of others:
As the world continues to grapple with the challenges of the COVID-19 pandemic and other emerging infectious disease threats, the wisdom, energy, and unity to protect the dignity and preciousness of life are needed more than ever.

"When one gives [others] strength, one gives oneself strength too, when one prolongs [others'] lives, one prolongs one's own life as well" (cf. WND-2, 1066). This is the unerring law of cause and effect.

As members of the Soka family embracing the great beneficial medicine of the Mystic Law, let us continue to take action with compassion for the well-being of others and impart the power for a "health revolution" to the global family of humankind.

Do not fear!

No sickness

can be an obstacle

for Buddhas chanting

the lion's roar of daimoku.
The entire editorial will be available in the October edition of New Century.
SGI President Daisaku Ikeda's Daily Guidance: "To My Friends"
These are tentative translations of "To My Friends" published in the Seikyo Shimbun, based on President Ikeda's recent guidance.
August 16, 2022

--TO MY FRIENDS--

Friendships are life's treasures.

Let's engage in heartwarming

exchanges with relatives and old friends, too!

Let's convey inspiring words through

various means, including telephone calls and letters!
August 11, 2022

--TO MY FRIENDS--

Majestic mountains are created

by major shifts in the tectonic

plates of the earth.

People, too, are able to develop

a strong self amidst great

upheavals in their lives.

Let's become champions who

can transform adversity into

life's treasures.
To receive "To My Friends" in your email every day, click on the sign-up button at the bottom of the SGI Canada website home page.
NEWS
Third SGI Online Study Lecture available this week
As of Saturday, August 20, SGI Canada members and friends will be able to watch the third SGI Online Study Lecture which will be given by SGI Vice-President Hiromasa Ikeda in two 29-minute segments.
Mr. Ikeda's lecture is entitled "Learning from The New Human Revolution" and is based on passages from several volumes of The New Human Revolution. It is not necessary to have read these volumes recently in order to get full benefit from Mr. Ikeda's lecture.
The online lecture is open to SGI Canada members and their friends and family. Members will soon be receiving copies of the study material that Mr. Ikeda refers to.
The lecture and study materials are also available in French, Chinese, Japanese, Korean, Spanish, Portuguese, Italian, German, Thai and Indonesian. Local leaders can organize showings of the lecture in these languages and supply the study materials in response to requests.
District level and up leaders can show the online lecture in district meetings and at additional meetings and showings at all levels.
The lecture will be available for viewing until November 21 (11.59pm Japan Time). We encourage leaders to make as many opportunities as possible for members and guests to view the online lecture and to have discussions together after viewings.
Please consult your local leaders to see when the lecture will be shown in your location.
New Options for Subscribers to Publications
We want to remind everyone of the new online features for subscribers to SGI Canada publications.
If you are an SGI Canada member, you can now use the Online Portal to do the following:
Start a new Annual subscription
Renew an Annual subscription
Purchase a gift subscription for someone else
If you do not have an Online Portal account yet, you can easily set one up at this link: https://sgicinfo.org/portal/register
If you are not an SGI Canada member, you can now subscribe to SGI Canada publications directly from the website: www.sgicanada.org/subscriptions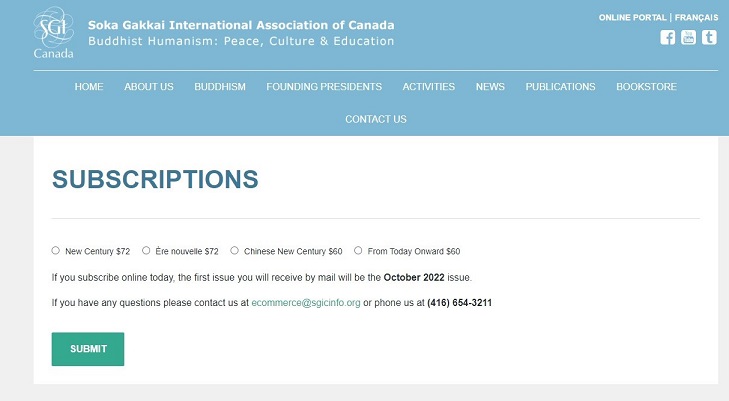 Please note that once SGI Canada processes your subscription:
You will receive your print copy in the mail in approximately 8-10 weeks.
You will be able to access a digital copy of your magazine through the online portal if you are an SGI Canada member and if you already have an online portal account
Currently, New Century, SOKA, Ère nouvelle and From Today Onward are available online.
Subscriptions are only valid for addresses in Canada. Payment must be in Canadian funds, and all transactions are non-refundable.
What's new at the SGI Canada Online Bookstore ?
The SGI Canada Online Bookstore carries everything that you, your guests and new members need – from Nam-myoho-renge-kyo cards and gongyo books to President Ikeda's guidance and butsudans. Shipping is available to any part of Canada.
New arrivals in the Bookstore include:
The New Human Revolution v.30 - parts 1 and 2 (in English and French)
To My Dear Friends of the Youth Division
Gosho for the Lion Cub
You can find the Bookstore's complete catalogue of books in English, French and other languages, as well as prayer beads, incense, Buddhist altars, accessories, gongyo books and gift items at https://sgicanada.myshopify.com/
We'd like to see you!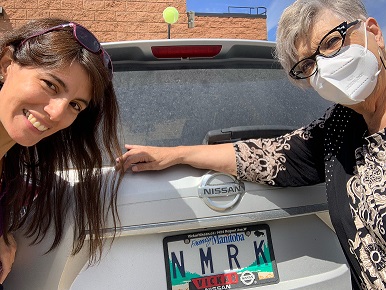 Have you been having outdoor visits with other members? We'd love to see your photos of outdoor visits with individual members or small numbers of members (in keeping with the SGI Canada recommendations published in Newsletter #56 on July 8).
If you submit your photos to SGI Canada, your photos may be used in upcoming editions of our magazines. Your photos should be:
High-resolution (at least 1 MB in size)
Sent as attachments to an email (rather than copied into the body of the email)
Emailed to publications@sgicanada.org
We look forward to seeing your faces!
We hope you found this newsletter beneficial. Please email your questions or comments to contact@sgicanada.org. Please note that the next SGI Canada Newsletter will appear on September 2, 2022. See you then!