Making a Vow Turns Karma into Mission
December 4, 2020
By Chika Ono, Toronto
District Young Women's Leader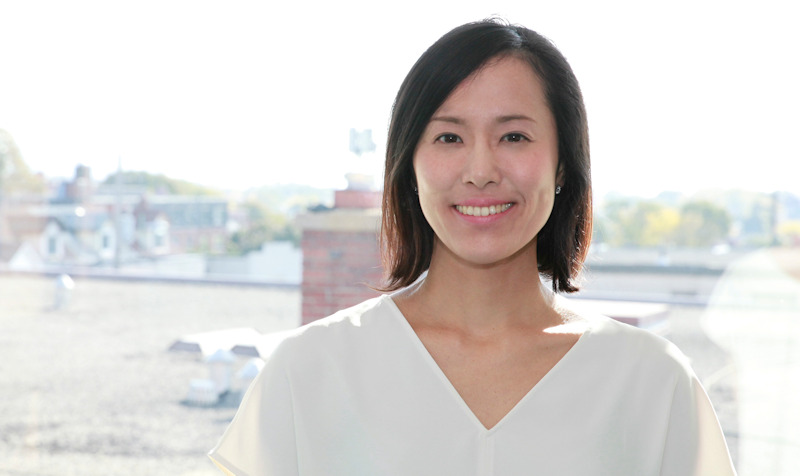 In 2013 I visited Canada from Japan for the first time, fulfilling a lifelong dream. At that time, I made a strong connection with this country, and I made a vow to my mentor, Daisaku Ikeda that I would become a Canadian nurse and create an SGI Nurse's Group, similar to the Shirakaba-ka[1] group I was a part of in Japan. Three years later in the month of September, I began my studies at the Centennial College Faculty of Nursing.
The initial excitement of beginning my program quickly turned into a huge struggle. The cultural and physical environment was very different from what I was used to in Japan. In addition, the intensive program was very demanding and exhausting. As a result of the high levels of stress, I began to suffer from severe health issues. The continuous challenges began to take away my motivation to study. There were many moments when I just wanted to give up and run away from reality. However, at the darkest times I would remind myself of my vow to my mentor and I found the energy to keep going.
For the longest time I was afraid of not being good enough, feeling deeply insecure about myself. This very low self-esteem meant that I did not like myself very much. On top of that, I was also a perfectionist. I worked very hard at everything and often tried to go well beyond my capacity, especially at work. When I made mistakes or didn't do well at something, I would harshly blame myself for being imperfect. I was never satisfied with myself nor my accomplishments and I ignored any inner voice that would stop me from overworking myself. Not only was I often mentally exhausted, I began to feel no joy in my heart. This is when I decided to chant to transform myself, no matter how difficult this would be. Gradually, I started to recognize that my karmic patterns of not valuing my life were preventing me from becoming truly happy.
Since I had come to Canada, I was seeing the patterns more often, while the challenges continued. Without making my best effort I could not be successful, especially with the added language barrier. I had to work twice or three times as hard to keep up with Canadian students, all the while battling my feelings of not being good enough. However, as I chanted and continued to grow stronger in my Buddhist practice, I deeply felt I wanted to repay my debt of gratitude to my mentor and I kept moving forward.
For three and a half years, I worked at these intense levels until finally I felt something change in my body. I knew something was wrong with my health. It began with a complete drain of energy and then a loss of appetite and difficulty sleeping. My heart would race, my breathing would be difficult, and I would cry for hours on end. I finally reached my lowest point—I was burnt out, depressed, and I felt I couldn't continue the program.
I kept chanting throughout this period, often with tears in my eyes because I could not believe this was happening to me. Quitting in the middle of a semester due to my health reasons seemed unimaginable to me. I had to fight against my feelings of failure and emotional pain, especially when I thought of the determinations I'd made to work for kosen-rufu.
At this time, my mother talked to me about my 93-year-old grandmother who is now 93 years old and was one of the early pioneer members of the Soka Gakkai. She has very strong faith in this practice and was happier than anyone else to hear about my determination for kosen-rufu. She did not know about my situation because my mother did not want her to worry her. However, my grandmother said: "I do not know why but I cannot stop crying when I chant for Chika." Somehow through our deep family and faith connection, she sensed my suffering even though my mother never told her.
Around this time, my father contacted me to ask how I was doing. I had not spoken to him in quite some time but I opened up and shared with him my health challenges and my need to manage the situation. He just said, "Drop out of the program. You are not giving up or failing. Now, you need to take care of yourself." His words deeply resonated with me. As I chanted to the Gohonzon about it, I gained the wisdom to take care of myself. I made a decision to drop out of the program. After I stopped going to school, my father kept in touch with me. He said, "I am chanting for you every day so that you can get your strength back and become happy."
I was so glad to have this conversation with him because we had rarely contacted each other since my parents' divorce 12 years ago. My father has a very difficult personality and he used to make us, especially my mother, suffer due to his depression. Therefore, it has always been very difficult for me to understand him, even though I tried. My impression of him as a father was not a good one. However, because of his own struggles, he understood everything I went through—the sadness, the struggle and the frustration. His words touched my heart: "Chika, you are a Buddha yourself. If you blame yourself, it means you directly blame a Buddha and the Gohonzon. Embrace yourself as you do the Gohonzon." When I realized that he understood me because he suffered through the same hardship, I was able to understand his suffering in the past. I was able to feel an immense compassion for him that I had never felt before. It came from the profound depths of my heart.
After some time, I gradually got my strength back and I started to chant strongly again. I was able to feel compassion for myself and I thanked myself for all my efforts. The more I chanted, the more I felt gratitude not only toward the people who supported me but also toward myself. I felt as if I was embracing my Buddhahood. Then, I stopped worrying about not being good enough and I became okay with who I am. I have never felt like this in my life. I realized I became sick because I was sincerely chanting for kosen-rufu, and it was becoming sick that gave me the opportunity to deeply change my karma with my father and experience the Buddhahood within my own life. This experience showed me what it means to attain Buddhahood and transform karma in a very profound way.
Unexpectedly, I also transformed my karma into mission. When I became depressed, I was very hesitant to rely on medical help, even though I was in the medical profession myself. However, through my experience, I learned that relying on medical help is necessary. In fact, no one knows when or how a mental health issue may happen to us. In modern society, the number of people burning out or falling into depression are increasing. Due to the mental health stigma in society, these individuals are often hesitant to seek out medical help immediately. It is a complicated issue. Through my experience, I determined to become a Myoho nurse who understands these difficulties and can help others in their healing process. I now feel this is my mission.
Sometimes we cannot imagine when and how our prayers will be fulfilled. At times when we do not see the progress or results we desire, even if we are working hard, it can seem like we are failing. However, as long as we keep striving with the vow of kosen-rufu while working with our mentor, we will transform our problems in a way that is better than we can imagine. In my case, I was able to experience the power of my grandmother's chanting, I was able to fix the relationship with my father and more than that, I transformed my karma into mission. Now, I feel very happy to be who I am from the bottom of my heart. This is my victory. I am now ready to go back to college and continue walking along the path of my mission for kosen-rufu.
Lastly, I would like to share President Ikeda's guidance:
There are many elements involved in a prayer being answered, but the important thing is to keep praying until it is. By continuing to pray, you can reflect on yourself with unflinching honesty and begin to move your life in a positive direction on the path of earnest, steady effort. Even if your prayer doesn't produce concrete results immediately, your continual prayer will at some time manifest itself in a form greater than you had ever hoped. (Buddhism Day By Day, p. 97)
Published in February 2020 New Century
-------------------------------------
[1] Shirakaba-ka: means "Birch Tree Group" in Japanese and was formed by SGI President Ikeda on June 6, 1969. The group comprises of those in the nursing profession who work behind the scenes with a profound sense of responsibility to provide first aid to members in the event of an emergency. President Ikeda named this group Birch Tree Group because these trees are a pioneer species with a strong life force and are the first to appear in areas cleared by fires or logging.