Daring to Challenge Life with Pure, Dynamic Faith
May 24, 2023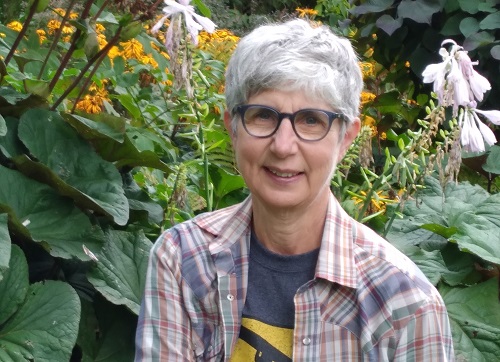 By Rita Greer
District Women's Leader
Blue Sky District, Toronto
On September 1, 2015, my beloved partner, Glenda, and I sat together in our doctor's office as he quietly delivered the results from Glenda's recent CAT scan. Afterwards, we sat in the car outside his office and faced the necessity of striving our very hardest for Glenda's life, while at the same time preparing for the possibility of death…for that was the nature of the news from that moment.
We went home and chanted and had lunch on our front porch, and every leaf, flower, bird and cloud in the sky stood out intensely. We chanted some more, and then later, Glenda insisted we go out for supper. That was one of her gifts—significant days, no matter what, had to be celebrated. We went to a favourite local bistro and enjoyed our meal, and we talked and laughed and had a special time. When we got ready to leave, our waiter exclaimed that he could hardly stand to see us go. I believe he had experienced a feeling that he was part of something vital, and had sensed that we were meeting this challenge head-on, beating back fear and misery to live that day with joy.
Our lives became appointments, pain control, medications, more medications, chemo and more chemo. Entire teams of doctors and nurses entered our lives. I doubled my daimoku, and Glenda did as much as she could. I got up early to chant and read Nichiren Daishonin's writings and President Ikeda's guidance, drawing profound comfort, encouragement and strength from every issue of New Century. I especially relied on President Ikeda's encouragement:
It is only when we struggle against adversity that the tremendous power residing in the very depths of our lives begins to reveal itself. Those who can summon great strength at the most challenging time are victors. We can find meaning in the adversity we face. We can change karma into mission.[i]
Naturally, there were sleepless nights and agonizing days. For some weeks, Glenda spent most of her waking hours in the big chair in our living room, hiding under her hoodie, even when family and friends came over—which they did, abundantly and generously. Later, I found a clipboard folder in the magazine rack beside that chair which contained an article on appreciation by SGI-USA's former women's leader Linda Johnson. It included a two-column list, in Glenda's shaky handwriting, of all the things she had appreciated during that time of being mortally ill. She had always paid special attention to appreciating life's gifts, and I believe that article helped inspire her to come out from under her hoodie and return to living as much of life as she possibly could.
She started painting again, swiftly and prolifically, one painting after the other, giving them away to friends as fast as she painted them. She participated in our household as much as possible, especially insisting on making supper, for as long as she was able.
Many wonderful things happened in the ensuing months. A pattern emerged as visitors came by. We had animated visits, with lots of laughter. People would often comment on how well we were doing, and how strong we were. I knew how strong I was not, whenever I fell short of daimoku[ii], and I did not hold back from explaining that we were doing well because of abundantly chanting Nam-myoho-renge-kyo[iii].
Our district continued to meet at our house—which we had originally selected almost 20 years earlier because, in addition to other attributes, it was suitable for district meetings.
In November of that year, I was profoundly moved by members returning from a training trip to Japan. The deep confidence and inspiration they conveyed was expressed simply as, "Canada's time has come." I wanted to be fully part of our goal of 10,000 Canadian members by 2018 (the fifth anniversary of the opening of the Hall of the Great Vow for Kosen-rufu[iv]). I experienced this as being one with the vision of our mentor, Daisaku Ikeda, at the same time as being wholly and naturally ourselves, as we encouraged our friends for the sake of their happiness, creating an ever-growing wave of respect for life, while healing our beloved planet and all of her inhabitants.
Reaffirming this deep current of intention for the growth of SGI in Canada nourished my life profoundly. I was able to continue meeting with and encouraging members and other friends. Our next-door neighbour at our cottage received the Gohonzon[v]. My sister Sandra, who lives in Edmonton, came to spend Christmas, and she started chanting with us. Our district Women's General Meeting that April filled our living room to capacity. Friends appeared and reappeared to begin chanting or to resume their practice.
With the help of my sister Sandra, a registered nurse, we were able to stay at home rather than move Glenda to a palliative-care facility. Our team of home-care professionals were thoroughly kind, capable and accessible. In the final days, our niece came and looked after Sandra and me, while we looked after Glenda. On one of those precious days, Glenda mimed a characteristically mischievous joke with us.
I was in Glenda's room on one of the last occasions when she was able to be awake. She roused herself with a huge, glowing smile and said how grateful she was to be able to welcome her friends and family into a home so full of love.
Glenda left us on a bright sunny afternoon, just before 3:00 p.m. on Monday, May 23rd, 2016.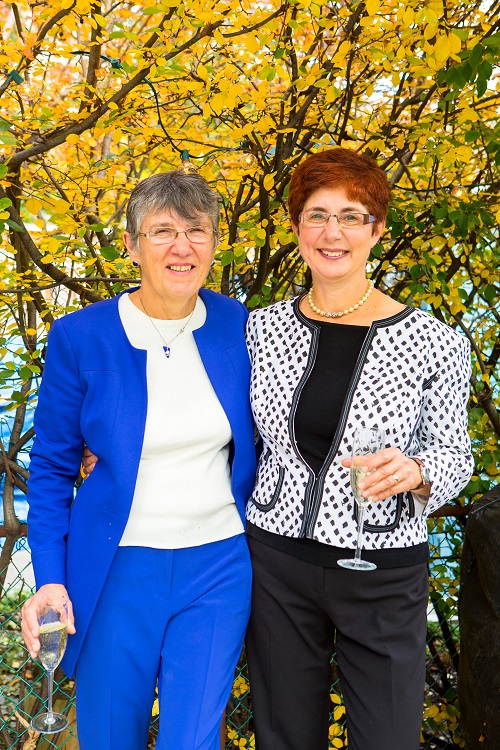 Glenda and Rita at their home in
Toronto on October 18, 2014

Her studio group of fellow painters immediately rallied and put in tremendous effort to mount a full exhibit of Glenda's paintings, both for the visiting hours at the funeral home and for the memorial service at the SGI Canada Culture Centre in Toronto. Combined, well over 200 people attended, and the presence of Glenda's paintings helped make each event a joyous celebration. Many who came to the culture centre memorial learned about Buddhism for the first time.
I think my early response to losing Glenda was very typical. It was just so hard to believe she was gone. Often, I would cry out inside my head, Where are you Glenda?! What are you doing?! I really wanted to know. And also, so typically: Can't you just send me a sign? Really, can't you just send me a sign? And I believe that she did—more than once—but that's another story.
I combed through Nichiren Daishonin's letters to his followers for the letters of condolence. My new best friends were the 13th-century Japanese family named Ueno, who had lost a husband/father, eldest son and later, a cherished youngest son. Nichiren Daishonin wrote:
Surely your late husband is in the pure land of Eagle Peak, listening and watching over this saha world day and night. You, his wife, and your children have only mortal senses, so you cannot see or hear him …" (WND-1, 456; "Hell is the Land of Tranquil Light").
This passage was like a portal to me, and many nights I fell asleep repeating it to myself and straining to reach past my mortal senses, picturing Glenda watching over us, and talking to her in my head.
Nichiren Daishonin also wrote to the mother of the Ueno family, "You should by all means perform as much good as you possibly can for the sake of your deceased husband" (WND-1, 458; "Hell is the Land of Tranquil Light"). This passage, in addition to the fact that Glenda had always been generous in performing good deeds for others, motivated me to try my best to do good deeds. One beautiful evening, as I was walking home from performing a very tiny good deed, I had the most incredible sense of feeling Glenda's presence in every atom of my environment. For a long time after that, I often felt Glenda's presence strongly, as did many of her close friends.
I made my way through the early months of loss, one foot after another, and found myself naturally on the path to rebuilding my life. I had no choice but to grow up and take charge of things that I would have shared with Glenda, things I would often leave to her to take the lead in handling. I faced up to the daunting task of clearing our house and Glenda's shop of 20 years of our creative life together. Then I entered the even more daunting environment of Toronto's real estate market. With the help of an excellent agent, my house sold well and I found a wonderful condo in my neighbourhood. Perched on the top floor in a corner unit, I can freely practise the clarinet without bothering neighbours, enjoy an abundance of light and space, and fit as many members into my living/dining room as we had in our house.
Of course, as many of you will already know, grief does not follow a gradient of continual improvement. It comes back in different forms again and again. However, I steadily find myself growing stronger, more independent and self-reliant. I have learned what Nichiren Daishonin meant when he wrote to a woman follower, "You will grow younger and your good fortune will accumulate" (WND-1, 464; "The Unity of Husband and Wife"). The idea of accumulating good fortune had always seemed logical to me, but growing younger? How could that happen? Now I know that even as our bodies age, our life state, our vital energy, can become more youthful.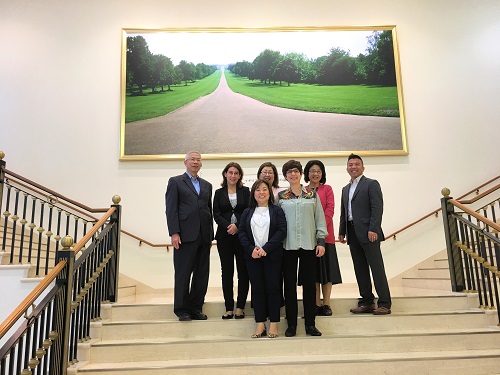 Rita (front row, right) with SGI Canada representative leaders
on a SGI Training Course in Tokyo, Japan in November 2017

Even so, I have once again recently emerged from several weeks of pain and sadness. This occurred in the first weeks of my annual migration to my cottage.
When Glenda and I were looking for this place, we chanted strongly to find a cottage where we could work for kosen-rufu[vi] in our cottage community, as well as in our urban community. I had never forgotten my deep desire for this near-north community to become a bastion of kosen-rufu, and I have continued to take what action I could toward that goal. However, I realized that my sadness, together with feeling loss and loneliness, was permeated by sadness that my prayers had not already been answered. I recognized that I'd slipped into an ungrateful and counterproductive attitude!
In The New Human Revolution, President Ikeda's novelized record of the history of the Soka Gakkai, he speaks to members in a remote mountain community in Japan:
The first step is for you…to determine in the depths of your being that you are going to build a great bastion of kosen-rufu in Matsushiro. You need to work toward this goal with the absolute conviction that you will not leave until you have accomplished it, or you will die trying. Without such firm resolve, you cannot hope to open a new page in the history of kosen-rufu.[vii]
I have put this on my altar, substituting the name of my cottage community. My focus is clear and my life rejuvenated and exhilarated.
I feel more whole than I ever have, and I am ready to challenge myself to draw forth the power of the Gohonzon more than ever before, "with pure-hearted determination and appreciation."[viii]
Published in January 2023 New Century
[i] New Century, January 2016, p. 21.
[ii] Daimoku: Chanting Nam-myoho-renge-kyo in Nichiren Daishonin's teachings.
[iii] Nam-myoho-renge-kyo: The fundamental Law of the universe expounded in Nichiren Buddhism, it expresses the true aspect of life. Chanting it allows people to directly tap their enlightened nature and is the primary practice of SGI members.
[iv] The Hall of the Great Vow for Kosen-rufu: The Hall of the Great Vow for Kosen-rufu located in Shinanomachi, Tokyo, officially opened on November 18, 2013, to commemorate the founding of the Soka Gakkai in 1930 and the 69th anniversary of the passing of first Soka Gakkai President Tsunesaburo Makiguchi. This new building will serve as a focal point of Soka Gakkai's global movement for kosen-rufu, or world peace.
[v] Gohonzon: The object of devotion in Nichiren Buddhism. It is the embodiment of the Law of Nam-myoho-renge-kyo, expressing the life state of Buddhahood, which all people inherently possess. Go means "worthy of honour" and honzon means "object of fundamental respect."
[vi] Kosen-rufu: Literally, it means "to widely declare and spread [the Lotus Sutra]"; to secure lasting peace and happiness for all humankind through the propagation of Nichiren Buddhism. More broadly, kosen-rufu refers to the process of establishing the humanistic ideals of Nichiren Buddhism in society.
[vii] The New Human Revolution, Vol. 12, p. 98.
[viii] The New Human Revolution, Vol. 12, p. 161.