Why I Started Chanting
December 17, 2015
Featured in the October issue of SOKA magazine
What was your childhood like?
I was born in Islington in 1967. I am the only son in a family of five, who came from the Yoruba tribe in Nige­ria. My parents moved to the UK in the early '60s seek­ing to create a better life.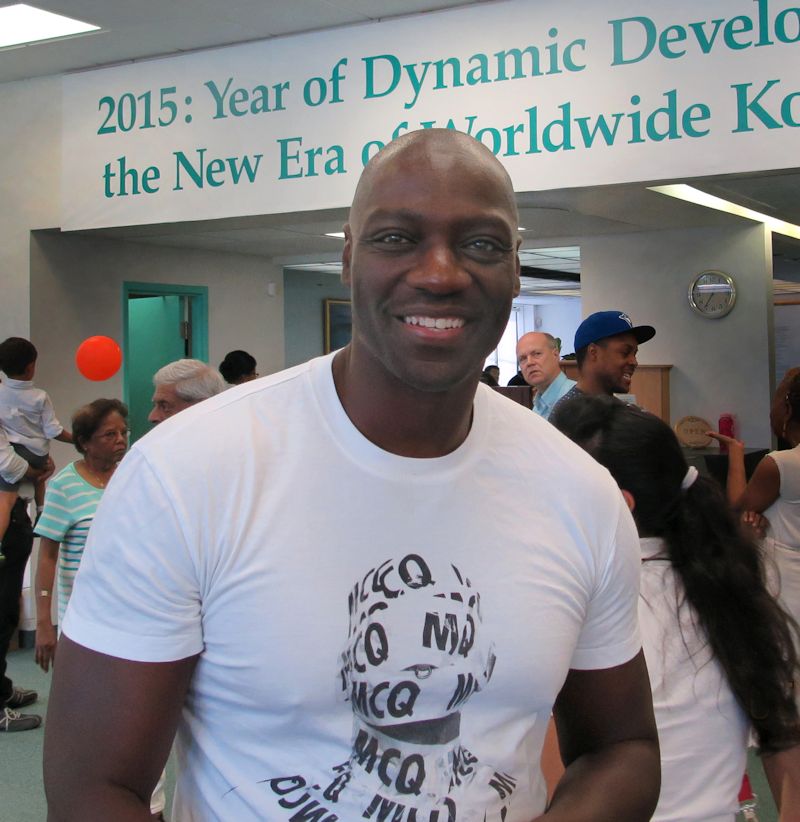 When I was six weeks old, two of my sisters and I were fostered by a white working class family who lived in the town to Tilbury, Essex. I lived with them for 16 years. This was common practice at the time with Ni­gerian immigrants who were working and studying, but couldn't cope with also raising children.
What were your challenges in early life?
At the age of eight, my Nigerian parents turned up to re­claim me and took me back to Nigeria. Adjusting to this new environment was traumatic and I actually stopped talking for about a year. As a result, my Nigerian parents sent me back to my foster parents, where I stayed until I was 16.
Tilbury at that time was a very working-class docking town, known to be violent. Many of the local inhab­itants were hostile to immigrants so we were subjected to constant racist abuse and attacks. There were some chal­lenges with this at home as well, as my foster parents of­ten exhibited ignorant and racist tendencies. As a child I lived in fear and torment.
My foster father admonished me and forced me to fight back. Tired of being victimized, by the time I was 15, I became part of a skinhead gang. Even though I was never fully accepted by them, I was strong and prepared to fight. But I was always considered an outcast that could be utilized. Being a black skinhead gang member was nerve-wracking. I was constantly looking over my shoulder for the next attack, either from within the gang or outside.
I got no encouragement from my foster parents re­garding my education, and even though I loved school, truancy eventually became a big part of my school days. By the end of secondary school I failed everything abys­mally.
By the time I was 16, my Nigerian parents had com­pleted their studies and my father had become a lawyer.
They worked hard, as education was seen as the key to liberation and success in my family.
They eventually took me out of my foster home in Tilbury and placed me with a new middle-class fam­ily in Surrey. With the assistance of social workers and private tutoring I was sent to college, where I re-did my O-Levels and A-Levels and passed all of them! This was a huge breakthrough for me because as a child I was al­ways led to believe that I was stupid. It showed me for the first time that with the right support and determi­nation I could achieve anything. I then went on to do a degree in law (LLB).
Once I finished my degree, I didn't know what I wanted to do. So I went on to do a Master's degree in law at King's College London to give myself some time to think about what I wanted to do next. Whilst at col­lege I started doing a part-time job, selling menswear. One day I was in the shop when a woman came over to me and asked if I would like to do some modelling. I earned more for one photo-shoot than I got for a whole weekend of work. This was the start of my becoming a male model.
How did you meet Buddhism?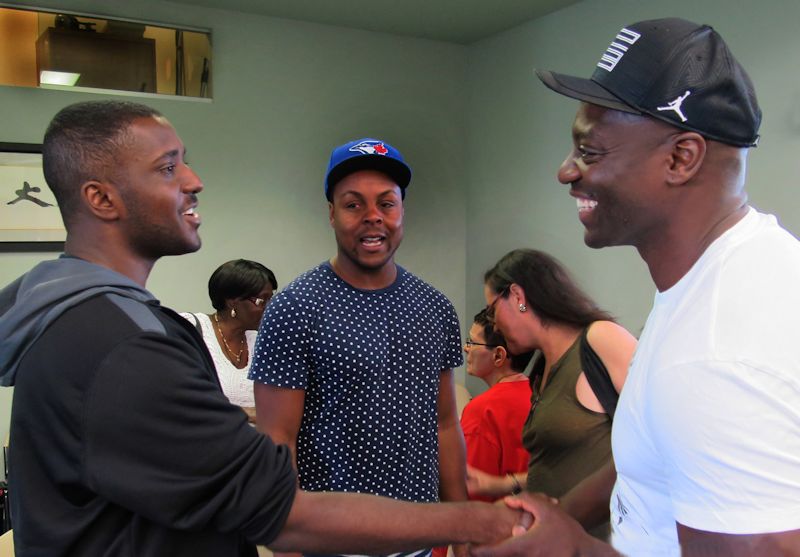 It was actually whilst I was doing a photo shoot that a photographer first introduced me to Nichiren Buddhism. I recall really enjoying talking to him—it was one of the best photo shoots I'd ever had. At the end, he offered me an Art of Living [SGI-UK's monthly magazine] to read. I said I don't think it's for me, but my sisters might like it, so I took it home and gave it to them. They very quickly began to chant.
My sisters were tomboyish, very tough and fought like cat and dog. However, after they started chanting, there was a big change. All of a sudden they started doing everything together. I felt a bit jealous because they had friends coming round and they started to look happy. I waited and I watched, thinking this Buddhism wouldn't last, but they just got happier and happier. It baffled me and also made me quite nervous. So I left them to it.
When did you start to work as an actor, and how did this come about?
At the end of my Master's I decided to go to Milan in Italy to pursue my modelling career. I discovered they had a solid fashion industry there, but not many black models. I knew it would be difficult, but I felt that if I could break into the industry there, I would have the monopoly.
Within six years of hard and lonely months I man­aged to secure a contract with a modelling agency and two weeks later I became the first black man on the cover of a huge Italian magazine. This catapulted me into be­coming one of the most successful models in Italy, which opened a new stream of revenue, lifestyle and outlook on life.
Eventually this led me to America, where I became a successful model with an American model agency, who eventually sent me for a movie casting for a film called Congo. This began my acting career in 1994.
I had a huge amount of success in many well-known films. For the first time, I had everything I had ever wanted: fame, money, flash cars and beautiful women, but I had never been more unhappy in my life. I didn't realize that fame came with such an invasion of privacy. Plus, I realized that I'd been trying to fill a vacuum with modelling, acting, degrees and material possessions, but when I got all these things, it wasn't enough—I was still unhappy.
Why did you start to practise Buddhism?
By 2003, I was miserable to the point of feeling suicidal and yet was getting offers of work from everywhere. I just decided to leave Los Angeles and came back to London where I actually gave up acting for some time.
I looked into various spiritual practices, but none of them answered the questions that I had. One night, it got to boiling point where my past demons were haunting me. I couldn't seem to break the cycle. Suddenly, I found myself saying Nam-myoho-renge-kyo.[i] It just came out of my mouth. The more I said it, the more the feeling of desperation and depression went away. So I just kept saying it. In the morning I went straight to my sisters' house. One of them opened the door and said: "We've been waiting for you." They had been chanting together every Monday night for me to be able to receive Gohonzon,[ii] regardless of where they were in the world.
After giving them the Art of Living, it had taken 10 years before I finally asked them to tell me about Buddhism. I wanted to go direct to the source so I went away with a copy of Nichiren Daishonin's writings and I read it through twice. The connection was so profound. For the first time in my life I felt like I belonged. It was like I was home.
How do you balance your work, your responsibility and other areas of your life?
I'm now a district leader of Fountain District in Los Angeles, USA. I had huge fears and reservations about becoming a leader. But I was told that it wasn't about being "perfect," but about being prepared to grow as a person and supporting the members' growth. Part of my challenge, which is easy to say, is that: "I'm busy, I have a career which takes me all over the world. I can't do it." But I believe that my success as an actor is founded on my faith and activities as a Buddhist. I believe I am sent to locations where I am most needed to achieve kosen-rufu.[iii] Furthermore, when I am working abroad, I Skype into my district and I do simple things like the monthly schedule to keep me connected to my members. And no matter where I am in the world, I instantly connect with the local centre and districts. Of course, when I'm back in Los Angeles, I can go to meetings and visit the men's division in their homes.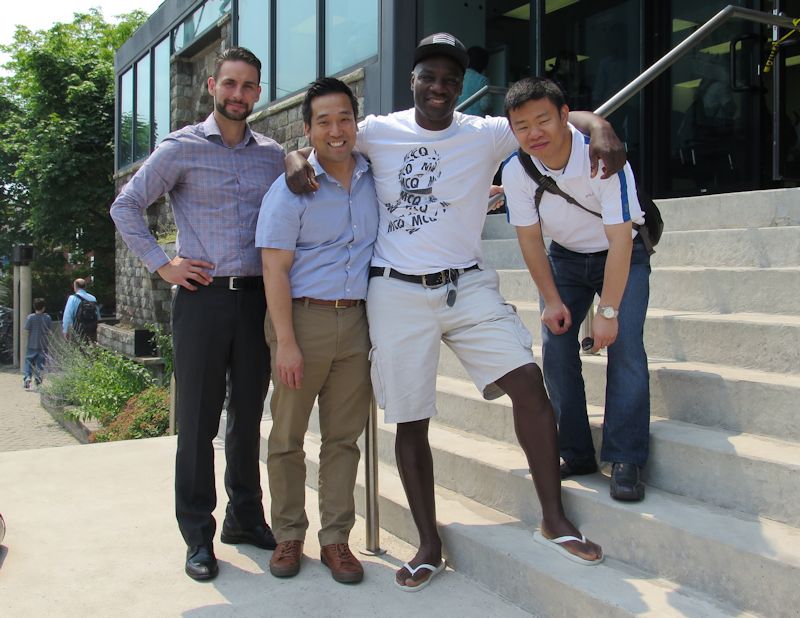 What does the mentor-disciple relationship mean to you?
The term "mentor" connoted teacher and leadership to me. I had severe issues with authority figures growing up and so I was not going to be told what to do in any way.
After chanting strongly about it, I came to the "simple" conclusion that I wouldn't be practising Nichiren Buddhism if it wasn't for SGI President Daisaku Ikeda. In every country that I have been to shoot a movie I can go into a centre and feel a heart-to-heart connection with someone regardless of what language they speak. This is due to the efforts of the three founding presidents of the Soka Gakkai. So just on a gratitude level acknowledging this is important.
Secondly, I learnt from my chanting that President Ikeda is not telling me what to do but showing me what is possible with a life based on the strategy of the Lotus Sutra.[iv] I emphasize the word strategy because Buddhism is logic. President Ikeda has said that if you follow this strategy in the same way as I have done, you can achieve happiness, enlightenment and all that you want. He's a living example of how this is done. This is basically the oneness of mentor and disciple.
How does your Buddhist practice support your daily life?
One of the great things about this philosophy is it teaches that we choose certain circumstances to be born into in order to overcome fundamental karmic tendencies.
Through understanding this, I could no longer be a victim to my past. I had to be empowered by it and actually be grateful to it. That's when my journey to happiness started happening. Before that it was bitterness, hatred, anger, blame and feeling like a victim. Now it's freedom, appreciation, celebration and gratitude. I believe that this has come from my vow to use my life to help others.
It took me a while to grasp that my chosen arena of work (in Hollywood – at this moment) is where I needed to be to transform my negative tendencies and learn to respect the people I'm working with. I need to have the compassion I would have with any Buddha, whether they practise or not.
I try to take the values I learn in Buddhism into my daily life. At an early age, I learnt that I had to fight with my fists in order to survive. Practising Buddhism has replaced the violence of my fists with the sword of faith. I no longer fight to "survive." I now fight to "win" for myself and others. I'm a warrior for kosen-rufu. I have no reason to hide the fact that I am a Buddhist. I take the writings of Nichiren Daishonin on set with me when I'm filming. I have found that the key is to fortify myself with faith and embrace whatever happens and win.∞
[i] Nam-myoho-renge-kyo: The fundamental Law of the universe expounded in Nichiren Buddhism, it expresses the true aspect of life. Chanting it allows people to directly tap their enlightened nature and is the primary practice of SGI members. Although the deepest meaning of Nam-myoho-renge-kyo is revealed only through its practice, the literal meaning is: Nam (devotion), to fuse one's life with the eternal and unchanging truth, drawing forth wisdom; myoho (Mystic Law), the single entity of enlightenment and ignorance; renge (lotus), the simultaneity of cause and effect; kyo (Buddha's teaching), the words and voices of all living beings.
[ii] Gohonzon: The object of devotion in Nichiren Buddhism. It is the embodiment of the Law of Nam-myoho-renge-kyo, expressing the life-state of Buddhahood, which all people inherently possess. Go means "worthy of honour" and honzon means "object of fundamental respect."
[iii] Kosen-rufu: Literally, it means "to widely declare and spread [the Lotus Sutra]"; to secure lasting peace and happiness for all humankind through the propagation of Nichiren Buddhism. More broadly, kosen-rufu refers to the process of establishing the humanistic ideals of Nichiren Buddhism in society.
[iv] Lotus Sutra: The most profound scripture of Mahayana Buddhism, it teaches that all people can reveal their innate Buddhahood and that this supreme potential is eternal. The sutra also encourages its practitioners to spread the teaching of universal Buddhahood and help all people awaken to this truth. Reciting portions of the Lotus Sutra is part of SGI members' daily Buddhist practice.